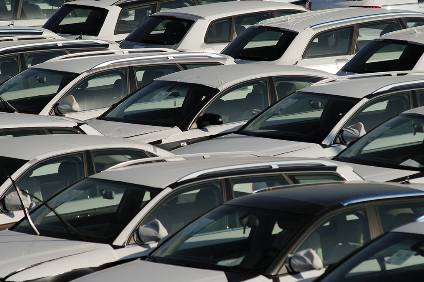 Early signs from the first light vehicle sales reports of October are in line with our modelling for the month, and if anything a little more positive.
In West Europe it was no great surprise that the boost from incentives began to wane and hard economic reality set in. In our estimation this will see October sales fall 5.4% year-on-year in West Europe. Conditions would have been worse in many markets but for enduring, and strong, demand for light commercial vehicles in many markets. In France light vehicle sales fell back by 8.5%, in Germany by 2.5%, Spain by 18.3% and in Italy by a very marginal 0.07%. Only in the UK of the major markets was there positive YoY growth to report, with light vehicle sales increasing by a marginal 0.6%. The UK market was rescued by the LCV segment with sales surging by 13.8% to post a record October total, while car sales fell by 1.6%.
Elsewhere in the world the picture appeared mixed for October. China has yet to report its October sales, but elsewhere in the region there were strong results. For India, October is traditionally one of the strongest months of the year and 2020 proved no exception with the market surging by over 15%. This performance paled into comparison with Japan though, with light vehicle sales there increasing by over 27%. But Japan could not match Turkey's continuing gravity defying exploits with the market posting its fifth successive monthly increase of over 50% with sales there up 93% YoY as consumers continue to take advantage of historically low interest rates.
In North America, the picture was far more subdued. US sales increased by a marginal 1.2%, while Canada's sales were down marginally year-on-year.
In North America, the picture was far more subdued. US sales increased by a marginal 1.2%, while Canada's sales were down marginally year-on-year. At the time of writing, Mexico had yet to report, but our expectation is for another substantial YoY decline, but to be sequentially shallower than prior months.
Globally, but bearing in mind that key markets such as China, Brazil and Russia have yet to report, we believe that sales will prove positive in the month but at a marginal level of under 1%. Excluding the three countries mentioned from the tally thus far shows a global market down by 1.1% YoY.
Moving into the final two months of the year all eyes will be on Europe as the second wave of coronavirus infections takes hold and lockdowns are re-introduced in many European countries. Our assumptions for the final two months of 2020 in Europe have been re-evaluated. Consequently, we expect sales in West Europe for the full year to now decline by 26.7% (last release 23.4%) as sales crater in the final two months despite best efforts of retailers to operate digitally. The expectations for crashing sales in Europe in November and December also brings down our expectations globally. Now we see a market of 74.18m, down 16.6% YoY against our last forecast for a 16.3% fall to 74.47m.
This article first appeared on GlobalData's research platform, the Automotive Intelligence Center