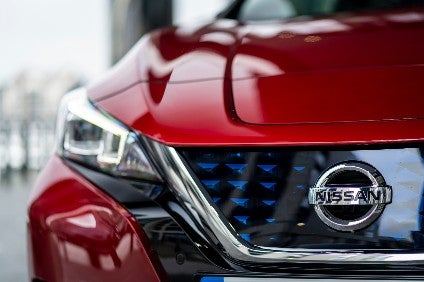 Nissan Motor (GB) has launched its new range-topping battery electric Leaf e+ with longer range and more power.
It has a 217PS motor delivering 340Nm of torque and up to 239 miles of range compared with the launch models which have a 168-mile range and 150Ps/320Nm motor.
The e+ specification includes a larger battery with 288 cells in a rearranged layout compared with 192 and also adds 100kW fast charging capability compared with 50kW.
The added range and performance comes only with top Tekna trim priced in the UK from GBP35,895, after the GBP3,500 government grant is deducted.
Lithium-ion remains the battery chemistry of choice and the new 62kWh battery pack offers 55% more capacity and 25% improvement in energy density and a similar shape and size to the 40kWh pack.
Other than a 5mm increase in height (on 16-inch wheels) and a sprinkling of blue highlights through the grille, dimensions and looks differ little.
The driving range of up to 239 miles (WLTP combined mode) is up 42% while power output rises 45% to 217PS and torque goes up 6% to 340Nm.
Consequently, acceleration from 50mph to 75mph is nearly 13% quicker and zero to 62mph (100km/h) in 7.5 seconds is 13% (one second) quicker (6.9 versus 7.9). Top speed (98 mph) is up 10%.
Where the Leaf, like all EVs, really excels is off the mark as all that torque is available from rest. You can startle passengers and drivers in the traffic light queue with the thrust off the line which is enough to push occupants back in their seats. At a legal 30mph you then use the e-pedal – introduced with this new Leaf generation last year – to slow the car for the next junction without needing to touch the brake pedal.
It's a variation of the push-to-go, lift-off-to-stop system you might encounter on a Disney park go-kart ride and, once familiar, works very well. The first one or two lift-offs under a first timer's control are likely to result in noses against the windscreen, especially in the stronger 'B' transmission position, rather than 'D'. The system, which can be switched off, also activates the brake lights and provides a hold function in queues so there is no creep. Once familiarised with it, the driver can then gain amusement from seeing how much the battery pack can be boosted on a journey with judicious use of the regen braking. Getting the range up takes some doing but slowing the rate of descent is relatively easy while the usual variety of safety aids stop you from hitting the car in front, drifting out of lane, missing a vehicle in the door mirrors' blind spot or not seeing a speed limit sign.
While the lower range car's battery pack modules were made of eight laminated structure cells, the e+ has a new module design that allows for cell modules to vary in number. It uses an innovative laser welding technique on the cell joints to reduce the overall length of the module. Changing the number of lamination layers of the cell allows an optimal module height that matches the shape of the vehicle. In other words, the smaller pack is flat, the longer range one is lumpy.
All this achieves high energy density efficiently inside the battery pack. The key components are the ternary cathode material and laminated structure cells. Ternary cathode material, which has a layered structure, increases battery storage capacity by allowing lithium ions to be tightly packed. Laminated-structure battery cells have a high level of cooling performance and a simple structure, saving space and reducing the overall size of the battery pack. Bigger batteries add weight, though, and the e+ is 130kg heavier.
For 2019, all new Leafs in the UK have a new version of the NissanConnect infotainment system with larger eight inch touchscreen. As always, this brand's effort is very intuitive to use and includes the Apple CarPlay and AndroidAuto the German brands often ask more for. Upgraded navigation includes 3D mapping, not just view, TomTom Live premium traffic and route optimisation, plus an inbuilt Online Map Update facility (hurrah – no more SD card transfers) and the usual chargers location feature.
The redesigned NissanConnect Services app allows routes to be sent from smartphone to car and vice-versa with door-to-door navigation (a combo of driving and walking directions), pre-set cabin climate while charging and smartphone access to vehicle information and analysis of trips and driving style.
Nissan's now sold over 400,000 Leafs world-wide. While 168 miles is a big improvement over the first generation 2010 Leaf's initial 100 miles (which always seemed to drop to 88 the second you switched it on), the option of 239 gives, for a price, added flexibility and reduces the need for a charge-up every day. Anecdotal evidence from other journalists suggests this new generation of longer range, bigger battery, faster charging EVs signals the end of domestic plug charging as it simply takes too long (if it doesn't blow the circuit breakers). So the subsidised home charger is recommended.
Other model updates
Nissan has also updated several of its other model lines with new engines and transmissions.
The Renault-built Micra has new 100PS and 117PS I3 petrol engines and, for the first time, an automatic option in the form of Xtronic CVT for the lesser powered version. Europe is still a bastion of manual transmission buyers, especially this low down the food chain, but that is changing and Nissan is predicting around 30% of the B-segment will be auto by 2022. I drove a few miles in the wunleeterauto and loved the slightly offbeat engine note you always get with I3s – the CVT works seamlessly with no noticeable whine or other quirks.
Further up, the popular Qashqai C-seg SUV/crossover/whatever has a new 1.3-litre petrol engine with DCT (twin clutch) automatic option for the more powerful 160PS version (it starts at 140PS). These all comply with the new Euro 6 Temp d emission standard and, Nissan said, will account for 80% of Qashqai sales with 40% of buyers going for self-shifting.
Diesels remain with the 1.5 boosted to 115PS from 110PS and a new DCT option while a 1.7 replaces the 1.6 taking power from 130PS to 150PS and the auto option is CVT. Both, again, are cleaner and the automagic uptake is also expected to be 40%. The diesel mix is now only 20%, reflecting the recent political and environmentalists' demonising of diesel.
The larger X-Trail SUV also gets the new 1.3 petrol engine with only the DCT transmission, replacing a 1.6, while the old 1.6 and two-litre diesels are replaced by the 150PS 1.6 with a CVT option. In this model line diesel is forecast to account for 70% of volume with the auto diesels taking a 30% slice.