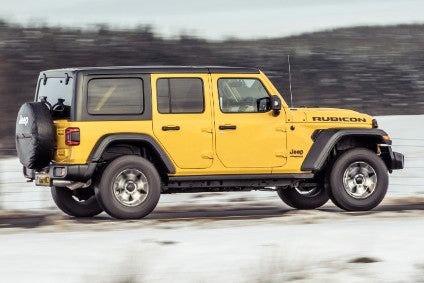 A lot has happened in the UK market since the latest generation Jeep Wrangler arrived two years ago. The biggest change for vehicles such as this one has been the shift away from diesel and with it, ever more electrification. In fact, a prototype called Magneto will be revealed over Easter, leading many to wonder whether this heralds a fully electric Wrangler.
Other than its name and the fact that it will be seen for the first time at the Easter Jeep Safari in Moab, we don't yet know much about the Magneto. The gathering in Utah always provides much publicity for the brand, with many concepts having premiered there over the years. Will this one be a mere design study or might it instead be a prototype?
It's perhaps inevitable that full electrification will eventually come for the Wrangler but with the US far and away the model's number one market, Stellantis can take its time developing a series production vehicle. Elsewhere – straight away China and Europe come to mind – the opportunity for a Wrangler EV seems greater. With the exception of Tesla, buyers in North America haven't so far been too drawn to electric SUVs yet that will probably change and perhaps sooner than some expect.
What was until a few months ago FCA US has already added a PHEV option for the Wrangler and it's available worldwide. Announced in September last year, sales in Europe, North America and China have either commenced or will fairly soon.
The Wrangler 4xe's plug-in hybrid powertrain consists of two motors supplementing a 2.0-litre petrol engine, drive going to both axles via ZF's 8P75PH eight-speed automatic gearbox, while the 400V, 17 kWh nickel manganese cobalt battery pack is mounted below the back seat. The maximum range in EV mode is 25 miles. Combined power and torque are 375 horsepower (280 kW) and 470 lb ft (637 Nm).
I've recently been trying that same engine, albeit without the dual motors, in the existing petrol-powered Wrangler. The only other time I've sampled the JL series model was two years ago, and on that occasion, the ones I drove on the UK media preview were diesels.
I seem to have been cursed to only drive this Jeep when the weather's chucking it down, but at least this time I did at least manage to experience some open-air driving, if only briefly. On the press tester, this consisted of two lightweight panels – one above each front seat occupant. It's simplicity itself to unclip them and there are zero rattles or leaks once each is back in place. In fact the whole vehicle was really very quiet all round; something I wasn't expecting considering that the doors and glass are thinner than most cars', there's much empty space, and the thing itself has long-travel suspension and huge-chunky tyres.
The petrol engine we get in Europe is a 2.0-litre 'Hurricane' turbo that's manufactured at Trenton Powertrain in Michigan. In North America, there's also a 3.6-litre Pentastar gasoline or 3.0-litre EcoDiesel which is also a V6, while in certain countries excluding the US and Canada, the 2.2-litre MultiJet II diesel is a further alternative. Each is linked to a ZF eight-speed torque converter automatic transmission and drive goes to the rear axle.
Engaging four-wheel drive is as simple as tugging on a stubby lever to the left of the PRND one and as you'd expect, there are low and high range options. I can vouch for the incredible abilities of the Wrangler off-road but just as impressive is how civilised it remains in all conditions.
What I hadn't had a chance to assess at the time of the market launch in early 2019 was the model's performance at motorway speeds. Might high speed lane changes be as potentially heart stopping on a windy day as experience showed me could be the case with the previous generation? Not at all. When you look at how much room there is for wind to get in under those big front wheel arch flares, that's nothing short of amazing. There is a bit of buffeting but it's not going to scare anyone.
The interior looks as good as it did two years ago and don't forget that the JL Wrangler has been around since the end of 2017 in the US, so that's an even bigger compliment. Some things could possibly benefit from an update which be on the way for the 2022 model year. That includes the touchscreen which is now a touch on the small side. I can't criticise the plastics or really any other aspect of what the driver comes into contact with though, as while not quite what everyone buying GBP50,000 car would expect, this is in no way a typical car so you can't think of it as such.
Unless it had a supercharged V8 under the bonnet, I even reckon the Wrangler would be my preference over the Defender, which is a pricey proposition in all forms. And you can't get the roof and doors off either, or fold down the windscreen, as you can in the Jeep. Other than the Land Rover, there really aren't any other rivals and in fact, I doubt whether too many Defender-intenders would be that interested in the Jeep anyway.
Along with the imminent PHEV and perhaps an EV, there even more to come for the Wrangler but sadly, the baddest, loudest variant isn't coming to Britain. The Rubicon 392 Concept was first mentioned by FCA in July last year and claimed to be a prototype only. Powered by a 392 cubic-inch (6.4-litre) V8 with stated outputs of 450 horsepower and 450 lb ft of torque, it was confirmed for production in November. Even better news, the Rubicon 392's engine puts out 470 horsepower (350 kW) and 470 pound feet (637 Nm) of torque.
The exhaust note of the 2.0-litre turbo I drove for a week is actually a little bit fruity and all the better for that but with ever more manufacturers telling us about the musical magic of their latest EVs (e.g. a 1960s F1 car for the Lotus Evija), come on Stellantis, if you end up building a Wrangler EV, how about making it sound just like the Rubicon 392?
The Jeep Cherokee 2.0-litre petrol turbo has a CO2 average of 260 g/km and returns 24.8 mpg on the Combined cycle.