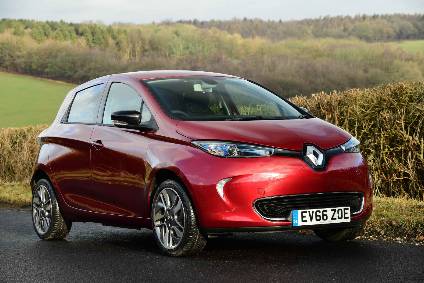 Fresh from having sold 19,542 examples of the Zoe in 2016, Renault sees another good year ahead for the B segment electric hatchback. A new battery pack which promises up to 400km or a real world range of 300km is now available.
The range: 124-250 miles
When fitted with the new-for-2017 LG Chem 41kWh battery pack, the Zoe is said to have a range of up to 250 miles (400km). The company points out that these numbers are for when conditions are perfect, stating that in urban driving, with real world traffic jams, that can drop to 300km or 186 miles or less. It's a refreshing disclaimer and somehow makes living with this little electric car even more appealing.
The Zoe's looks are still contemporary even though this model is probably now past the mid-point of its production life. The dashboard is perhaps beginning to age a little though if you choose the high-end Signature Nav trim level, the overall look is a lot better than the other two model grades.
The test vehicle was a mid-spec R90 Dynamique, the number being a rounding down of the power output (92hp). Maximum torque, which is of course available from rest, is 220Nm. These outputs give acceleration to 62mph in 13.5 seconds and a top speed of just 85mph. Better news is the extended range from the new battery pack. According to the NEDC cycle, the official distance you can travel is 250 miles. This drops to 124 miles for winter driving, which is about the worst you could expect.
Battery pack: buy or lease
The test car was fitted with options which included heated front seats (GBP250), which brought the price to a still fairly reasonable GBP18,095 after PICG, a UK government grant. Renault gives the choice of owning or leasing the battery, and for the 41kWh pack, that works out at GBP59.00 a month in the Dynamique. This trim level gives you cruise control, automatic climate control, automatic wipers and headlights, a 7-inch touchscreen, TomTom Live navigation and electrically folding mirrors. As for the cheapest Zoe, this is now GBP13,995 after PICG.
The warranty is four years or 100,000 miles and you can have a servicing plan from GBP479 (three years/30,000 miles). If the battery is leased it is guaranteed to charge to at least 75 per cent of its original capacity, or Renault will repair or replace it. If the battery is instead bought outright with the car, it is guaranteed to charge to at least 66 per cent of capacity for eight years or 100,000 miles.
With battery lease, Renault provides 24/7 roadside assistance for the duration of the agreement, including rescue if you run out of charge.
For retail buyers, a free 7kW Wallbox is available for fitting at a home location. The so-called Chameleon charger is a handy touch and this means that one system gives you recharging times of between 60 minutes and 13.5 hours, depending on what type of socket is available. With the Wallbox, the charging time is seven and a half hours.
A key point to note with the arrival of the new long-range Zoe is that the previous 22kWh battery pack is still available. This has an NEDC rating of 240km/149 miles or 170km/106 miles according to Renault's 'real world' rating. Both 22kWh and 41kWh packs have 192 cells and 12 modules.
The older chemistry pack will be for people for whom the cheaper option makes more sense but really, why wouldn't you choose the 41kWh cells, which, incidentally, don't take up any more room than the original battery pack. You can tell the cells are located under the floor as all occupants sit higher than they do in a similarly sized Clio but many people will probably prefer the elevated position.
New high-end trim for MY2017
Renault UK now offers the Zoe in three model grades: Expression Nav, Dynamique Nav and the new Signature Nav. All versions are offered with the battery hire scheme. Signature Nav version is the most luxurious Zoe. It features leather upholstery with bronze piping and a Bose sound system. For 2017, there is one minor exterior change, which is a shift in colour for the grille's diamond logo. Formerly blue, it now has a chrome-effect finish.
There is more to come this summer for the Zoe in the form of two new apps. Z.E. Trip, the first of the two, will make it easier to charge at public charging points, Renault claims. With Trip, the driver is able to locate all such points in many European countries. The app is accessed via the R-Link navigation system using the steering wheel-mounted controls or via the internet to prepare trips in advance. Z.E. Trip shows you the real-time availability of each charging point, as well as its type and whether it is compatible with the car.
Z.E. Pass has been developed with Bosch to make charging easier at most public charging points across Europe, no matter which firm operates them. The driver can pay using the app or with one RFID badge. They can also locate available charging points and compare prices using a phone or tablet without having to be a registered member of each network.
What's next for the Zoe?
Renault has been building the Zoe at its Flins plant near Paris since January 2013, so a mid-cycle stylish refresh should take place later this year, presuming the car is on the usual seven-year cycle. The second generation model will inevitably share much with the next Nissan Leaf which is due out later this year.