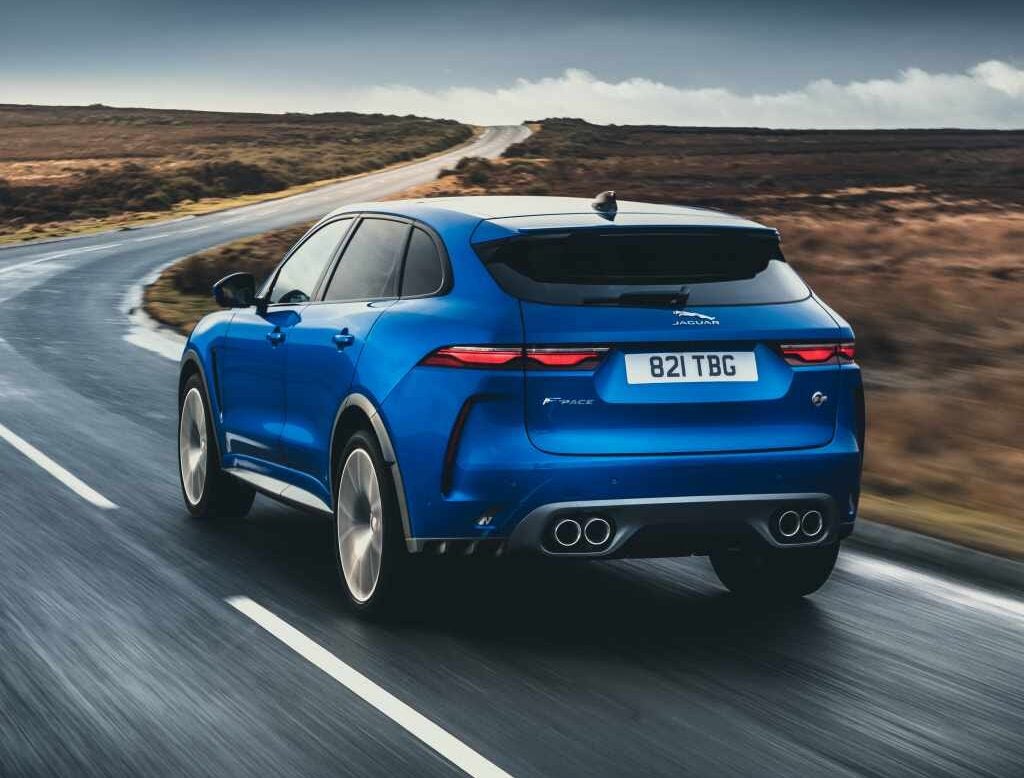 Sadly, the answer to that question is probably yes.
The EC's next round of mandated emissions standards could well kill off today's magnificent sounding V8. And in any case, even if JLR chooses to or is able to adapt the supercharged 5.0-litre engine for euro 7 (so that Land Rover can keep using it), we've been told that Jaguar will be electric-only by 2025. So said the company's chief executive Thierry Bolloré in February.
Five litres of F-Pace fun
This big capacity V8 has been around in one form or another for a long time, the existing 5.0-litre version coming in all manner of versions depending on the model, even today. The differences are mainly power (and torque), the lowest being 525 PS in the Defender, stretching to 575 PS for the Jaguar F-Type R. I haven't forgotten about the 315 examples of the XE SV Project 8/Project 8 Touring either: each of these sedans had 600 PS.
The reason I recently had some time driving the F-Pace SVR was as part of a catch up with yet another model which wasn't able to be fully previewed by the media during the last 15 months. Which explains why I am calling this a new vehicle even though the information about it was publicised by Jaguar back in December.
Was it worth rising at 5am to be at Jaguar's media driving event for an 08:30 appointment? Of course it was. JLR rightly wasn't taking any risks and after a test for you know what, a fully sanitised F-Pace was all mine to assess and enjoy.
Far from a minor interior makeover
Official specs for the 2021 SVR weren't made public until just before Christmas but three months earlier, we had been told all about a facelift for other F-Pace model grades and engines.
This wasn't a mere mid-life minor update either, as for example, a plug-in hybrid became available for the first time. Other variants, each of which is turbocharged and has all-wheel drive as well as an eight-speed automatic gearbox, became as follows:
163 PS 2.0-litre mild hybrid diesel
204 PS 2.0-litre mild hybrid diesel
300 PS 3.0-litre six-cylinder diesel
300 PS 3.0-litre six-cylinder mild hybrid diesel
250 PS & 365 Nm 2.0-litre-four-cylinder petrol
340 PS & 480 Nm 3.0-litre six-cylinder mild hybrid petrol
400 PS & 550 Nm 3.0-litre six-cylinder mild hybrid petrol
404 PS & 640 Nm 2.0-litre four-cylinder plug-in hybrid petrol
The mild hybrids feature a Belt integrated Starter Generator (BiSG) to harvest energy usually lost when slowing and braking. This energy is stored in a 48V lithium-ion battery and used to assist the engine when accelerating, as well as delivering a more refined stop/start system.
More torque, more speed
The SVR, which has been part of the line-up since 2018, still has the same 405 kW (550 PS) of power as before but maximum rotational force has risen to 700 Nm (up 20). A special eight-speed ZF torque converter used for the Project 8 is now present here too.
Other tweaks include a slightly better CO2 average (formerly 281g/km now 275), a top speed up by two miles per hour to 178 and 0-62 mph down by a third of a second to four exactly thanks to a new Dynamic Launch function.
Engineers have also tweaked the chassis, specifying a fresh steering rack, recalibrated dampers and uprated brakes.
Loud = lush
What's it like then? Still phenomenal and just insanely rapid. In Dynamic mode to my ears the exhaust note isn't quite as offensive/spine tingling (depending on what you think of the not exactly subtle V8) compared to the F-Type R and pre-facelift SVR – there's still no news about a potential follow-up to that one.
The noise remains fantastic, don't get me wrong, and compared to any other F-Pace it's in a different league. As it is for acceleration, although the plug-in hybrid isn't exactly slow either.
Big changes on the inside
Slipping into any facelifted version, the impression is similar to what I felt just a few weeks back when testing the revised XF: luxury at a higher level than had been the case before the mild restyle. JLR has spent its money intelligently here and the F-Pace deserves to lure those who may have thought the interior – largely unaltered since 2016 – somewhat dated.
Outside, the adjustments are mostly tweaks. While I don't believe much needed to change, others might have wished to see a bigger grille, differently shaped tail lights and so on, complementing the new dashboard, door panels, centre console, gear shift lever and larger diameter touchscreen. At least the four big bore tailpipes are still there, signalling an extravagance of power.
It even does 20+mpg
I'm not going to even attempt to make excuses for the consumption which can easily drop into single digits should the owner choose to properly enjoy the SVR. And yet the official 23.1 mpg number is easily attainable if you stay away from hardcore modes, keep the A/C compressor off, windows up and speed down.
Can this the SVR be classified as an almost sensible SUV then? No it cannot. What it is though, is a very special Jaguar indeed.
Magnificent (and a tad mental) moggie
In fewer than five years, this will be a car to cherish as one of the marque's final and most endearingly mental liquid-fuelled models. We should celebrate that now and in the years that remain ahead of whatever form a successor might take.
The model year 2021 Jaguar F-Pace SVR is priced from GBP77,595 OTR.