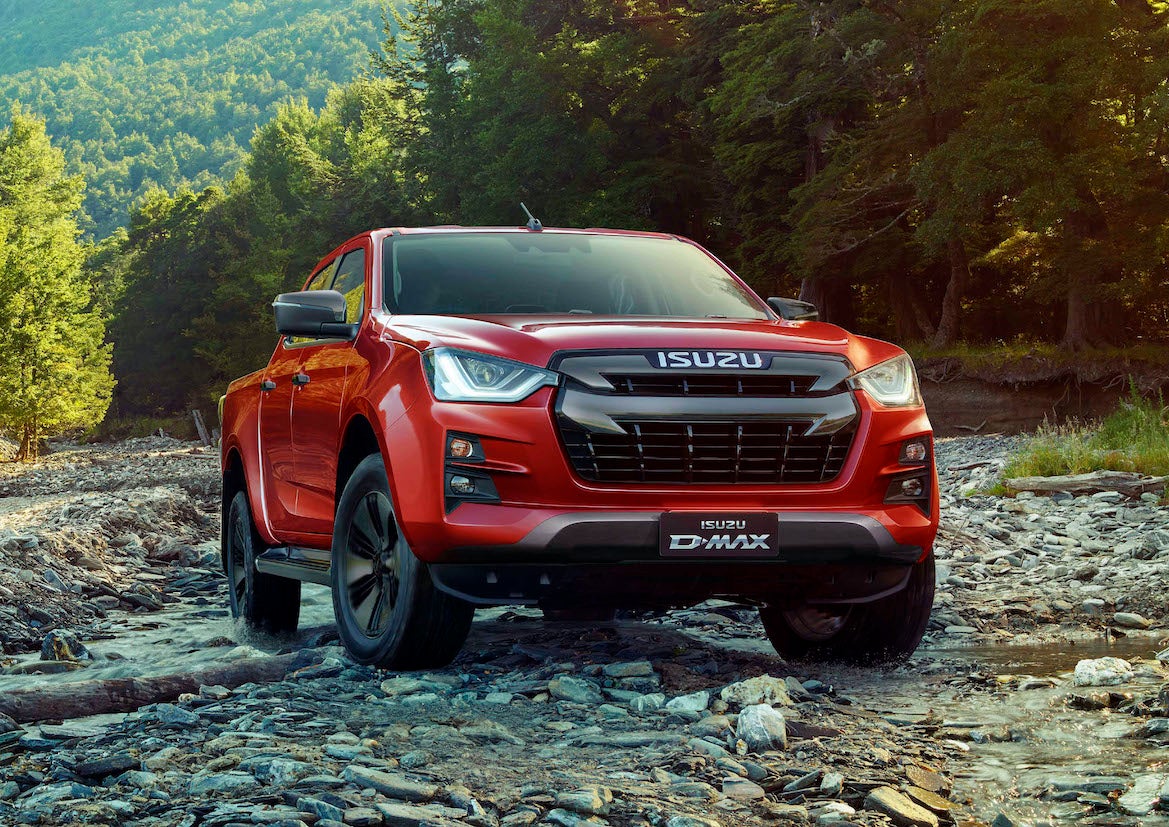 You might wonder why this commercial vehicles specialist bothers with pick-up trucks. In short, they make good money. The latest D-Max is mainly built in low-cost Thailand and it sells in very good volume throughout the Asia-Pac region.
For previous generations, the Japanese OEM's entry in the D-Max's segment had been a JV with General Motors. That changed in 2016 when the companies told us they would be winding up that collaboration. Isuzu then struck a supply deal with Mazda.
When will Isuzu go electric?
Whereas the previous BT-50 had been the twin of the Ford Ranger, the latest Mazda pick-up – restricted to a handful of markets in the Pacific Rim – is a modified D-Max. So there's a further example of how Isuzu has found a way to remain strong in this class.
Staying profitable as the electric pick-up era draws ever closer may eventually prove challenging for this brand, although that's probably some years away: the latest D-Max being only at the start of its life cycle. In fact there's no reason why an electric version couldn't be added in a couple of years' time if the demand and margins are there.
No major OEM has yet launched an EV in this segment and with the D-Max fewer than two years old, Isuzu will be able to watch and plan from the experience of others.
How soon until the big volume makers of similarly sized pick-ups move to e-models? Neither Toyota nor Ford has any official plans, and the latter is so far only talking about a hybrid for the next Ranger.
Three bodies for new D-Max
The new-to-Britain D-Max was in fact revealed at an event in Thailand back in October 2019. Local market sales commenced soon after. Globally, there are Regular Cab, Space Cab and Crew Cab bodies.
Two engines but only one for the UK
This 5.3 m long truck was launched with a new engine. This is an updated version of Isuzu's long-running 3.0-litre four-cylinder diesel series with outputs of 140 kW and 450 Nm. The latest one, 4JJ3, is derived from the 4JJ1. There is an alternative, the RZ4E, which has a displacement of 1.9 litres. That's the one which powered the vehicle I've been driving recently.
The press tester came with a six-speed manual transmission but there's an automatic alternative. Isuzu says the torque converter has been 'downsized', this and a new lock-up clutch combining to slightly lower both diesel consumption and emissions.
Lighter drivetrain
More weight saving is achieved by the prop shaft on four-wheel drive derivatives being hewn from aluminium. Meanwhile, the rear axle's diff lock is electromagnetic, the benefit being faster switching from RWD to 4WD as well as between low and high ranges.
Body-on-frame pick-ups such as this one aren't ever the best handling vehicles, yet the D-Max isn't too bad. Engaging four-wheel drive is needed if the road surface is gravel and you're reversing uphill (i.e. my driveway) with no load in the tray. Which is fine. And yes, what Isuzu says is true: dialling in and out of 4WD is quick.
Steering accuracy is better than I'd expected and lane keeping assist hardly interferes either. Would that I could say the same for forward collision alert. This seems to think overhead branches are a threat, or maybe their shadows. On several occasions the red warning light glowed, the beeps sounded loudly and an automatic emergency stop ensued. Thankfully it was at 30 mph with no-one close behind. Perhaps a glitch restricted to the press vehicle?
Surprisingly non-bouncy
Things I really like about the D-Max include how spacious it is, particularly in the back. Passengers weren't at all bothered by the ride, which is good to hear about a pick-up that has a leaf-sprung rear end. This was also whilst the load bay was empty. I also should note that the sudden stop mentioned in the previous paragraph was impressive for a vehicle with drum brakes and not much mass over the back axle.
In the right specification, a D-Max can carry up to 1,120 kg and tow up to three and a half tonnes, the first of those being better than some competitors. Not that there are that many in the class nowadays, with Mitsubishi (L200), Volkswagen (Amarok) and Mercedes-Benz (X-Class) gone and Nissan set to leave (Navara) in 2022. Ford (Ranger), Toyota (Hilux) and SsangYong (Musso), along with Isuzu, are happy about that.
UK market aspirations
IM Group hopes to sell around 5,000 units of the new model in 2021, steadily increasing that to 10,000 by 2025. The previous high was 6,220 in 2015.
The first full of sales for P703, the next Ranger, won't be until 2023, something the importer for Isuzu will be happy about.
The new Ford will be revealed soon but not available until the second half of 2022. As for its Amarok-replacing twin, it isn't certain that Volkswagen will bring it to the UK. So again, potentially good news for IM Group.
Sales mix
Around 70 per cent of the D-Maxes sold in the UK are manuals whereas a decade ago well over three quarters had been. Buyers seeking an 'adventure' vehicle (flashier looks) are also on the rise.
The margins in this segment must be good too, especially for trucks manufactured in lower-cost countries. With a decent proportion of retail sales being of higher spec variants. This partly explains how the brand survives in Britain with a line-up consisting of precisely one model.
Production
IMCT's Gateway and Phrapadaeng plants each builds the D-Max, Isuzu sends kits from the Thai factories to South Africa, another market where bakkies (pick-ups) do well. The former model continued to be put together there until the first half of this year, Struandale (a suburb of Port Elizabeth) having switched to the new-shape vehicle recently.
We should also see Jiangxi-Isuzu's assembly facility in Nanchang beginning assembly by year-end. As with Thailand, South Africa and that other decent volume market, Australia, the new D-Max will likely meet with much success in China. As noted at the start of this feature, the Shinagawa-based OEM may seem like a small company but it has strong global reach.
The new Isuzu D-Max costs from GBP25,145 to GBP39,245. Combined consumption is 30.7-33.6 mpg and CO2 is 220-241 g/km, also depending on body and trim level.