New C300 Korando another step forward for SsangYong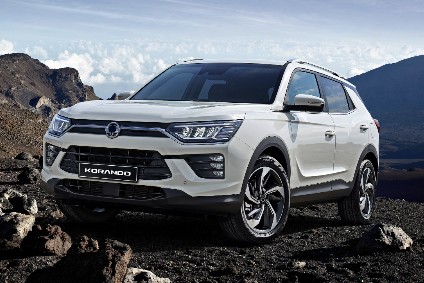 New Korando went into production in June, three months after its world premiere at the Geneva motor show
SsangYong never gives up. European sales are tiny, a former decent presence in Russia unraveled, attempts at agreeing a JV in China came to nothing and we don't hear much these days about a once heralded US market launch. Against that, it's big in Korea and greatly helps parent company Mahindra with rebadged SUVs in India. Can the new Korando also reinvigorate the brand in Britain?
Can't quite picture the outgoing Korando? That's understandable. Launched in 2010, the second vehicle to be named as a contraction of Korea Can Do was never too strong a seller in any market. It did have its fans in the UK though, especially caravanners, most of whom couldn't give a hitch about their tow car having a cool image. Reliability and sensibility tend to be the priorities of many owners and for these people, SsangYong is fairly well known.
Reflective Rextons
Police forces and the Highways Agency also seem to be steadily discovering the Korando's Rexton big brother. With supplies of the Shogun about to dry up due to Euro 6d Temp, the UK importer saw its chance to jump in with a way more modern but still ladder frame chassis 4x4. It's doubtful that these vehicles will make much money for SsangYong GB but ploughing up and down motorways 24/7, they will greatly raise the profile of the brand with the twin dragons logo.
Diesel-only, for now
The new, third generation Korando has links to the smaller Tivoli in that it too has a front- and all-wheel drive platform as well as four-cylinder engines. C300, which is the latest-shape model, landed in the UK just weeks after production of LHD versions for South Korea began.
SsangYong has only a fraction of its bigger rivals' presence in overseas markets, and Britain is important to the company. Not much pressure then for the Korando 3 to succeed in what is probably the brand's number one RHD country. Volume could do with a bit of an improvement, year-to-date deliveries excluding LCVs numbering a mere 1,251 vehicles over the first eight months (-31%). August wasn't the best either, sales dropping into double figures (82) from 132 in the same month of 2018.
The new model is 4,452mm long and looks a lot like the SIV-2, a concept from the 2016 Geneva motor show. The Korando made its global at this year's show and hit the Korean market in July. There, it's up against the Hyundai Tucson, Kia Sportage and Chevrolet Equinox. As for RSM, it offers a mere two SUVs: the Captur-based QM3 and the QM6, from which the Renault Koleos is derived. Oddly, there is no Kadjar-based QM5 in the C-SUV class. Small wonder that the Samsung brand is in so much trouble in its largest market.
Nailing Renault Samsung in Korea...
Even though SsangYong saw an 11.2% decline for August in South Korea, without this vehicle and the recently facelifted Tivoli, things would have been a lot worse. Korando sales surged by 377% to 1,422 units and helped the brand to stay well ahead of Renault Samsung, their cumulative totals being 74,957 and 52,585. SsangYong doesn't worry second placed Kia (332,757) or market leader Hyundai (451,402) though.
...while Mercedes hammers GM Korea
As for GM Korea, things are now so bad that it was thumped by Mercedes for the second month in a row (6,740 Vs. 6,411) although it remains ahead of the three-pointed star year-to-date (48,735 Vs. 47,201) and Genesis (40,993) is also on the rise.
SsangYong will be hoping that things really start to improve fairly soon as its begins to fulfill orders for Korandos with a petrol engine. A diesel had been the sole powertrain available at home until recently. The new 1.5-litre petrol turbo is needed badly in Britain too, but it won't be with local dealers until December. It was a gutsy move to launch the new model without it but as the SMMT's sales data above shows, dealers here really couldn't wait longer than was strictly necessary for a fresh vehicle, any fresh vehicle, to drive showroom traffic.
Temp not 6D
Strangely, SsangYong has chosen not to jump straight to Euro 6D as some OEMs such as Daimler have been doing, instead making the 136PS and 342Nm 1.6 diesel compliant only with the current 6D Temp regulations. It achieves a CO2 emission level of 144g/km (NEDC) and fuel economy of up to 48.7mpg on the WLTP combined cycle.
Anyone who is disappointed by the 0-62mph time of twelve seconds will be better off waiting for the petrol, or perhaps just the manual transmission which will be available from the first quarter of 2020. It's to the importer's credit that the media information doesn't try to pull the trick of quoting a 0-60 time and therefore making the car seem faster off the mark than it is. As for the 1.5 GDI-turbo petrol, there are no acceleration figures yet, only power and torque, which are 163PS and 280Nm.
A plug-in Korando
Like all other SsangYongs, this latest one is manufactured in South Korea at the Pyongtaek factory. Ladder frame chassis RWD/4WD SUVs, pick-ups, FWD/AWD SUVs and until recently, even a RWD/4WD MPV roll off the same line. That until recently is a reference to the dearly departed Korando Turismo: the final example was built in June after fifteen and a half years.
There used to be luxury cars on that same production line too, but two generations of the Mercedes-based Chairman sedans bit the dust in 2014 and 2017 respectively and SsangYong has no plans to move back into that segment. Now, it wants to be mostly an SUV and 4x4 specialist make, and next year, the first fully electric model will also be made at Pyongtaek. That vehicle, which is known only as E100 at this stage, will be Korando-based.
Other future models
Other models to come include D200, an SUV to be positioned above the Rexton. This will also be the effective successor for the Rodius/Stavic/Korando Turismo. Originally believed to be a ladder frame chassis, some now say this Kia Mohave rival (?) might instead be more like the Kia Telluride by having a FWD/AWD architecture rather than the RWD/4WD platform of the Rexton (and Kia's giant Mohave, facelifted multiple times including last month). The launch of D200 is set for 2021 but it might not arrive until 2022, which is also when X200, the next Tivoli, is due.
Sum-up
SsangYong somehow succeeds against the odds. Having been dumped by SAIC, then come out of bankruptcy and had some modest if not extravagant cash infusions from Mahindra, this little company always seems to be tantalisingly close to thriving and one-day, self-funding. Will that ever happen? There's no reason why it can't, and the latest Korando shows how deep the talent pool is both in Korea and at the parent company's Indian base.
If the petrol versions arrive on time, and the EV finds favour in the second half of next year, then maybe SsangYong will have a good 2020, here in the UK and in Korea and elsewhere. The product is as strong, as is the value for money - if only more people in Britain would take a chance on this brand, as an earlier generation did with Hyundai and Kia.
Most popular news
---
Most popular insights
---
Oops! This article is copy protected.
Why can't I copy the text on this page?
The ability to copy articles is specially reserved for people who are part of a group membership.
How do I become a group member?
To find out how you and your team can copy and share articles and save money as part of a group membership call Shivani Hayer on
+44 (0)1527 573 732 or complete this form..