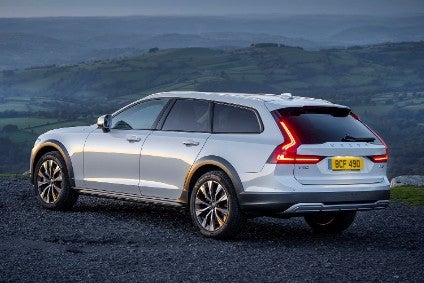 The Swedes, Brits, Germans, Dutch and others in the north of Europe have had a thing for Volvo estates going back over half a century. Which is why the XC90 hasn't made the V90 redundant. Nonetheless, last year wasn't a great one for the big wagon. Still, one derivative went against that trend, V90 CC sales ending the year down only slightly and almost out-performing the entire V90 line-up globally too.
Let's hope Volvo doesn't give up on its largest wagon and that a new generation appears when the existing one reaches the end of its life cycle in 2023 or 2024. There's no guarantee that that will be the case though. The company's diesel engines are doomed, speed limiters (180 km/h or 112 mph) have been brought in, the V40 and V40 CC vanished with no successors, R cars have also all disappeared and by 2025 fully half of the brand's global sales are to be EVs. Volvo is way more radical than people realise.
Big vehicles = big business
Of course OEMs need to constantly reinvent themselves and take what can at times seem like extreme actions. Consider for a moment what Ferrari could be worth in 2025 if it keeps selling only piston-engine cars, or what could happen to Stellantis or Ford Motor should the US pick-up truck market take an extreme downturn for some reason? It's a fascinating era and who knows which companies will flourish and which may not?
In Volvo's case, developing a small crossover turned out to be a brilliant decision: more than 185,406 examples of the XC40 were sold in 2020, this being a segment in which the brand had no presence until three years ago. How might the new electric variant do in 2021? Probably pretty well.
The XC60 remained the best selling Volvo last year, more than 191,000 having been delivered worldwide. The firm's big vehicles also did well, XC90 sales crossing the 92,000 mark. More than 46,000 S90s were delivered too, plus 13,560 V90s. As large cars usually means large margins, the Cross Country version of the big wagon will inevitably be hauling in good money: December saw the CC beating the V90, their respective tallies being 1,468 and 1,314.
Last year, V90 CC registrations numbered 12,000 exactly, a year-on-year fall of 34.3%. So presuming that there will be a bounce for the big estate in 2021, and combined with those thirteen and a half thousand V90s, there's clearly still a strong business case here for Volvo. By the way, much of it (S90-V90-V90 CC: 14,714) is in the brand's home market, which is a further bonus as that's where both 90-wagons are built.
Safety – an admirable obsession
One of the things which it's all too easy to forget about with any Volvo is just how incredibly safe these cars are. Back in November, the company did a very un-Swedish thing by telling the world about some dramatic crash tests it had conducted. In days gone by, that would have been done quietly but in an era of ever more intense competition amongst luxury makes, crash safety is being highlighted by Volvo more and more.
This recent exercise was to help Sweden's emergency services further improve their abilities to extract and stabilise car collision victims within the critical 'golden hour', post-crash. Take a look at the video of a V90 CC dropped, like the other models, from a height of 30 m. Which other manufacturer does this? And no other country has a goal of zero road deaths.
When almost one in every five cars sold in Sweden is a Volvo, the firm's laudable obsession with safety is clearly a big factor in getting the annual number down from already near world-best per capita levels. OK, I am close to sounding like a one-man ad for Volvo here but with black ice everywhere during my time with the AWD Volvo estate, that video made me appreciate the car's high level of engineered-in safety.
AWD V90 CC – perfect for winter
The latest V90 Cross Country is in fact just about the absolute ideal vehicle for the way the weather is where I live. Number one of three seat and steering wheel heating settings is just right, number two a bit much and three clearly for those whose internal temperature runs at the opposite end of my usually-too-warm default. But for anyone living in parts of the world where it does get properly chilly, the Volvo's position three for surfaces heating is going to be well appreciated. I like fresh air, so at least one window down, A/C off, wheel and seat to setting 1, roof open a touch is a joyous way to roll around south west England in January (when allowed to move about freely).
Other things that impress about the V90 CC include the look of the dashboard. The press tester came with some rather beautiful light grey ash veneer on the doors, dashboard and sliding cup-holders cover. The once unusually large screen is still there but four years on it has had some tweaks. Alas, last year's facelift and interior updates failed to see Volvo bringing back the physical controls which so many of us would want. Perhaps they'll return with the next generation, just as Honda is doing (current Fit/Jazz, next Civic) in response to overwhelming customer feedback.
Other changes for the latest 90-series sedan and estates include increased availability of leather-free upholstery, an enhanced Bowers & Wilkins sound system, even better air filtration (Volvos have always been class leading in this field), wireless phone charging, and more 48-volt mild hybrid powertrain choices. The last of these are in fact the first such electrified variants in the history of the Cross Country range.
Sum-up
The newly updated 2021 model year V90 CC is a very appealing package in a niche that shows you don't have to default to an Audi A6 allroad or Mercedes E-Class All-Terrain.
The Volvo V90 Cross Country 184 kW and 300 Nm 2.0-litre petrol B5 AWD mild hybrid costs from GBP50,040. Heating for the windscreen, rear seats and steering wheel is a GBP500 option bundle called 'Climate'. Another extra fitted to the test car was a space saver spare wheel and jack (GBP50). WLTP Combined economy is 34-36.6 mpg (min-max) and CO2 is 188-175 g/km.