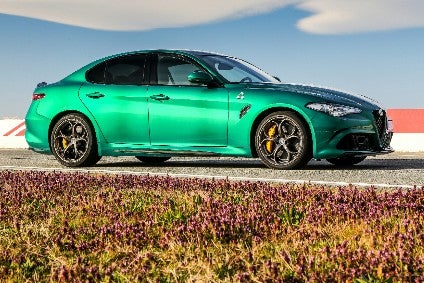 Not yet due for mid-cycle facelifts, the Quadrifoglio versions of the Alfa Romeo Giulia and Stelvio have instead been given a package of updates. The changes make what were already two outstanding examples of the engineering strength within Fiat Chrysler even better.
If the merger of Groupe PSA and Fiat Chrysler Automobiles goes ahead, we should be hearing about what Stellantis plans to do with Alfa Romeo within months. Not wanting to be rude but merely stating the facts, there is much that needs doing and this sports-luxury marque won't end the current decade on 31 December in the best shape.
It's frustrating to report that when FCA has lavished decent money and attention upon Alfa, as happened with the arrival of the Giulia in 2016 and the Stelvio a year later, the results have been remarkable. Even now, with no form of electrification, not even mild hybrid powertrains, sales of these vehicles have against all the odds held up moderately well.
In the first half of 2020, and remembering that the Italian market was more or less closed for a couple of months, Europe-wide registrations fell by only 52.8 per cent, Alfa ending H1 with 14,147 cars registered in EU and EFTA markets plus the UK (29,339 for H1, 2019). North America fared somewhat better, numbers there dropping by 18 per cent, to 7,437 versus 9,037 in the first half of 2019.
Just imagine how this division could be performing if those who make the relevant decisions changed tack and introduced some new models, replaced the decade-old Giulietta (yes, it's still being built) and gave Alfa Romeo the attention it deserves. Perhaps the start of a fresh decade will be when that begins to happen. Yet even now, with a minimum of spending going on, the brand is faring…OK. Well, things could be far worse.
Anyone coming to either the Giulia or Stelvio for the first time will have an inevitable pleasant surprise. It isn't just that FCA decided to save itself some cash and wait another year to facelift these vehicles; they genuinely do not need even minor restyles. All that's been done externally for what is termed Model Year 2020 revisions is a set of darkened LED light clusters at the back ends, fresh wheels, gloss-black badges and the inspired decision to create a range of bright paint options named after sports models from the 1960s and 1970s: 6C Villa d'Este Red, GT Junior Ocra and Montreal Green.
I couldn't find much not to love about the Stelvio four-leaf clover when I was fortunate enough to spend multiple memorable days with one eighteen months ago. Then later in 2019, I got to take a Giulia Quadrifoglio for an all-too-brief drive. That car was gloriously mental in every possible way. Gorgeous to look at and listen to, possessed of a perfect driving position and with the DNA Pro chassis dynamics system set to RACE, insanely rapid and just the right side of ferocious. Plus, the sound which erupts from the tailpipes makes it easy to believe that the engine really does have a Ferrari heritage. Now, you can even specify a titanium and carbon fibre Akrapovic exhaust system as a new option.
None of the great stuff about the Giulia (and Stelvio) Quadrifoglio has been changed, which is the best news I could report. What has been done is really just a To Do list of minor alterations that make both models even greater. That includes a little more storage space, bigger cup-holders, wireless phone charging, an updated infotainment system and a transmission shifter which has lost the shiny-plastic feel and look, its new covering being more fitting of GBP67,195 (Giulia) and GBP73,195 (Stelvio) vehicles.
The steering wheel has also gained some additional remote functions, the seat belts can now be optionally switched from standard black to either bright red or green and there is perforated leather and Alcantara upholstery. The fantastic looking and feeling carbon shell Sparco front seats are still an option too.
There has also been a major update for ADAS (Advanced Driver Assistance Systems), FCA specifying Bosch technology. The list of features includes Lane Keep Assist, Active Blind Spot Assist, Active Cruise Control, Traffic Sign Recognition and Intelligent Speed Control, Traffic Jam Assist and Highway Assist, plus Driver Attention Assist (the last of these monitors driver drowsiness and triggers an alert if necessary). It's hard to image that anyone could get even close to dosing off behind the wheel of either model, so alive do these cars feel.
Power and torque, at 510 PS and 600 Nm, haven't changed and there is no need for any more of either, such is the level of acceleration available. Top speeds are equally ridiculous, at 176 and 190 mph for the Stelvio and Giulia respectively, their 0-62 mph times being 3.8 and 3.9 seconds. The SUV puts down its power less frantically, which you'd expect given that it has all-wheel drive rather than the saloon's rear-only traction. If you're determined to use all that the 2.9-litre biturbo V6 has to offer and switch off most of the electronic safety aids, the Stelvio can get sideways fairly easily too.
Fiat Chrysler isn't going to sell many of these cars in the UK but that's hardly the point. The arrival of the newly refined MY2020 Quadrifoglios shows that there is still much life left in Alfa Romeo and that the brand can even command high pricing when the vehicles are as good as these two are.
Average fuel consumption for the MY2020 Alfa Romeo Giulia Quadrifoglio and Stelvio Quadrifoglio are 27.2 and 24.6 mpg, with WLTP CO2 emissions of 236 and 231 g/km.
Giulia GTA and GTAm
The limited production Giulia Gran Turismo Alleggerita, announced in March, is based on the Quadrifoglio and gains 30 horsepower, the biturbo V6 producing 540 hp. It also loses 100 kg thanks to carbon fibre being used for the bonnet, roof, front bumper, front wheel arches, rear arch inserts and driveshaft. There is also a GTAm (modificata) which has two racing seats, a roll bar and six-point safety belts. A combined 500 cars will be made and there is no rigid mix of LHD and RHD build: it depends on where the orders come in from worldwide.
The Giulia GTA and Giulia GTAm are priced from €143,000 and €147,000 pre-tax throughout Europe.