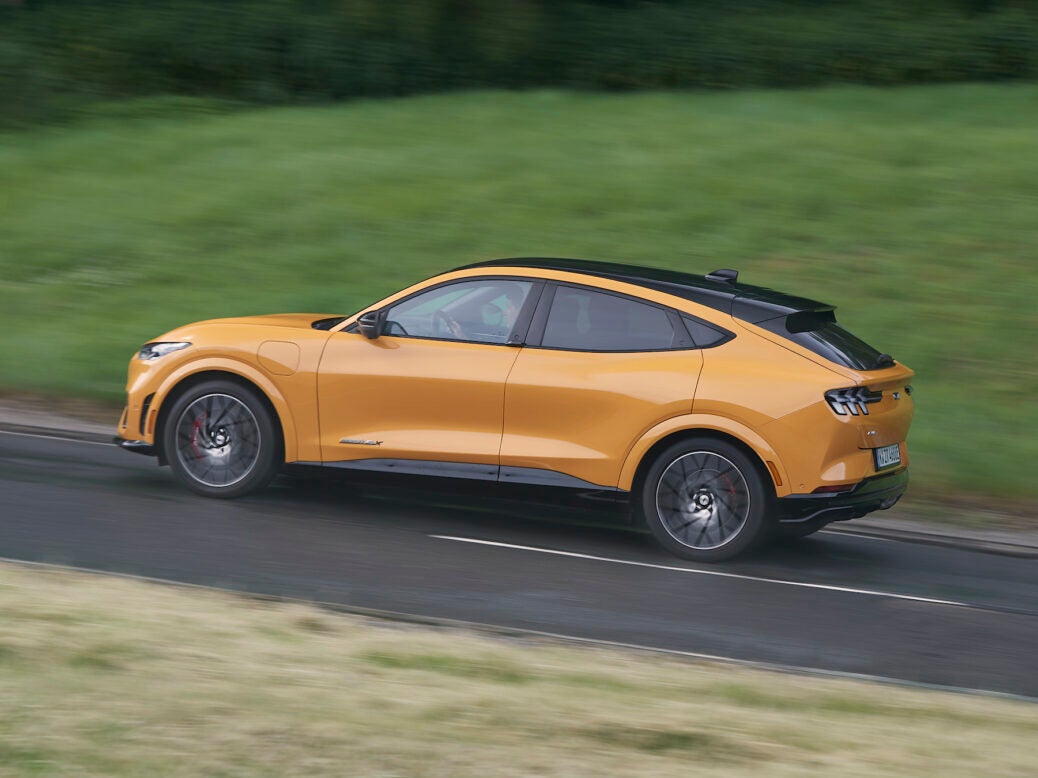 According to the details of its latest global EV strategy, Ford sees a big production boost for the Mustang Mach-e. And while the first half of 2022 is hardly the ideal yardstick, is the newly quoted ambition of 270,000 annual sales realistic?
The car itself is certainly close to class-leading in many ways yet this is far from an affordable, mass-market vehicle.
China sales – low but rising
According to its own (7 July) statement to the media, "Ford brand electric vehicle sales exceeded 1,900 units in the second quarter". It's likely most of those were the locally-built Mach-E.
In fact, CFA, the American company's JV with Changan, delivered 3,576 examples of the locally made Mach-e. That's a good result considering the car's premium pricing in all markets, the chips crisis and Covid travel restrictions in China. Remember too, Shanghai was a closed city in June.
Will build surpass 100,000 in 2023?
Let's look at the blue oval's home market instead. Cuautitlán, the vehicle's only plant in North America, built 33,953 examples of the electric SUV and 17,675 of these were exported to the USA.
Quite a large percentage of the remaining 16,278 will have been shipped to Europe, with the British market being one of the main ones. And that's despite what has become even higher pricing than just a few months back.
Luxury segment pricing
It's no longer shocking to see Hyundai or Kia pricing some of their cars north of fifty thousand pounds. Plus, Land Rover believes people will accept an eighty thousand pound base price for the new Range Rover Sport. So is "from £72,830" for the top-spec Mach-E a crazy amount to be asking?
A better question would be, is the GT worth the pricing Ford of Britain applies to this fastest and most luxuriously appointed of all Mustang Mach-E derivatives?
You can even spend close to seventy five thousand by choosing options such as the glass roof, detachable tow bar and the Cyber Orange paint you see above. A car I spent some days with had those extras and the colour certainly made it stand out.
Sprawling room
As for the cabin, this isn't too different from other variants. Therefore something it has in common with the rival Tesla Model Y is an interior which isn't quite what some buyers might expect of a high-priced luxury car. At least there's vast amounts of room and the boot's capacity is a decent 402 litres. Plus there's (a far smaller) one up front even if the two cables take up most of it.
Nearly 500 horsepower
What then of the question, is it worth what it costs? If you equate power with high pricing, then the GT certainly qualifies, the combined outputs of two motors producing 358 kW (487 PS) and 860 Nm. And the battery pack? This has an 88 kWh net capacity which allows a real world range of around 250-290 miles depending on how you drive.
In addition to the extra power and torque, the fastest Mach-E has also been given standard all-wheel drive, special 20-inch wheels fitted with bespoke Pirelli tyres, firmer (steel) suspension and larger Brembo front discs.
Whisper, Active or Untamed
The GT also comes with an 'Untamed Plus' driving mode. Unless you can find those elusive roads devoid of any other cars, it's probably best left for track days, where its software which tweaks the stability and traction controls can be enjoyed safely.
Acceleration is just like the best four-wheel drive EVs, Ford having fitted this fastest Mach-E with a new, oil-cooled, permanent magnet, synchronous rear-mounted motor. This achieves peak torque in just half a second, supported by the one on the front axle.
Always RWD-biased, the GT nonetheless will vary the torque split depending on whether you've chosen Whisper, Active or Untamed Plus.
Often these sorts of settings promise much but do very little that you can notice. Here though, each really does dial up a different feel. If only there was a stirring sound which accompanied the sportier two of the three modes. Thankfully, the Mustang Mach 1 exists for those who prefer growling to humming. The GT can't quite match the V8-engined car for steering finesse either – something which applies to all Mach-Es.
Summary
Overall, this is a very good car, make no mistake; but it's not a class leader. A BMW iX, which isn't that much pricier, is definitely better. And that's one of the issues: at this level, the Ford needs to be great in every way.
The Ford Mustang Mach-E GT has an official WLTP range of 500 km or 310 miles. Top speed is 200 km/h.