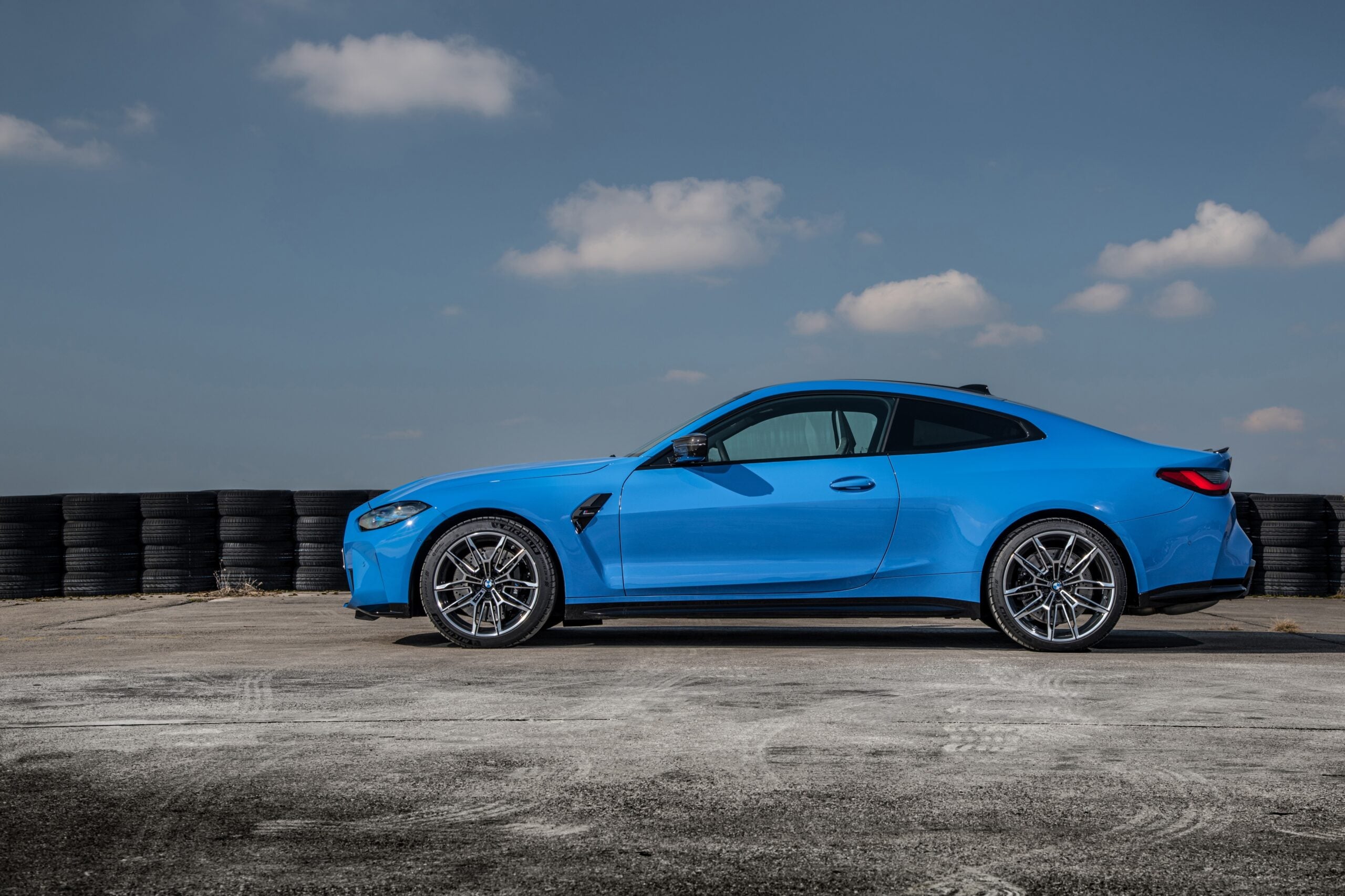 What was shocking not too long ago is becoming mild in the context of even more arresting BMW model designs. The G82 shape M4 Coupé is a case in point.
Launched at the end of 2020 and complemented by an even faster M4 Competition Coupé, the faces of these cars remain controversial. Does that matter though when M division is pulling in so much money thanks to high demand for an ever-expanding array of vehicles?
Three 4 Series bodies but only two M4s
The pair of coupés were revealed in September 2020 along with the G80 M3 Sedan and M3 Competition Sedan. The public premieres took place at that month's Beijing motor show. Very soon, they will be joined by a Touring. Is there a niche for a high-priced M estate of this size? BMW will find out.
The two-door model comes with rear- or four-wheel drive and is offered in two forms, each powered by the company's S58 straight-six.
S58 3.0-litre biturbo
In standard form, power and torque are 353 kW (480 PS) and 550 Nm (405 lb ft) but in Competition spec this rises to 375 kW (510 PS) and 650 Nm (479 lb ft). These are the same outputs produced by S58 in the M3 and X3 M, and M3 Competition and X3 M Competition.
In those markets where it's available, the M4 Coupé has a six-speed manual gearbox, while an eight-speed torque converter automatic transmission is standard for the Competition Coupé.
Optional four-wheel drive became available for the Competition in mid-2021. Just before then, the M4 Competition Convertible xDrive was announced, powered by the same engine as the one in the coupé. For the moment at least, there is no open-top equivalent of the 353 kW and 500 Nm M4 Coupé.
Carbon roof
It might just be the front number registration plate which causes the problem (US market 'plateless cars look better) but even after a week I struggled to love the beaver teeth grilles of the two-door M4. Never mind, there's a lot else to fall for. Such as the muscled bulges in the bodywork and a beautiful CFRP roof.
Open a wonderfully heavy door and you see a dashboard which has to be one of the best in the business with pleasing shapes, press button controls, a screen which doesn't dominate and lovely surfacing.
The orange digital instrumentation is less lovely, although that's just my own preference. Wouldn't it be terrific if real dials with needles made a return? Which will be the first brand to see if anyone would pay extra for them as part of an analogue package? And how about manual steering wheel and seat controls but keep the heating and cooling functions. Car makers want vehicles loaded with allegedly useful technology (it equals profit) but do buyers?
Mind the bulge
Optional M Carbon seats were fitted to the press tester and these were some of the best I've yet experienced. BMW has put a raised, hard piece of carbon fibre right between the legs and this is a tad scary; at least you see it straight away and take extra care when sliding in and out. Supposedly there is a 10 kg saving yet the car itself tips the scales well in excess of 1,700 kg.
The 3.0-litre six is plenty powerful and the M4's roadholding is incredible. If only that engine sounded sexier. It's far from bland, just not very loud or thrilling, even towards the rev limiter.
More tingles please
Recently, I had a brief go in the new M240i xDrive and would you believe a four-cylinder BMW has a more spine-tingling exhaust tune than the company's signature straight-six? Of course the best ones of all from this company remain its V8s although the artificially assisted in-line six diesels can also please the ears big time.
There's oodles of joy to be had from throwing this car about, particularly on damp surfaces. The oversteer isn't instantly tamed by safety systems – you get a tiny split second of the hint of a slide. The steering precision of an M car is there too, making you wonder how other marques just can't seem to match it. Also, there are only two and a bit turns lock to lock.
Worth the cost?
The M4 costs a lot of money but it's in the dynamics that you see where BMW has gone the extra mile to make this a very special car.
What's next for M GmbH?
Along with the pair of two-door cars, BMW also offers the 4 Series as a Gran Coupé. There could therefore be an M4 hatchback in the line-up at some stage. Next up though will be a Coupé Sport Leichtbau.
The CSL was teased by BMW M in February and should arrive later in the year as part of the division's 50th anniversary celebrations. There may eventually be CS and GTS variants too.
With a special BMW roundel either standard or optional (it depends on the country), there is a small visible exterior alteration for all current and new M models in 2022, the badge being encircled by white, red, mauve and blue segments.
Those who remembers the division's F1 and other motorsport campaigns of the 1980s will immediately get the references. Set against the right paint colour, it also looks great.
Fifty shades of M
Speaking of colours, there are to be no fewer than fifty new exterior shades, each one linked to an M model of the past. Examples include Dakar Yellow, Fire Orange, Macao Blue, Imola Red, Daytona Violet and Frozen Marina Bay Blue.
In addition to the M4 CSL, we know about certain other new cars for '22, these being the G87 M2 and G81 M3 Touring but there could be others. Maybe even M versions of the G70/G71 7 Series and i7, those two being due to be shown for the first time in April. BMW also hints at the potential for a record sales year in 2022, improving upon the new level of 160,000 set in 2021.
An M SUV
We might be still getting used to the nose of the 4 Series and M4, not to mention everything about the iX including its interior, yet G09, the XM, is going to make these seem vanilla.
The first SUV for M GmbH was previewed by the Concept XM, a plug-in hybrid prototype revealed to the media four months ago. This showcased the production model's turbocharged V8 and single motor powertrain. BMW claimed a range in EV mode of up to 80 kilometres while combined power and torque were said to be 550 kW (748 PS) and 1,000 Nm (737 lb ft).
Later in the 2020s
There likely won't be a new M5 until 2025 – one year after the arrival of the G60/G61/G68 5 Series – and then perhaps an interval of twelve months following the debut of the G65 X5 in late 2025 until a new X5 M lands. Add a further year for the future G66 X6 and its respective X6 M derivative. There will be many others between 2023 and 2027 too, details of which can be found in PLDB, the future vehicles database which is part of GlobalData's Automotive Intelligence Center.
Pricing for the BMW M4 Competition starts at GBP76,990 before options. Top speed is 180 mph, 0-62 mph takes a claimed 3.8 seconds, Combined consumption is 28 mpg and the CO2 average is 234 g/km.