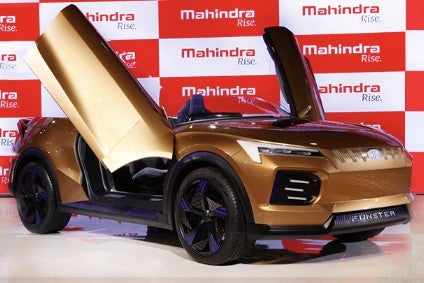 It was a terrible March for Mahindra & Mahindra in its home market, sales of passenger vehicles plunging by 88 per cent to 3,384 from 27,646 in March 2019. The company cites not only COVID-19 but also a lack of cars and SUVs for dealers to sell due to plant closures earlier in the year. Whenever the Indian market eventually returns to growth, M&M should be ready with lots of fresh product, as this report explains.
Commenting on the performance, Veejay Ram Nakra, the CEO of M&M Limited's Automotive Division said, "Our performance in March has been muted on account of the impact of the current lock-down related to Covid-19 and the disruption in our BS VI ramp-up plan. The latter was planned between February and March but was affected due to the challenges of parts supply from global and local suppliers. We have been able to clear our BS IV inventory, but for fewer than 100 vehicles. However, there are many vehicles that are sold, but not yet registered because of the closure of RTOs."
It's clearly going to be a tough time for OEMs which are reliant on the Indian market for the majority of their vehicle sales. Yet like Maruti, M&M has a rich parent company to support it through the worst of what will be inevitable losses to come. Both the Mahindra brand and at the other end of the pricing scale, Pininfarina Automobili, may end up delaying some of their costlier future model programmes. Even if that happens, the vehicles which are closer to launch should be unaffected.
Mahindra
The XUV300 is a small SUV which Mahindra launched in March 2019. It was developed using the architecture of the SsangYong Tivoli. That model was shortened so as to bring the length below 4,000 mm and therefore subject to a lower Goods & Services Tax in the Indian market. The front and rear were redesigned, but the basic vehicle is a modified Tivoli.
S210, an electric version of S201 (the XUV300's internal code) with battery cells supplied by LG Chem, is to follow during the second half of this year. It should be one of the first models to feature the frontal styling of the Funster concept. Mahindra pitches the XUV300 against the Maruti Suzuki Brezza, its market release having taken place in February 2019. M&M launched the little SUV with the choice of turbocharged 1.2-litre petrol and 1.5-litre diesel engines.
There will likely be another electric SUV and this one will be larger than the orhers (see link to PLDB below for details of all models). To be based on SsangYong's E100 project, it would likely go on sale from 2021 in the Indian market and be called either eXUV500 or eXUV600.
The Marazzo, a seven-seat MPV, entered production in August 2018. This was the first model for an innovative ladder frame/monocoque platform. What makes it unusual is the transverse positioning of the engine. The next news should be a facelift in either late 2021 or early 2022. The successor may not appear until 2028, in which case there would be a second facelift in 2025.
Rumours began to circulate in October 2019 that Mahindra engineers are developing a vehicle for Ford based on the Marazzo.
W601, the next XUV500, is due out in early 2021. It may be based on either an update of the existing architecture or else the same one as the new SsangYong Korando. This could also be the 'midsize sports utility vehicle (C-SUV)' named in a 22 March 2018 media statement as being part of a JV with Ford Motor Company.
The next generation Scorpio is codenamed Z101. It will be based on a fresh architecture which, like the current model, is a body-on-frame design. Both 2.0-litre petrol and 2.2-litre diesel engines should be available. The launch has been delayed until the second quarter of 2021. As with the existing Scorpio, expect a long life cycle, i.e. at least 10 years. That means facelifts in 2024/2025 and probably 2028 too.
The SsangYong Rexton was shown to the Indian public in February 2018 at the New Delhi Auto Expo. M&M markets this SUV as the Mahindra Alturas G4. Aside from the grille it shares everything with the Rexton. Local assembly commenced during the fourth quarter of 2018. There should be a facelift in 2021 and then another in 2024 as the replacement isn't due until 2027.
There may be another model above the Alturas G4. The 'Alturas G5' would be the brand's equivalent of SsangYong's D200 project, a proposed rival for the Kia Mohave/Borrego successor. In theory, this big SUV wouldn't appear until 2022 or perhaps now 2023. See either PLDB or the SsangYong feature for more details.
Pininfarina
Mahindra and its subsidiary Pininfarina will release the Battista all-wheel drive electric hypercar later in 2020 via a new company, Munich-based Automobili Pininfarina.
Only 150 cars will be made, though there are plans to follow up the Battista with as many as three electric crossovers and SUVs (PF-One, PF-Two and PF-Three) which will reportedly be targeted at the Porsche Macan, Porsche Cayenne and Lamborghini Urus. There had been rumours claiming that Rivian would supply its Skateboard platform for at least one of these models. However, on the eve of the Frankfurt motor show in September 2019, Pininfarina issued a media release stating that it was talking to Bosch Engineering and Benteler about a potential collaboration "to develop a new high-performance Electric Vehicle (EV) platform".
In July 2018, Automobili Pininfarina revealed some more details of its plans. AP would "offer a range of extremely luxurious and high-performance EV cars designed and built in a close partnership with Pininfarina SpA". The Battista, named after the company's founder Battista 'Pinin' Farina, would be an ultra-low volume, ultra-luxurious fully-electric hypercar. The first cars would be delivered to owners "in less than two years".
Potential buyers were given a private viewing of the prototype during Monterey Week in August 2018. The Battista was shown to the public at the 2019 Geneva motor show. A few weeks after Monterey Week, AP further noted that Rimac would supply what is a T-shaped battery pack. Rimac is expected to manufacture the car at the rate of 50 units a year over three years.
The motors' outputs are claimed to be 1,400 kW (1900 hp) and 2,300 Nm, with 0-100 km/h reached in under two seconds. The range is up to 450 km, the battery pack has a capacity of 120 kWh, top speed is in excess of 350 km/h, and pricing is expected to be around the two million euro mark. Pininfarina told the media on 6 August 2019 that the car would be available from "late 2020". This will probably now be pushed back into 2021.
Before the event was cancelled, AP had intended to reveal the Battista Anniversario, a special version of the Battista, at the 2020 Geneva motor show. Instead, it was revealed online. Five examples of this car will be made. It has special wheels, weighs 10 kg less and has different aerodynamic parts.
Reports for many other manufacturers' future models are grouped in the OEM product strategy summaries section of just-auto.com.
Future product program intelligence
More detail on past, current and forthcoming models can be found in PLDB, the future vehicles database. That includes the Mahindra and Mahindra Electric models which were not in the above report.
This, the second of two features examining passenger vehicle brands controlled by Mahindra & Mahindra, follows one which looked at SsangYong Motor. The next manufacturer to be featured in this series will be Hyundai Motor Group.