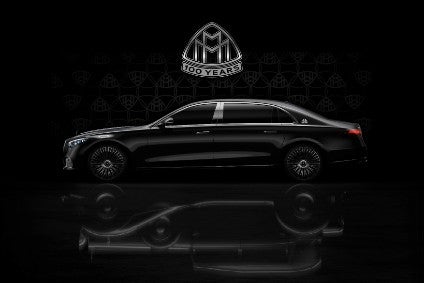 As this year is Maybach 's 100th anniversary, Daimler has plans to commemorate the occasion with not only the Mercedes-Maybach S-Class but an electric vehicle. The new decade is even more important for another small but growing sub-brand, with the just-announced EQB the first of many EVs still to come.
Mercedes-Maybach
Based on the V 223 extended wheelbase S-Class, the 5,469 mm long Z 223 Mercedes-Maybach S-Class was announced to the media last November. Sales commenced in certain markets almost immediately, with Germany and other European countries soon to see customer deliveires followed by the USA in a few months' time for the 2022 model year.
Daimler has phased out V12 engines from the Mercedes-Benz and Mercedes-AMG brands and is limiting their use to Mercedes-Maybach vehicles. All cars have 4MATIC-branded all-wheel drive and a nine-speed automatic transmission. There are three variants:
S 580 – 496 hp 4.0-litre biturbo V8 plus a 48 V mild hybrid EQ Boost system with an additional 21 hp
S 650 – 621 hp 6.0-litre biturbo V12
As yet unnamed PHEV but likely to be S 580 e – 503 hp 3.0-litre turbocharged 3.0-litre six-cylinder plus single motor PHEV
New features compared to the former model include optional rear-axle steering and active road noise compensation. The latter system reduces unwanted low-frequency noises using counter-phased sound waves. The bass speakers of a Burmester 4D surround sound system are used for sound reproduction.
The even lengthier Pullman will likely be revealed later in 2021. Both this variant and the standard wheelbase ones should be facelifted in 2025 with replacements due in 2029.
As per all versions of the S-Class range, the Maybach cars are built in Factory 56 at Daimler's Sindelfingen manufacturing complex.
Mercedes-EQ
Replacements for the Citan and Citan Tourer small van/minivan model series will again be supplied by Renault , with the passenger version changing names to T-Class. There will also be an electric variant, which will be called EQT. Mercedes-Benz is to reveal this vehicle on 10 May. The T-Class/EQT should have sliding side doors and be based on a shared Daimler-Renault-Nissan-Mitsubishi architecture.
The new EQA can be thought of as an electric GLA-Class. Originally due to be made in France at the smartville factory, these plans changed as that plant has been sold to INEOS Automotive . The EV-SUV is instead manufactured in Germany at the Rastatt plant and also at one the Beijing-Benz JV's factories.
Launched in Germany and other relevant regional markets in February as the EQA 250, this 4,463 mm long front-wheel drive electric crossover is powered by a single motor which has stated outputs of 140 kW (190 PS) and 375 Nm. The lithium-ion battery pack comprises 200 cells spread over five modules with a usable capacity of 66.5 kWh. Kerb weight is 2,040 kg. The NEDC range is up to 486 km, 0-100 km/h takes 8.9 seconds and top speed is 160 km/h. The life cycle should be seven years with a facelift in 2024.
The newly announced EQB, a 4,684 mm long electric SUV, is essentially an EV version of the GLB-Class. This, the first electric vehicle to be manufactured at the Kecskemét factory in Hungary, will also be built in the Chinese capital by the Beijing-Benz joint venture. The global debut has just taken place at the Shanghai motor show.
There are to be both front- and all-wheel drive variants and seating for up to seven occupants. The latter layout is to be standard for China.
An initial three versions will be available called EQB 250, EQB 300 4MATIC and EQB 350 4MATIC.
An electric five-door hatchback will be built in both Germany and China from "the second half of 2021", Daimler stated in December 2020. The car should have its public premiere at the Munich motor show in September. The name will be EQE and the car will be intended to compete with the Tesla Model S, Porsche Taycan and Audi e-tron GT.
China's EQE should have a longer wheelbase and be called EQE L although depending on how large the standard EQE turns out to be it might instead be the same size as the rest of the world's model.
Daimler has also stated that it would be launching an 'EQE SUV' but has not provided any other details.
A large electric sedan was under development, the then Daimler CEO Dieter Zetsche told journalists in April 2018. Speaking at the media preview of the third generation A-Class, Zetsche hinted that the car would be around the same size as the Mercedes-Benz S-Class. It had been thought that this would be a rival for the Porsche Taycan, Tesla Model S and Audi e-tron GT but the production model is much lengthier. These three cars, one (Taycan) a sedan and the other two hatchbacks, are all sub-5m, while the EQS, also a hatchback, is 5,216 mm long (and 5,265 in yet to be seen US spec).
The Vision EQS, a concept at the Frankfurt IAA in September 2019, was a preview. This prototype was a sedan with two motors – one at the front and one at the rear – which produced a claimed 350 kW and 760 Nm. The range was said to be up to 750 km (466 miles) and the battery's output was 100 kWh. Length by width by height were 5,295 x 2,077 x 1,436, with a 3,260 mm wheelbase.
It had been presumed that the EQS would be one of the many vehicles to have Farasis battery cells, as per Daimler's July 2020 announcement that it had taken a shareholding in the Chinese supplier. However, just a month later, the company announced that the EQS' pack would be supplied by CATL and that the car would have a WLTP range of over 700 km.
In December 2020, Daimler stated that production of the EQS would commence in the first half of 2021. The company also claimed that this would be the first vehicle for EVA (Electric Vehicle Architecture). However, it had been presumed that the EQC and EQA were already using EVA. One month later, the EQS' so-called MBUX Hyperscreen was detailed in a media briefing. This is an option for the car.
An initial two variants were announced earlier in April just ahead of their public premieres at the Shanghai motor show. The Chinese market sales launch won't take place until January but cars for Europe and North America are due on sale in August.
The EQS 450+ and EQS 560 4MATIC weigh respectively from 2,480 and 2,585 kg. In the USA, where the EQS is to be new for the 2022 model year, the rear-wheel drive variant is quoted as having 329 hp while the EQS 580 4MATIC has an official power output of 516 hp.
Specifications for Germany and other relevant markets are as follows:
EQS 450+ – 245 kW (333 PS) & 568 Nm, RWD, 210 km/h top speed, 107.8 kWh usable energy content
EQS 580 4MATIC – 385 kW (523 PS) & 855 Nm, AWD, 210 km/h top speed, 107.8 kWh usable energy content
The boot capacity is 610/1,770 litres VDA, air suspension and rear-wheel steering are standard, plus there is a vast array of optional equipment including 'Comfort' doors which can be closed and opened automatically.
A Mercedes-AMG variant is said to be planned for 2022 and there could be an eventual Mercedes-Maybach derivative too. Daimler stated in April 2021 that, "A performance version with up to 560 kW is being planned'.
EQG seems a safe bet for what Daimler will call the forthcoming electric G-Class. Ola Kallenius spoke publicly about such a vehicle for the first time at an industry conference in Germany during November 2019. Daimler's CEO did not state when the electric G-Class would become available but 2022 or 2023 seems likely.
Expect different styling touches at either end of the vehicle compared to the standard G-Class.
Earlier this month the European Union Intellectual Property Office (EUIPO) registered a trademark for the name Mercedes-Benz EQG.
The EQS SUV was announced to the media in October 2020 but other than the name, there was no information. Two months later, there was a little more, with the manufacturing plant and year when build would commence noted (see link to PLDB below). It is presumed that this vehicle will be based on the GLS-Class.
Reports for many other manufacturers' future models are grouped in the OEM product strategy summaries section of just-auto.com.
Future platform intelligence
More detail on past, current and forthcoming models can be found in PLDB, the future vehicles database which is part of GlobalData's Automotive Intelligence Center. That includes Mercedes-Maybach and Mercedes-EQ vehicles not noted in this report.
This is the fourth of four reports in a series which looks at certain current and future models from the passenger vehicle divisions of Daimler AG. It follows features on Mercedes-Benz cars, Mercedes-Benz SUVs and Mercedes-AMG. The next manufacturer to have its brands' forthcoming models detailed will be BMW AG.