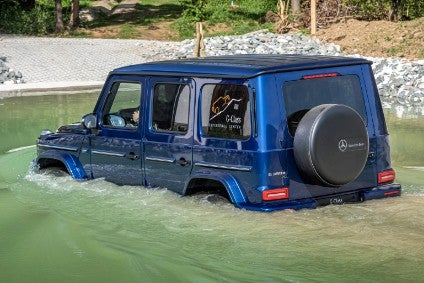 It's apt that with Mercedes-Benz now a mass market brand, SUVs are much of the reason why. Apt in that the Geländewagen, which we can think of as the marque's first SUV, was never intended to be a luxury vehicle. As it became the G-Class, this remarkable 4×4's name was leveraged again and again, to the point where there is now a large line-up of SUVs, each of which has G as the first letter of its name. This report examines a selection of them.
The smallest Mercedes SUV isn't small at all, the 4,410 mm long second generation GLA -Class being 30 mm wider and 100 mm taller than the original but 14mm shorter. Available in Europe since June 2020, the MFA 2-based model architecture is manufactured at two plants: Rastatt and Beijing. Assembly in Brazil, India and Thailand should follow later this year.
M 282 is so far the the sole engine. This 1,332cc four-cylinder petrol turbo is shared with the Renault-Nissan-Mitsubishi Alliance. In the GLA 200 it produces 120 kW and 250 Nm, sending drive to the front wheels via a seven-ratio dual-clutch transmission. There is also a GLA 250 which has outputs of 165 kW and 250 Nm in both FWD and AWD forms.
Also launched in June last year is a plug-in hybrid, the GLA 250 e. This has the same powertrain as the A 250 e, A 250 e Saloon, B 250 e, CLA 250 e Coupé and CLA 250 e Shooting Brake. The electric operating range is 71-79 km (NEDC), while the top speed in EV mode is 140 km/h.
The 1,332 cc petrol engine produces 118 kW (160 PS) and 250 Nm while the motor's output is 75 kW and 300 Nm. System outputs are 160 kW and 450 Nm. The battery's capacity is 15.6 kWh. There should be a mid-cycle facelift and a revised powertrain for the GLA 250 e in late 2023/early 2024. The replacement, which should be an EV, is due to arrive in 2027, at the same time as other third generation GLA-Class variants.
Despite being not too much larger than the GLA, unlike that model, the GLB-Class can seat seven occupants (there are five-seater versions too). However, as with the Land Rover Discovery Sport, it should really be thought of a 5+2. The platform is the front- and all-wheel drive MFA 2.
In North America, a 2.0-litre gasoline unit is standard, while in Europe there is also the choice of a 1.3-litre petrol unit and/or a 2.0-litre diesel. These turbocharged four-cylinder variants are:
GLB 200 (120 kW & 250 Nm 1,332 cc petrol, seven-speed dual clutch automatic)
GLB 250 4MATIC (165 kW & 350 Nm 1,991 cc petrol, eight-speed dual clutch automatic)
GLB 200 d & GLB 200 d 4MATIC (110 kW & 320 Nm 1,951 cc diesel, eight-speed dual clutch automatic)
GLB 220 d 4MATIC (140 kW & 400 Nm 1,951 cc diesel, eight-speed dual clutch automatic)
Production is in China (Beijing Benz's Miyun factory) and at Cooperation Manufacturing Plant Aguascalientes, the Renault-Nissan Alliance and Daimler's manufacturing base in north-central Mexico. The first model for COMPAS, which was built in the immediate vicinity of an existing Nissan plant, was the Infiniti QX50. The GLB was added in September 2019 so we won't see a facelifted model for a while yet. That will likely be in two years' time, but a PHEV should be added either this year or next. The second generation GLB-Class is due in 2026.
The world should get its first official look at the second generation GLC-Class in June 2022. Series production at the Bremen plant which makes the current model is said to be due to start two months later. Daimler has said that build will also take place at Sindelfingen from 2022, while Beijing Benz will manufacture it too. Whether or not Valmet will continue additional assembly in Finland is not yet known.
One of the most successful G models over several generations is what's now known as the GLE-Class. The existing W156 series model has been in production since February 2019, which means it's due a facelift plus a fresh round of mechanical updates in two years' time.
The first two variants were the GLE 300 d and the GLE 450 4MATIC. The second of the pair is powered by a six-cylinder petrol engine which produces 270 kW (367 hp) and 500 Nm plus 250 Nm and 16 kW (22 hp) from an integrated starter/alternator (ISG). Available for short periods, this extra power and torque is branded EQ Boost. A nine-speed automatic transmission is standard. As for the GLE 300 d, this variant's diesel engine has outputs of 180 kW (245 hp) and 500 Nm. Mercedes-Benz USA then announced the GLE 350 and GLE 350 4MATIC at the LA auto show in November 2018. These are powered by a 255 hp 2.0-litre turbo petrol engine.
In December 2018, the GLE 350 d 4MATIC and GLE 400 d 4MATIC were revealed. Powered by the OM 656 2,925 cc in-line six-cylinder diesel engine, the outputs are respectively 200 kW (272 hp) and 600 Nm, and 243 kW (330 hp) and 700 Nm. Then in May 2019 came the GLE 580 4MATIC. This has an electrified gasoline engine with a 48-volt on-board electrical system and integrated starter generator. The biturbo V8 has outputs of 483 horsepower and 516 lb ft of torque with an additional 21 horsepower and 184 lb ft of torque available via EQ Boost.
For details of another variant, the GLE 350 de diesel plug-in hybrid, see the link to PLDB below. The same applies to the G-Class and the GLS-Class. Information on the future EQG, an electric G-Class, will be in the forthcoming report on Mercedes-EQ models.
Reports for many other manufacturers' future models are grouped in the OEM product strategy summaries section of just-auto.com.
Future platform intelligence
More detail on past, current and forthcoming models can be found in PLDB, the future vehicles database which is part of GlobalData's Automotive Intelligence Center.
This is the second in a series of reports highlighting certain current and future models from the passenger vehicle divisions of Daimler AG. It follows a look at Mercedes-Benz cars, 2021 to 2031. Next comes Mercedes-AMG, with Mercedes EQ and Maybach being the focus of the final chapter.