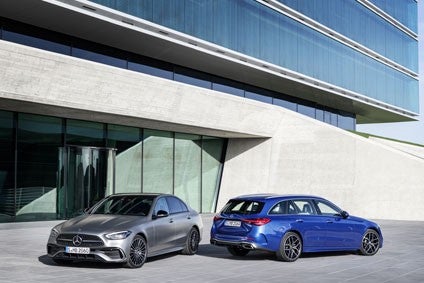 As Manfred Bischoff steps down after 14 years as chairman of Daimler AG's Supervisory Board, his successor Bernd Pischetsrieder will inevitably face fresh challenges as he steers the company through the 2020s. So what can we expect when it comes to what matters most of all – the cars that must both continuously reinvent the Mercedes-Benz name and bring in the cash to fund their even higher tech replacements?
Sedans, wagons, coupes & cabriolets
Revealed in February, the latest C-Class sedan and C-Class wagon range have their Europe-wide sales launch next month, while China's extended wheelbase L sedan should premiere at the Shanghai motor show, also in April. Both (standard length) saloon and estate are 4,751 mm long and have a 2,865 mm wheelbase, while the L is 4,882 mm.
Production of both saloon and estate started at the Bremen plant a few days ago on the same line as the GLC, the GLC Coupé and EQC. Later in 2021 a C-Class All-Terrain estate will be announced.
As with the previous car, the BR206/W206 is or will be manufactured or assembled at multiple plants but Vance/Tuscaloosa (USA) will not be one of them. Bremen (Germany) is the lead factory for the sedan and estate, with the L sourced exclusively from one of the Beijing Benz JV facilities in the Chinese capital. Meanwhile, East London (South Africa) will again also make this generation for a wide variety of markets.
Each of the first variants is a mild hybrid, which has an ISG and 48 V electrics and is powered by a turbocharged four-cylinder engine linked to a nine-speed automatic gearbox:
C 180, 1,496 cc, 125 kW (170 PS) plus 15 kW (20 PS) and 200 Nm Boost, combined torque of 250 Nm
C 200 & C 200 4MATIC, 1,496 cc, 150 kW (204 PS) plus 15 kW (20 PS) and 200 Nm Boost, combined torque of 300 Nm
C 300 & C 300 4MATIC, M 254 engine code, 1,999 cc, 190 kW (258 PS) plus 15 kW (20 PS) and 200 Nm Boost, combined torque of 400 Nm
C 220 d, OM 654 M engine code, 1,992 cc, 147 kW (200 PS) plus 15 kW (20 PS) and 200 Nm Boost, combined torque of 440 Nm
C 300 d, OM 654 M engine code, 1,992 cc, 195 kW (265 PS) plus 15 kW (20 PS) and 200 Nm Boost, combined torque of 550 Nm
Mercedes Benz USA is expected to only import the C 300 and C 300 4MATIC, at least at first. Deliveries aren't due to start there until early 2022 (2022 model year).
There won't be any six- or eight-cylinder engines in the new model, nor will air suspension be offered.
See PLDB for the C 300 e and C 300 de, which are the petrol and diesel PHEVs.
The project code for the next E-Class is BR214 (W214). There will again be standard and extended length sedans plus an estate but successors for the coupe and cabriolet are unlikely. This will probably also be the final E-Class to be powered by combustion engines. Build is due to commence in two years' time. More details can be found in PLDB (see link at end of this feature).
S 580 e is the name of the plug-in hybrid version of the new S-Class (see PLDB). A maximum range of just over 100 km (WLTP) is claimed, double that of the S 560 e, the car which it replaced.
The just-launched PHEV is powered by M 256, a 2,999 cc turbocharged in-line six-cylinder petrol engine linked to a gearbox-mounted motor and driving both axles via a nine-speed transmission. Combined power is 380 kW (517 PS). The lithium-ion battery has a capacity of 28.6 kWh.
As the largest markets for the S-Class are China, South Korea and the USA, Daimler says it has no plans to offer the S-Class with a diesel-electric powertrain.
Even though it is yet to be revealed, the next SL-Class should enter production at Sindelfingen in a matter of weeks. Coded R232, it will be based on Daimler's Modular Sports Architecture (MSA). The eighth generation model returns to having a fabric roof and for the first time since generation four, there will be a separate coupe. R232 is said to be breaking with tradition by being made into a supercar rather than a grand tourer.
MPVs
The replacements for the Citan and Citan Tourer small van/minivan model series will again be supplied by Renault, although the passenger version will change names, becoming T-Class. All variants should have sliding side doors and be based on a shared Daimler-Renault-Nissan-Mitsubishi architecture.
Renault's equivalent, the third generation Kangoo, goes on sale in June, and we should see its Mercedes van and MPV brothers by year-end. As for an EQT (electric T-Class), this will be discussed in a forthcoming report on EQ vehicles.
One to two size classes above the T-Class is the eVito Tourer. This, a passenger version of the electric Vito van, was announced as an additional model in July 2020 and as part of a facelift for the eVito.
Available in long (5,140 mm) and extra-long (5,370 mm) versions, each is powered by a 150 kW (204 PS) and 362 Nm single motor which drives the front wheels. The stated top speed of 140 km/h can be optionally raised to 160 km/h. As for the battery pack, this has a capacity of 90 kWh, while the maximum range is 421 km. Airmatic, which is pneumatic suspension, is available as an option. The eVito is due to be replaced in 2023.
The next generation Sprinter range will include not only combustion engine van, Ambulance and flatbed pick-up variants but eGrocery transporter, eSprinter and 'Sprinter People Mover' derivatives too. Mercedes-Benz announced these details yesterday, stating also that production will take place in three plants: North Charleston (South Carolina, USA), along with Düsseldorf and Ludwigsfelde (Germany). Fifty million euro will be spent on upgrades at each site ahead of build commencing in the second half of 2023. Mercedes-Benz USA disclosed the planned bodies in this image.
Reports for many other manufacturers' future models are grouped in the OEM product strategy summaries section of just-auto.com.
Future platform intelligence
More detail on past, current and forthcoming models can be found in PLDB, the future vehicles database which is part of GlobalData's Automotive Intelligence Center.
This is the first in a series of reports highlighting certain current and future models from the passenger vehicle divisions of Daimler AG. Next comes a chapter on Mercedes SUVs. After that, it's Mercedes-AMG, then Mercedes EQ and Maybach.