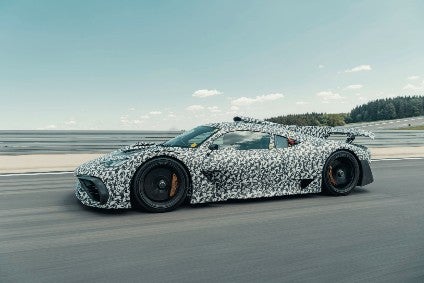 Electrification will soon be the default for Mercedes-AMG 's powertrains. That's a major shift for a Daimler division which started life as AMG, a company that raced V8 sedans before evolving into a small-volume maker of fast production cars too.
We shouldn't have to wait too much longer for official news about the next Mercedes-AMG C-Class. The new model will reportedly lose V8 power and gain a petrol-electric hybrid powertrain. This will consist of the M 139 2.0-litre four-cylinder engine, one motor and a 48V integrated starter motor. There should eventually be C 53 e 4MATIC+ and C 63 e 4MATIC+ variants but the second of those two will likely be announced first.
One size up, the current E-Class has been around 2016 and is due to be replaced in 2023. The E 43 4MATIC sedan, which has since been superceded, had its world premiere at the New York auto show in March 2016. Sales got underway six months later. It was powered by a 295 kW (401 hp) 3.0-litre biturbo V6 engine. Torque was 520 Nm, the standard transmission was a nine-speed automatic and the car had pneumatic suspension. An Estate was also added in 2016.
The E 53 4MATIC+ replaced the E 43 4MATIC. It had its world debut as a Coupe and a Cabriolet at the 2018 Detroit motor show. Unlike the E 43 and E 63, these are hybrids. M 256 is the code for these cars' 2,999cc in-line six-cylinder petrol engine. This produces 320 kW (435 hp) and 520 Nm. To this are added 16 kW (22 hp) and 250 Nm from a motor. The first cars were delivered to German dealerships in August 2018. There are also sedan and estate versions of the E 53 4MATIC+.
The E 63 4MATIC and E 63 S 4MATIC were announced in October 2016 ahead of their debuts at the Los Angeles auto show, both powered by a biturbo 4.0-litre V8. Outputs are 420 kW (571 hp) and 750 Nm for the E 63 and 450 kW (612 hp) and 850 Nm for the S. The only transmission for both is Mercedes-Benz's own Speedshift nine-speed automatic. The E 63 and E 63 S were in European dealerships from March 2017 and on sale in the US from mid-year for the 2018 model year.
The E 63 4MATIC+ Estate and E 63 S 4MATIC+ Estate were world premieres at the Geneva motor show in March 2017.
A facelift for the CLS-Class was announced only recently, and this will be the final set of revisions for the big four-door coupe. As a Mercedes-AMG it comes solely in CLS 53 4MATIC+ form. Powering the car is the same 2,999 cc in-line six-cylinder petrol engine as features in the E 53 4MATIC+.
All versions of the CLS come down the same line at the Sindelfingen plant as the E-Class sedan and estate. There probably won't be a direct replacement for the CLS-Class.
The V8-powered range now consists of the E 63 4MATIC+ and E 63 S 4MATIC+. A facelift for the E 53 4MATIC+ was announced in March 2020. Two months later the facelifted E 53 4MATIC+ Coupe and Cabriolet were revealed digitally.
The equivalent updates for the E 63 4MATIC and E 63 S 4MATIC sedans and estates were announced in June 2020. Power and torque remain as 420 kW and 750 Nm or 450 kW and 850 Nm.
The Mercedes-AMG editions of the new S-Class will become PHEVs and be called S 63 e 4MATIC+ and S 73 e 4MATIC+. Both will be powered by new derivatives of Daimler's well known 4.0-litre biturbo V8, boosted with electrification via a single motor. Outputs of around 700 PS and 800 PS respectively are expected. The first of the pair is due to be revealed soon. As for the life cycle, a facelift would be due in 2024 and a replacement in 2028.
We should finally see the ONE later in 2021. The mid-engined hybrid hypercar was announced by Daimler's Thomas Weber as being under development during an event on the eve of the 2016 Paris motor show. The public debut was at the Frankfurt IAA in September 2017, where a prototype wearing the label of Project ONE was presented. One year later, the model name was announced.
The engine will be based on the Mercedes-Benz 1.6-litre V6 used in its Formula 1 car from the 2017 season and there will be MGU-K and MGU-H motor generator units too.
Again in line with the F1 car, Project ONE's gearbox forms part of its structure. However, it will be an automated manual gearbox. Fewer than 275 cars will be made. Production would be delayed until the second half of 2020, according to Tobias Moers, the then head of AMG, who was interviewed in October 2018. This was subsequently pushed back to 2021.
The range on electricity will be around 30 km and the car will run on ordinary 98 octane unleaded, AMG says. The top speed will be in excess of 218 mph, Mercedes-AMG claims.
Daimler is yet to announce where the One will be built. It may well be made in England. That would potentially make sense as already, it is known that the monocoque, body panels and suspension systems will be sourced from Mercedes' F1 facilities in Brixworth and Brackley.
Reports for many other manufacturers' future models are grouped in the OEM product strategy summaries section of just-auto.com.
Future platform intelligence
More detail on past, current and forthcoming models can be found in PLDB, the future vehicles database which is part of GlobalData's Automotive Intelligence Center.
This is the third report in a series which looks at certain current and future models from the passenger vehicle divisions of Daimler AG. It follows features on Mercedes-Benz cars and Mercedes-Benz SUVs. Mercedes EQ and Maybach will be the focus of the final chapter.