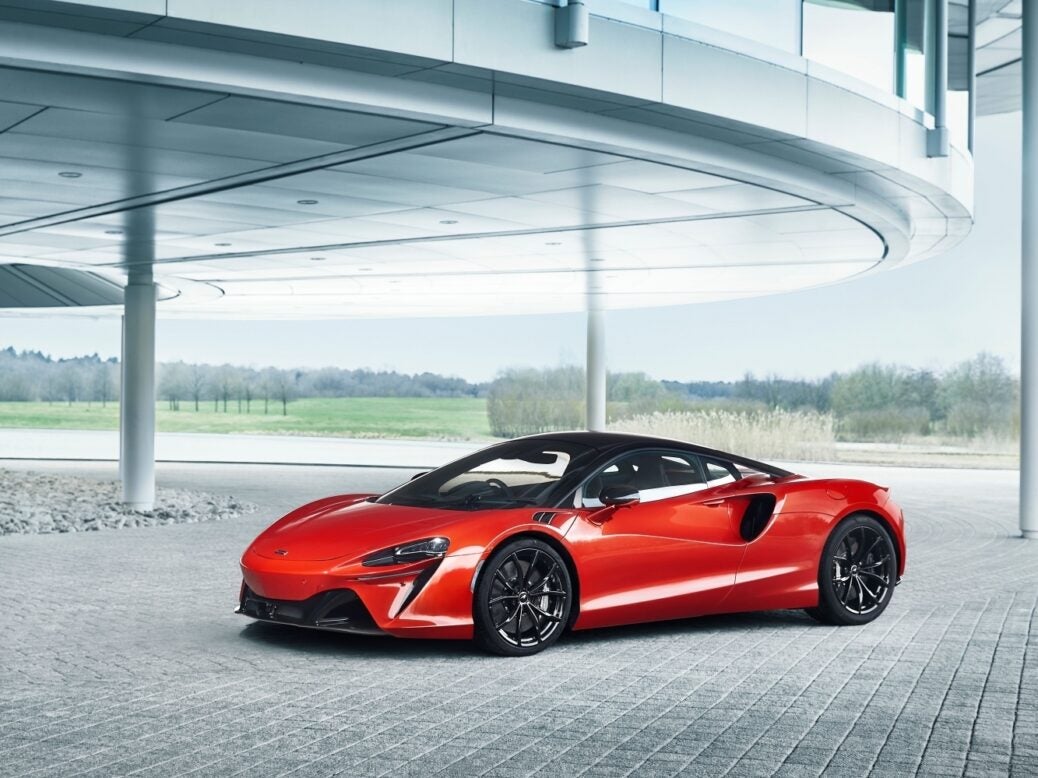 We've just heard that McLaren Automotive is celebrating its first decade as a global retailer with a presence in 40 markets by opening yet another showroom.
Organic expansion
Much has changed since the first retail outlet was set up to sell the 12C, particularly the language used. Now it's all about 'organic' expansion as the company continues with a business plan called Horizon2030.
"In just 10 short years we, together with our dedicated retailer network, have grown from our first retailer in London to opening our 100th retailer which will be in China later this year, a market which has been growing very strongly and winning many fans.
"It is also fitting given the very global nature of our company and ambitions and our second decade is an intensely exciting and innovative one not only for McLaren but also for the wider automotive world. As we embrace a future of electrification with the all-new and lightweight McLaren Artura, we'll continue to push the boundaries in the pursuit of creating the world's finest drivers' cars."
Not so big in China
The quotes are from Mike Flewitt, speaking a few days ago. What McLaren Automotive's chief executive still hasn't said much about is why the company isn't branching out into SUVs. Even Ferrari is doing that (at last). He also didn't say that the marque's year-to-date deliveries in China number just 134 cars (-16% YoY).
Had it not been for an emergency strategy to pump cash into the business, the Woking-based firm might have run out of money in 2020. So you'd think that McLaren would be going after the Lamborghini Urus, Aston Martin DBX, Bentley Bentayga, Ferrari's Purosangue and other SUVs to come. You'd be wrong.
Perhaps a new generation of cars will be enough to bring in all the money that's needed to rebuild the business for the latter half of the 2020s, perhaps it won't. Let's at least examine what McLaren Automotive has coming fairly soon. And also see what's likely to replace and supplement these vehicles as we head into the second half of the 2020s.
Super Series
The 765LT Spider is the brand's newest car, having only been announced in July. As with the 765LT, the numbers in the name indicate how many will be built and power in pferdestarke (PS for short and German for horsepower).
These two vehicles are part of the second generation Super Series, a model line which dates to 2017. The first variant was the 720S. This replaced the 650S and was the first car for the second generation Super Series. It also introduced M840T, McLaren's 3,994 cc biturbo V8.
The 720S Spider came next (December 2018), then a Long Tail variant, the aforementioned 765LT (March 2020). McLaren stated that the weight was 1,339 kg (DIN), making the LT 80 kg lighter than the 720S coupé. One of the distinguishing features was four tailpipes in a row. Deliveries commenced in November 2020 and continued until mid-2021. More variants will be added in 2022.
Production of the Super Series should end in 2023, the replacements being hybrids and MCLA-based (McLaren Carbon Lightweight Architecture).
Artura
The 4,539 mm long PHEV pictured above is the first vehicle for MCLA. The car, positioned between the GT and 720S, was revealed in February but deliveries didn't commence until July (September for the USA). Pricing starts at GBP185,500. An Artura Spider will surely follow.
Rather than a V8 the powertrain is a 430 kW (585 PS) and 585 Nm biturbo 2,993 cc V6 boosted by a 70 kW (95 PS) and 225 Nm motor. A range of up to 30 km in EV mode from the 7.4 kWh battery is claimed.
Combined outputs are 500 kW (680 PS) and 720 Nm (530 lb ft). The code for the 120° V6 is M630. Drive goes to the rear axle via an eight-speed dual clutch transmission and instead of a reverse gear, the motor will run backward when R is selected.
The Artura will probably be replaced by an EV in 2027.
Ultimate Series – Elva
Another recent model is the Elva. Part of the so-called 'Ultimate Series', this speedster follows the Senna and Speedtail. McLaren would make 399 examples of this car, it announced at an event timed to coincide with Monterey Week in August 2019.
In April 2020, amidst the COVID-19 pandemic, the company then said it would be making only 249 cars, the PR spin being that this would render the Elva "more exclusive". Five months later, the company made this second announcement: "…no more than 149 Elva's [sic] will now be built, given the limited production slots available on the recently re-opened line and compromised availability of parts".
"Coming to market in late 2020, the new Ultimate Series model is likely to be priced between the current McLaren Senna (£750,000) and Speedtail (£2.1 million) models", a media release had added. The price ended up being GBP1,425,000.
At the time of its announcement, the Elva was the lightest road car yet from McLaren Automotive. The engine is a 825 PS 4.0-litre biturbo V8 and the model is an "extreme two-seater with a bespoke carbon fibre chassis and body but no roof, no windscreen and no side windows". A windscreen option was however announced in May.
An eventual successor will supposedly not be launched until 2024, Mike Flewitt has stated, adding that this car would be "electrified" but not an EV.
Reports for many other manufacturers' future models are grouped in the OEM product strategy summaries section of Just Auto.
That includes McLaren vehicles not detailed in this report.
Future platform intelligence
More detail on past, current and forthcoming models can be found in PLDB, the future vehicles database which is part of GlobalData's Automotive Intelligence Center.
The next OEM for Just Auto's future models series will be Suzuki.