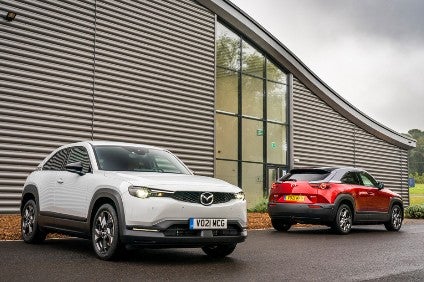 Clapping eyes on Mazda 's first proper EV – there have been concepts for decades – there is a sense of deja vu. Battery power. Check. Rear hinged rear doors which can only be opened after front portals open. Check. Range c.110 miles. Check. BMW 's i3 came immediately to mind.
Things have moved on a bit since my 2014 review of the REX (range extender) baby 'lecky Bimdub. Sadly, BMW no longer extends me invitations to press launches or drive days, or provides review cars. But a perusal of their UK website shows the i3 liveth on with the REX axed and a choice of battery-only power trim levels – standard or sport – giving ranges of 173-175 miles or 182-190 miles. The styling, described seven years ago by my children as "cute", appears unchanged, as does the imaginative interior with innovative materials.
To my eyes, the Mazda MX-30 is a much more attractive coupe crossover with a much more conventional interior albeit with some trim material innovation. Come out of an ICE BMW or Volkswagen into an i3 or ID.3 and familiarity takes a while – how do you engage drive? – but the MX-30 is much like a CX-30 inside. Conventional Mazda-style instrument cluster with a battery 'fuel gauge' (instead of a digital read-out) plus a separate range display, steering column stalks, familiar T-bar shifter in the centre console (instead of an instrument panel-mounted control) and familiar switches on the steering wheel. Screen climate control nicely supplemented by buttons. Cork trim and an unusual multi-layer centre console storage layout are the only real differences.
The rear hinged rear doors also hold the front occupants' seat belts which is a sure recipe for a garroting until those in front remember to unbuckle before authorising rear door opening – something I recall, with a wince, from Honda's mainly US market Element. Later versions of that relocated the belts to the front seats, if memory serves. Interior room is pretty tight – there won't be too much legroom to spare behind a tall driver. The driver's seat has a couple of rocker switches in the backrest for a rear occupant to move it forward or back or up and down but there did not appear to be a 'remember setting and fold forward' facility for the passenger side pew which needed manual resetting after rear seat entry/exit. Boot is a decent size and the usual 'pump and gunk' are located below the boot floor. Charge cable comes in a nice bag.
Range is officially 124 miles (110 was showing on our demo when we set sail) and Mazda's UK unit cites lower CO2 emissions for that choice, describing battery manufacture as a "particular challenge". The reasoning is that making smaller battery packs emits less CO2 and also "achieves parity" (of total CO2 build-and-use emissions compared with an ICE car) sooner while less weight means lighter handling and ride.
"The emphasis is on the whole driving experience," we were told.
Certainly, the MX-30 is a hoot to drive. Most EVs I have sampled handle well but the new Mazda really does like being hurled into corners, tracking true with minimal body roll. Ride is a little on the firm side but acceptable. As with most EVs, regenerative braking can be used to add range. The Mazda has steering wheel paddles and the highest setting, which I always use in EVs, means minimal use of the brake pedal is required. The sample car had excellent radar cruise control and all the expected safety equipment though we did get one 'Brake!' false alarm.
Mazda UK hopes to sell 550 units this fiscal year and 2,600 in a full year. Sweetening the deal, customers ordering by 31 March 2021 will receive a free home charger wall box which would otherwise cost GBP485.
The car has a 35.5kWh lithium-ion battery and comes with AC charging up to 6.6kW and DC rapid charging designed to meet 125A Combo Charging standards. Later this year, the range will, like the earlier BMW i3s, have a range extender option with a petrol rotary engine onboard to top up the battery as needed when a recharge station is not immediately available.
Pricing starts at GBP25,545 but, like so many automakers in the UK these days, Mazda is kicking off proceedings with a 350-unit GBP27,495 MX-30 First Edition with a choice of three, free metallic single colours and two three-tone, extra cost options. This provides a shiny black roof black roof and metallic dark grey upper side panels to contrast with the main body colour. Other standard equipment highlights on the First Edition include adaptive LED headlights, satin D pillar trim and signature LED rear lights. Inside, the First Edition has light grey cloth and stone leatherette combined with orange seat stitching. Eight-way power adjustable driver's seat and chrome interior details, plus heated front seats are included.
The full UK range follows other Mazda model grading – SE-L Lux, Sport Lux and GT Sport Tech. Standard on all are LED headlights with daytime running lights, reversing camera, radar cruise control with intelligent speed assist, navigation and head-up display.
The Sport Lux adds power seats, lumbar support adjustment and smart keyless entry while GT Sport Tech offers cloth interior trim or extra-cost artificial leather, a front wiper de-icer, power and tilt sunroof, heated steering wheel and 12-speaker Bose surround sound. All have a comprehensive standard safety equipment specification while GT Sport Tech adds extra active safety technology and a 360-degree view monitor.
In a nod to Mazda's founding as the Toyo Kogyo Cork Company in 1920, the MX-30 has cork lined centre console trays and inner side door handles. Harvested from the bark of trees without felling, the use of cork and door trim materials that incorporate fibres from recycled plastic bottles, are well suited to a 'green' first pure electric production car. A Volvo-style 'floating' centre console sits independently from the dashboard.
Electric G-Vectoring Control Plus (e-GVC Plus) enhances chassis performance by using motor torque to optimise the front-rear load shift for improved stability. The dynamic focus also extends to a throttle pedal that delivers a seamless transition between linear power delivery and smooth regeneration on lift off, equally, the braking system offers a seamless transfer between energy regeneration and hydraulic brake action. There is also a clever 'engine sound' feature which reminded me of a three cylinder ICE; the note changes slightly according to the amount of regeneration (five stages) you set with the left steering wheel paddle.
Mazda Motors UK managing director Jeremy Thomson, said: "Our first all-electric Mazda heralds an exciting start to our second century in business. A battery electric vehicle conceived and created with our well-renowned focus on distinctive styling, innovative technology, driver focused dynamics and class-leading interior quality, the MX-30 will be a stand out addition to the rapidly evolving EV marketplace. Part of our multi-solution approach to efficient vehicles, the launch of our first pure electric car is a milestone moment for the brand and a landmark moment for our dealers and customers here in the UK."
The brand's electrification strategy so far has seen mild hybrid fitted as standard to the 3, CX-30 and manual 2s.
Thomson isn't fazed by the relatively short range, telling us most buyers will charge at home and longer journeys will be aided by the steady roll-out of [hopefully more reliable] rapid charging networks. After all, many UK EV buyers have lived happily with relatively short 100-mile ranges – barring pricey Teslas and Audis, it's only now the likes of VW are launching more affordable models such as the ID.3 where 200 miles is a more realistic prospect. I could see the new Mazda suiting maybe 95% of my personal motoring and, of course, it'd make an ideal second car for short local runs. We'll see how it does.