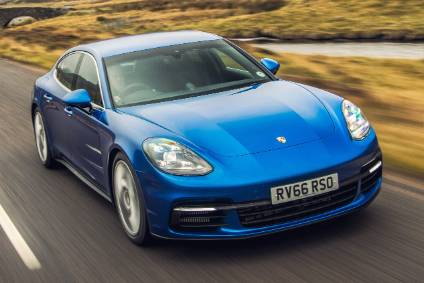 Porsche says its new Panamera 4S is the world's fastest diesel car. How fast? Top speed is 177mph and with launch control activated, zero to 62mph takes just 4.3 seconds.
Is it the same 4.0-litre diesel as in the Audi SQ7?
Aside from the sheer speed of the 4S Diesel, perhaps the most fascinating about this new derivative is the engine itself. The first V8 diesel to be fitted to a Panamera has in fact been seen before, albeit in a different form.
While the 850Nm of torque available in the Porsche is impressive enough, matching that produced by the 4.0-litre petrol V8 in the Panamera Turbo, there is another Volkswagen Group model which has a 900Nm version of the 3,956cc diesel V8.
Audi's SQ7 TDI adds a supercharger and 48V electrics to the two turbochargers which the new Panamera 4S Diesel's engine shares. The Porsche's lesser weight (2,050kg DIN) shows just how much additional energy is needed to propel vehicles of this size to velocities beyond 300km/h. The Panamera's drag co-efficient of a stated 0.29 is another major factor in its favour compared to the tall, square-fronted Audi SUV.
First vehicle for MSB architecture
This big hatchback was the first model for the Volkswagen's Group's MSB architecture. A few days ago at the Geneva motor show, the media saw the second derivative in the form of the Panamera Sport Turismo. This shooting brake will be followed by new models for Bentley: replacements for the Flying Spur and Continental GT/GTC, as well as an additional SUV below the Bentayga.
Porsche engineers developed MSB, and this features much aluminium in its construction. The same metal is used for the door skins, bonnet, roof and tailgate frame. Modularer Standardantriebsbaukasten is a bit of a mouthful but it translates best as Modular Standard Toolkit.
MSB is for front-engined and rear- or all-wheel drive cars. Porsche, being a long-time developer of RWD platforms, naturally sees this as its standard or default drive system. The old Panamera was based on a unique 'G1' architecture but that limited its use across the Volkswagen Group. Which also meant extra cost when it came to manufacturing.
Manufacturing at Leipzig
All versions of the Panamera, be they standard wheelbase, Executive (long-wheelbase), Sport Turismo (shooting brake), petrol, diesel or PHEV come down the same line at Porsche's Leipzig plant. The factory also makes the Macan and conducts final assembly of the Cayenne.
The company plans to manufacture around 30,000 units of the Panamera series this calendar year, which would be 2,000 more than the best year of the old-shape model, which was 2011. In the last full year of the first generation car, worldwide deliveries dropped to 17,200 units.
Macan and Panamera bodies are put together in the pre-assembly are of the plant. All three models then go through the mix line, otherwise known as final assembly. As the Cayenne already arrives in a pre-assembled condition from the Volkswagen Group's Bratislava plant, it only goes through a final production stage in Leipzig.
Porsche in fact splits the final assembly of its largest SUV over two plants, Osnabrueck being the other location. That will change in 2018 with the arrival of the third generation model. From next year, the Cayenne will be fully manufactured at Bratislava alongside the existing Audi Q7 and the next Volkswagen Touareg. MLB Evo is or will be the basis of these three SUVs.
The Macan uses a different architecture to the Panamera so that's not the reason why the next Panamera will move out of Germany and into Slovakia. Rather, it's more a case of capacity at Leipzig. Porsche has invested some half a billion euro at the eastern German plant in recent years, with most of that being spent on new paint and body shops.
A total of 475 robots and some 200 employees per shift produce the Panamera. Combined annual capacity for the big hatchback as well as the two SUVs is close to 150,000 vehicles.
With the Macan still selling strongly even as it approaches mid-life, that equates to around 90,000 units per annum. Removing the Cayenne from 2018 should give Leipzig some room to build a lot more Panameras than it has been used to, and Macan build may rise too, after a facelift and some anticipated new derivatives such as a plug-in hybrid.
Forty five per cent of the Panamera's shell is aluminium, while the body is made up of 430 parts which are joined using mechanical and thermal processes. The development process of MSB had a strong emphasis on ease of manufacturing as well as cost reductions. One example is 50 per cent fewer weld points than what is needed for the Macan.
Porsche says a total of 600 flow-drill screws are fitted in each Panamera body. Flow-drill screws tap the threads required themselves and attach steel to aluminium. Other processes used include punch riveting, aluminium laser beam welding and clinching. The latter, also referred to as joggling, attaches sheets of metal to each other by means of pressure.
Roller hemming is employed to connect the side walls to the body. This is combined with a bonding procedure to form the positive connections between the aluminium side wall and the high-strength sheet metal used in the body structure. Each vehicle contains more than 200 metres of bonding seams.
Multiple variants and engines from launch
As Porsche winds down Cayenne production at Lepizig and steadily increases Panamera build, yet more derivatives such as a new GTS will inevitably be added from 2018 onwards. Yet for now, the launch range is already fairly comprehensive.
The first cars were delivered to customers in Germany from November 2016 and to buyers in the UK from the following month. This comprised four variants:
Panamera 4S
Panamera 4S Diesel
Panamera Turbo
Panamera 4-E Hybrid (Geneva show debut, available from April)
All three of the launch variants had all-wheel drive and pneumatic suspension, but RWD cars with steel springs will become available later in the year.
Additional versions had their public debuts at the LA auto show in November. These were the base and all-wheel drive cars, as well as the second generation Executive (3,100mm long-wheelbase and overall length of 5,200mm versus 2,950 and 5,049mm for the standard wheelbase cars):
Panamera (243kW/330hp) turbo 3.0-litre V6
Panamera 4 (same engine)
Panamera 4 Executive
Panamera 4S Executive
Panamera 4-E Hybrid Executive
Panamera Turbo Executive
Unlike the first generation model, the Executive is also available in right-hand drive form.
Inside – big changes
The silhouette of this big hatchback hasn't changed too much but inside, it's a radical departure from anything Porsche has done before. The interior, while looking typically Porsche in shape and layout has more of the look of the Mercedes-Benz S-Class and Tesla Model S about it when it comes to controls.
Gone are the multiple black plastic pushbuttons or those much-disliked blanked out spaces, replaced by touch sensitive controls for both front and rear occupants. Meanwhile, the traditional dials in the instrument cluster are now digital and the door handles are a new design. Some things, though, are still shared with all other Porsches: the tachometer, positioned centrally in the instrument cluster, is reminiscent of that in the 1955 Porsche 356 A.
For a car which is in excess of five metres long, back seat legroom is disappointing. If that's an issue, then Porsche will happily sell you the Executive, but be sure that you can live easily with a car which is 5.2m long. Even the standard length car is too long (and wide) for many UK parking spaces.
Driving dynamics
The sheer size of the Panamera somehow shrinks as you drive it. Visibility is very good but if you're used to an SUV it will of course seem low. That also applies to anyone who is used to rivals such as the BMW 7 Series or Mercedes S-Class. It's cosy in the same way as a Jaguar XJ or Maserati Quattroporte is, with all the controls soon feeling natural and easily fathomed, once you're used to that big touchscreen.
The 4S Diesel's power output is 442hp and that's always more than enough than what you could want. Few cars are as effortless as this one for overtaking. It's also fairly quiet, even at idle but sadly it doesn't sound nearly as good as the old 4.1-litre diesel which used to be available in the Cayenne. This one's a lot cleaner though, as that V8 went out of production due to it not being able to meet EC emissions norms.
With a CO2 average of 178g/km and an Urban consumption average of 35.8mpg this is the best Panamera in terms of power, torque, emissions and economy. Stop-start helps a bit at improving the miles per gallon average and lowering CO2 but the weight of the standard four-wheel system takes its toll on both.
Why not make a rear-drive S Diesel instead of or in addition to the 4S Diesel, which has standard AWD? One word. Traction. On slippery roads, the big Porsche is a load of fun and wants to slide it rear end far more willingly than you might have been expecting. And there is what sets this model apart from competitors, even more than its unique-in-segment five-door hatchback bodyshell and eight-speed PDK dual-clutch transmission. This is a true sports car, doing a very good job indeed of pretending to be a mere luxury sedan.
The 2017 model year Porsche Panamera 4S Diesel is priced from GBP91,788.