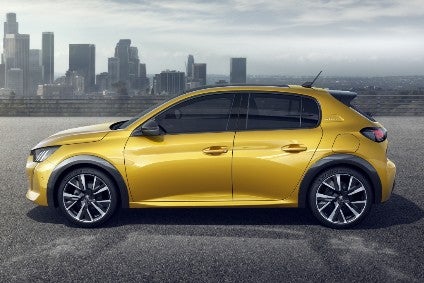 Volkswagen won't be revealing the Mark VIII Golf at this week's Geneva motor show, which is great news for Renault, which can garner much publicity for the new edition of Europe's second best selling vehicle.
It's interesting that Clio number five copies VW's recipe for the first time in that it looks a lot like Clio #4. Renault has never tried the obvious idea of employing one of the reasons for the success of the rival Polo and larger Golf over the multiple generations of those models. Instead it has always come up with radically different looks each time the Clio (and Mégane) was replaced.
Last year, after the Golf and Clio, the remaining members of the European top ten were, in order: Polo, Fiesta, Tiguan, Qashqai, 208, Octavia, Yaris and Corsa. The next four weren't too far behind either, with the Sandero, Captur, C3 and 3008 all delivering in excess of 200,000 sales. Then came the Focus and Fiat 500, both selling in excess of 190,000 units. Rounding out the top twenty in positions 17, 18, 19 and 20 were the Duster, 2008, Fabia and Panda. Which goes to show how high the 3008 has risen and how low the Astra and Mégane have fallen. And that while crossovers and SUVs matter greatly and have finally become popular with buyers in Germany, Europeans generally still much prefer B and C segment hatchbacks.
Let's take a look then at the highlights of the vehicle world debuts confirmed for the imminent Geneva show, and also, notice some things which won't be in the headlines next week.
The Volkswagen Group is in the process of either expanding its main brand to new levels of sales and profitability or else attacking its best selling models with additional cars that might lose a lot of money. Yes, this is the year when the VW brand goes properly electric as the first MEB architecture model lands. In fact, that might not happen until early 2020 but production of a small hatchback based on the I.D. concept is due to commence during the fourth quarter. Expect a massive publicity push centred around September's IAA Cars in Frankfurt. Incidentally, anyone else noticed that the brand has begun to refer to its forthcoming electric models as ID. (rather than I.D.)? History is being adjusted too: the names of the I.D., I.D. Crozz and other concepts are now written differently.
SEAT had a record January and has a lot of new models coming this year. Geneva though will be all about an MEB architecture electric prototype called L-Born.
The Golf I have already mentioned. Series production will start in Q3 and this has to be a smooth ramp-up with a big marketing campaign getting the car off to a smooth start. The publicity machine won't have a lot of time before the ID. pre-sale campaign starts. Not to mention the push which has already started for all the new tech rolled into the updated Passat which premieres in Geneva. And even though sales of this car stayed strong in Germany throughout 2018 – yes, even in Q4 – they tumbled in January. As you will have noticed from the top 20 above, the Octavia is far and away the segment leader but the Passat didn't have that bad a year, finishing in position 22 (behind the Opel/Vauxhall Astra) with sales of 157,986.
As for Porsche, Cupra, Bentley, Lamborghini and Bugatti – the lower volume and niche brands of the VAG empire – there are some welcome additions or replacements to their model ranges premiering at the Geneva show. For all the details click on the link to just-auto.com's Geneva motor show world debuts list at the end of this feature.
Returning to the mass market brands, first Audi, which has fallen a fair way behind its rival Mercedes-Benz. The Geneva show sees the first look at the future Q4, which might only be offered in fully electric form. There are also facelifts for certain TT variants which weren't announced in 2018 and a change of name for petrol-electric plug-ins to TFSI e.
As for Skoda, it gains another model in the form of the Kamiq. This has a distinctive front end, plus the brand name is now spread across the tailgate in big letters.
SEAT had a record January and has a lot of additional models coming this year. Geneva though will be all about an MEB architecture electric prototype called el-Born (after the trendy Barcelona district). Which is why the Minimó, a tiny EV prototype similar to the Renault Twizy, premiered at Mobile World Congress a few days ago. See the link to the Geneva show world debuts list for more on each of these – I'm pointing an index finger to the very end of this article.
Groupe PSA is the second largest OEM across Europe and Peugeot was second only to VW last month (296,693 versus 206,521). It was a surprise to see the firm not recanting its statement to return or launch one of its brands to the USA and Canada: instead, it confirmed on 25 February that Peugeot would be sent back to these countries. Surely the emergency situation in China for Peugeot, Citroen and DS – sales are still falling very badly indeed – would mean that the company ought to think twice about entering another vast and fiendishly complex market (the US) where not even the mighty Volkswagen seems to be able to make much headway. Still, there is no doubting the group's vastly improved finances.
Citroen will continue to be reduced to selling crossovers with distinctive front ends whilst Peugeot gets all the attentions of Groupe PSA and a lot more investment.
Peugeot, which has been clawing back the European market share which it gave up during and after The Great Recession, could have a huge hit on its hands with the new 208. That's if looks count. The little car has terrific proportions, a novel interior and strong details, the like of which haven't been seen on any small Peugeot since the glory days when the 205 reigned. What about the e-208? It certainly looks great but will many people lease or buy one? Well, Renault does OK with the Zoe and that's an old car now, so you never know.
Citroen has a pod-like concept at the show which, to some, for all the talk about this once innovative marque's heritage, only shows how far from its roots PSA has forced Citroen to stray. The answer is simple: kill DS, pour that money into Citroen and allow it to challenge Peugeot, just as HMG does with Hyundai and Kia or VAG does with Volkswagen and Audi. That won't happen. Instead Citroen is reduced to being a mere brand. Which mostly sells crossovers with distinctive front ends, whilst Peugeot gets all the attentions of Groupe PSA and a lot more investment. Firing people who did their best with the bad hands they were dealt won't fix the fundamental problems that Peugeot and Citroen have in China: it really does always come down to having the best possible, most attractive cars in this business. That is what builds up reputations. And profits.
PSA's two main French makes have good line-ups now. It's just a shame that while Peugeot seems to be on the right track at last, the company's management is badly distracted by the idea of volume and the seduction of the world's two largest markets (China, USA) and taking on troubled brands or concocting others (Opel, Vauxhall, DS). Instead, it could have a sharp focus on making Peugeot a true rival for VW. And returning Citroen to the luxury marque that it once was – which would take time and money. But it could work.
Even with the ongoing sales horror in China – Massimo Roserba the former head of PSA Italia has just been parachuted in to Dongfeng PSA as sales plunged by a further 63% in January to 12,300 vehicles – the group will likely succeed at becoming ever larger. And, one hopes, sustainably profitable. But why on earth does a company the size of PSA need to have five passenger vehicle brands, each of which needs much attention and money? Is it also indelicate to ask why neither Opel nor DS will be present at the most important motor show to take place in Europe during the first half of 2019?
Groupe Renault (117,393 sales in January) will, as noted above, have the vital new Clio with which to wow the Swiss public. Codenamed BJA, it is the first Renault vehicle for the Alliance's CMF-B architecture: the basis of the Nissans Kicks and Micra. There had been a rumour that a facelifted Mégane might also be at the show but that car will likely not appear for a few months yet. Certainly, its sales could use some help.
As for HMG, which is the fourth biggest OEM by sales in the European region (82,667), Hyundai won't be at the show but Kia has an electric concept to reveal which heralds a D segment plug-in car, to be based on the Stinger.
FCA has dropped from fourth place in Europe to eighth in just one year. In January, it fell behind Hyundai-Kia, Ford, BMW AG and Daimler.
Ford, the European market's number five OEM in January (78,485), will not be attending the Geneva motor show: the big news for 2019 will start from Q2. That will be the arrival of the Kuga, the model being due to appear first in China or the USA as the new Escape – probably at AutoShanghai and/or the New York auto show in April. Then in six months' time, the Frankfurt IAA will host the world premiere of the Puma, a small SUV which replaces the EcoSport.
According to ACEA's rankings (by sales volume in EU and EFTA), the next sized mass maker after Ford of Europe is sixth place BMW Group (74,015 sales in January). Mini won't be at the show, and Rolls-Royce has said nothing as yet about any world premieres, which means the BMW brand has a free run at gathering as much publicity as it can. At the time of writing, the 3 Series Touring hadn't been seen in any pre-debut images, even though insiders have confirmed that it – project G21 – will be there. It's too early for new generations of the 4 Series: they won't arrive until 2020 (G22 Coupé, G23 Convertible and G26 Gran Coupé).
Slightly smaller in size than BMW AG in the European region (73,327 in January) is Daimler. There will be a concept, the forease+, for smart but probably nothing in the way of production model news. Mercedes-Benz though, as the European market's number one premium priced mass-volume make, has a lot to show in Geneva. So far, we officially know about a diesel G-Class, a facelift for the GLC, the CLA Shooting Brake, a V-Class facelift, a preview of the EQV and Mercedes-AMG's G 53 4MATIC+. There is bound to be even more news on press day though. It's likely too early for the next S-Class or the EQS but the GLS might be revealed and/or the GLE-Coupé.
Next in size order across Europe is Fiat Chrysler Automobiles. Yes it really has dropped to an astonishing eighth place (72,584) from fourth a year ago. In January 2018, FCA was ahead of HMG, Ford, BMW AG and Daimler. Still we wait for a new edition of the Fiat 500, which is why the current model's plunge is accelerating. The Panda too needs replacing. Both will be with us in 2020. FCA Italy issued the traditionally florid press releases for each of its brands announcing…..well, it's always hard to tell what exactly even after reading them a few times. Why is it so hard to put bullet points listing any world debuts at the top? So for Alfa Romeo, it's yet another refresh for the Giulietta rather than the replacement model which would have been very handy for dealers to have had about three years ago. Perhaps though, the 'C-UV' is going to be announced at the media day press conference? This will be big news for Pomigliano d'Arco as the Naples plant will need a refit to make this model, a long overdue attempt for Alfa to try its luck with a rival for the X1, Evoque et al.
Maserati could steal the show if it reveals the Alfieri even in prototype form. Well, that's if the car looks as good as the concept from the 2014 edition of the Geneva show. Will it though? There is nothing official from the division as yet, and Ferrari has been silent too but given how old so many of its cars are (sorry, just doing my job and pointing out facts) there will have to be at least one new model at the show.
Lancia being confined to Italy there won't be any news from this brand at Geneva but Jeep will have at least one global debut in the form of the Cherokee Trailhawk. Maybe some details of next year's PHEV Wrangler too.
Toyota hasn't said much about any world debuts at Geneva, naming only a couple of additional Corolla variants. And from Lexus, there is nothing official, at least at the time of publication (9am 27th).
Infiniti will not be at the show. Sales in 2018 numbered 6,246 vehicles, a fall of 49%. The brand ended the year behind Maserati. Still, it outsold Lada.
Meanwhile Nissan, which continues to slide and was outsold by Kia in 2018, has issued a sketch of a crossover concept but has said nothing about any production model debuts. Surely the way overdue Juke replacement will be at the show though? And Infiniti? No display. Hmm. Total sales in Europe last year: 6,246 vehicles, down 49%, ending the year behind Maserati but above Lada at least.
Of the remaining makes, Volvo won't be in attendance, nor will Land Rover or Jaguar (facelifts for the XE and XF will be announced very soon though) but Mazda will be there with a new crossover. Honda might even have a show-stealer in the form of the e Prototype, and Mitsubishi will be revealing the new ASX. Which just leaves Subaru (Viziv Adrenaline), SsangYong (a new Korando), Tata (the Altroz, a small hatchback plus the H7X SUV), Polestar (the 2), Lagonda (an electric crossover), McLaren (600LT Spider), Morgan ('wide-body roadster' – not its actual model name), Piëch Automotive and Pininfarina.
Finally, Dacia wasn't mentioned above in the discussion of Renault's presence at the show, and that's only because at this stage, no world debuts have been announced, with the same applying to Alpine.
A full analysis of all the world debuts will be published in a second Management Briefing in the days after the event. Before then, a constantly updating list of world premieres can be found here.
Future vehicles intelligence
More detail on past, current and forthcoming models can be found in PLDB, the future vehicles database which is part of QUBE.