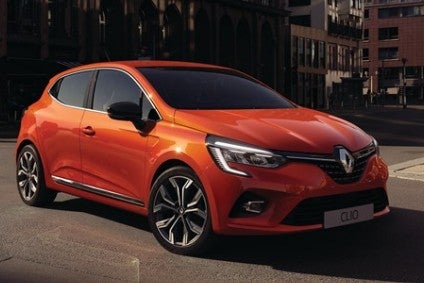 There were more surprises at this year's Geneva motor show than has been the case with previous events. For brands such as Alfa Romeo and Fiat, that worked a treat with the Tonale and Centoventi concepts having a high level of media coverage. We also learned a great deal about these and other makes' future vehicle plans, highlights of which are noted below.
Geneva 2019's concept, prototype and production model world premieres are all listed in this lengthy round-up, so rather than a second, repetitive overview, better to instead draw attention to things which we didn't know ahead of the press preview days.
Hardly any OEM had much to say about robo-vehicles.
Starting with the biggest player in the European region, it wasn't just Volkswagen AG which barely mentioned autonomous vehicles at the show – hardly any other OEM had much to say about robo-vehicles either.
Given how much AD cars have been talked about by manufacturers in the US and China as well as in Europe, the virtual silence on this topic is surprising. No doubt this was just a brief hiatus though, and normal service will resume soon, especially as Chinese OEMs roll out their concepts and production models in Shanghai next month.
Back to Volkswagen. The firm and the brand talked a lot about the MEB architecture. As well it might given the massive amount of money already spent and still to be spent on changes at manufacturing and powertrain plants. Will people be keen to buy the vast numbers of electric vehicles which VAG is planning to make at factories not only in Germany but also in the USA and China? We just don't know. Something which was announced at Geneva was a tweaking of the strategy in that MEB will be made available to certain other companies as the group attempts to dominate the electric vehicles market in Europe and build scale.
Audi showed us the Q4 e-tron and in a series of press releases managed to change its mind over when exactly this fully electric SUV will be available. The division hasn't confirmed where the model will be made but Mosel/Zwickau is the best bet. Production will start during the second half of 2020 and this will be the brand's fifth EV of a planned 12 which are due by mid-decade: e-tron, Q2 L e-tron (China only), e-tron Sportback, e-tron GT (Tesla Model S rival) and then Q4 e-tron.
The Superb facelift was one of the models which had been expected at Geneva but which didn't appear. Skoda had multiple other world debuts, including a concept of its own future EV. That too will be made in Germany but production is apparently as far off as 2021. It is also now said that the Czech make is planning two models, in the style of what it does with the Kodiaq and Kodiaq GT. And in the same way, the second of the pair will likely be a crossover-coupe which might be restricted to China.
Europe's number two OEM, Groupe PSA, told us all about its world premieres well in advance, the most important of these being the Peugeot 208. It has the looks to far outsell the current model but the size class in which it competes is extremely competitive. Renault won't be giving up its status of having the B segment's number one model either. The new Clio is another very strong product and should hit the market at roughly the same time towards the end of the northern hemisphere summer.
BMW caused something of a surprise not by what it revealed at the show, but by what it didn't: where was the 3 Series Touring?
Another mass-marque caused something of a surprise not by what it revealed at the show, but by what it didn't: where was BMW's G21? This was very odd, given how high the percentage is for estates in the D-segment. Surely we will see the 3 Series Touring soon, and not have to wait until the Frankfurt IAA in September for this key model? Why BMW instead rolled out all manner of PHEVs at the show rather than a vehicle which would be a strong seller from day one of its release is perplexing.
Of the smaller OEMs in the European region, Toyota chose not to show anything of major significance but it did make some general announcements about EVs. It seems that an electric LCV is in the pipeline and that will probably be a JV with Groupe PSA. And perhaps the plug-in version of the C-HR which has until now been thought of as purely for China will also come to EU and EFTA countries? Once the dust settles on Brexit, such a vehicle might even be made at either Burnaston or Valenciennes.
Nissan, which has fallen far in Europe, showed the IMQ. With its general look and dimensions, this is clearly something of an out-there preview of the next Qashqai/Rogue Sport. That also means we can expect an electrified version too when production commences in 2021 or 2022.
Fiat Chrysler has sat back and let other OEMs do all the heavy lifting in EVs as they greatly enrich battery makers while sustaining losses themselves, hoping that profits will happen eventually. Until recently, unlike rivals of a similiar size, FCA did not wish to use up much of its what had been small cash reserves by a gamble on fully electric vehicles. There were strong signs at the Geneva show that the company is now ready to join everyone else and spend up big. Will there be a BEV version of the next Panda? FCA isn't saying, at least not yet. The general outline of the car is heralded by the Centoventi, a concept so named for 2019 being Fiat's 120th anniversary.
We also learned that the next 500 will be a world debut at the 2020 Geneva show. Which means the current model will be in production for 13 years. No wonder Fiat's market share in Italy especially, continues to plummet. As for the Panda, that's now seven, so a relative youngster.
Things are finally changing for the better at FCA when it comes to delivering on what is set out at the relatively regular so-called 'Capital Markets' days. Mike Manley has a lot of work to do if there really is an intention to properly restore Fiat, Alfa Romeo and Maserati. The second of these is still outsold by Lancia (what is going on with this brand, which had another fantastic month in February, sales rising by 39%?) in its home market, where Alfa sales plummeted by FORTY EIGHT per cent last month.
An educated guess says the 2020 Alfa Tonale will be based on an evolution of the SUSW platform.
An SUV for Alfa in the C segment is obviously needed urgently and there is a chance that the Tonale might become production ready in 2020. FCA wouldn't be drawn on details of the powertrains or platform but an educated guess says it will be based on an evolution of the FWD/AWD SUSW. Some had said that such a model would use a shrunken version of the Giorgio platform but the concept had no fuel flap on the driver's side, which, unusually for European cars, the RWD/AWD Giulia and Stelvio do.
Where might the Tonale be manufactured? Five months ago, FCA Italy told its unions of certain plans for future models. Among the news was confirmation that what was then called the 'Alfa UV' would be made at Pomigliano d'Arco. Things often change and change again with what FCA states so best that we instead adopt a wait and see approach. Especially as no-one seems to ever talk about what may or may not be planned for the under-utilised Kragujevac plant in Serbia. Guess what platform the slow-selling and aged Fiats made there use? SUSW. Perhaps an announcement about that factory's future will be made later this year.
Incidentally, FCA is still being drawn into conversations about its former (and still current?) target of selling 400,000 Alfas a year. It may eventually get there. A lot needs to happen though. The Giulietta has just been given a minor update which likely means this old hatchback will have to soldier on for anywhere between six to eighteen months. Let's say the Tonale makes production by late 2020. What about the Dolomiti, an E-segment SUV; when will that appear? Perhaps at the Frankfurt IAA in six months' time? And how about a replacement for the Giulietta – not until 2020, or possibly later still? The Giulia will soon be three years old so it will need a facelift in 2020 too. None of this will be inexpensive: does FCA intend to carry out all these product plans? And what about a car in the B segment to replace the discontinued MiTo? A small SUV is needed in that size class too.
There is another OEM which has trouble sticking to stated vehicle launch dates and its name is Aston Martin Lagonda, much as we can admire the company for multiple other reasons. AML had a strong presence at Geneva and its three concepts were well received. The trouble is, how can we be sure that what is stated publicly will come to pass? Only days ago, the firm's annual report was issued and in it there is a page which states when certain models will become available. The so-called 'Ultra-luxury EV-SUV' is noted as being due out in 2021 (see page 21 of the PP presentation). And now, this statement from AML in the Geneva press release for the All-Terrain Concept: "Lagonda production is planned to start in 2022 at a new state of the art facility in St Athan, Wales".
In other news which managed to slip below the radar for many, Honda stated that it would be selling only electric or electrified models in Europe by the mid-2020s. And, the next Civic Type R will be a hybrid.
Jaguar's facelifted XE-L will likely be at AutoShanghai, with restyles for the XF and XF Sportbrake due to be announced soon too.
Neither Jaguar nor Land Rover was at the show, and it was a pity that much needed publicity for the XE didn't happen. JLR put out a media release last week announcing a facelift for the car. An equivalent update for the XE-L will likely be revealed at AutoShanghai. A restyle for the XF and XF Sportbrake should be announced soon too. As for the Defender, that could make a surprise appearance at the New York auto show in April or perhaps instead be revealed at one of the special media and celebrity extravaganzas which JLR likes to hold in London for its new models.
Tata Motors, which sells very few vehicles in the European region, always has a display at Geneva and this year was its most relevant one yet, at least if judged by important new models for India. The company's press releases can be a challenge to plough through and the Geneva one was especially tricky to negotiate. After multiple reads, what was apparently announced was as follows: the Altroz, which is a fresh model due out from the third quarter and which is the same size as the segment-leading Maruti Suzuki Baleno; an EV version which some say is as far off as 2021; and the H2X concept which is thought to be a preview of the so-called Blackbird 4.2m long Hyundai Creta rival (not the smaller project 445X Hornbill which some media are claiming H2X heralds).
The award for the most…unusual….name for a model at the Geneva show must surely go to TML for one other of the two remaining vehicles it had on its stand. It gets tricky here. The Harrier, which is on sale in India, was given a new name and displayed at the show as the Buzzard Sport Geneva Edition. But why was not explained. Will this be the vehicle's name in some export countries? Then there was the announcement that the extended version (like the SsangYong Tivoli XLV, only the length not the wheelbase is stretched) may or may not use the name applied to it for the world premiere at Geneva 2019: Tata Buzzard (formerly known by its H7X code name).
It won't be long until the next motor show of 2019 and that one will be the biggest of the year, even though as I write this on 6 March, not much news has leaked as yet of what will be displayed by foreign and Chinese OEMs at Auto Shanghai. Before then though, the world's media will be in thrall to what some see as one of the most important new vehicle premieres of this year: 14 March is when Tesla will show us the Model Y.
The 2019 Geneva motor show Management Briefing preview can be seen here.
Future vehicles intelligence
Additional data on vehicle lifetime and future product plans, such as code names, production plants and expected annual build, are available in PLDB from QUBE.