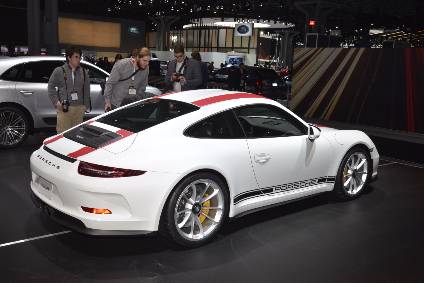 While magnesium may not be as popular for lightweighting as steel alternatives like composites, its application is gradually spreading from luxury marques to mass-produced models. Continuing just-auto/QUBE's series of research snapshots, this is the first of two parts reviewing lightweighting developments using magnesium and carbon fibre.
Light, strong and versatile
Magnesium alloys have a number of advantages over aluminium, including better manufacturability, longer die life and faster solidification due to lower latent heat. Consequently, more components can be produced per unit time compared to aluminium.
According to the International Magnesium Association, magnesium is 33 percent lighter than aluminium and 75 percent lighter than steel. Despite the lower density, magnesium alloys have a comparable strength to weight ratio to aluminium. Magnesium and its alloys also have a high vibration damping capacity making them a good material choice for high speed applications.
With some drawbacks
While magnesium alloys are attractive for a variety of weight-sensitive automotive applications, the material has some drawbacks, e.g. such alloys are expensive and corrode easily. BMW's N52 engine block is cast with magnesium and aluminium for the crankcase. Due to the fact that magnesium has a tendency to creep under load at high temperatures, the crankcase shell is produced using magnesium while aluminium is used to produce the inner block in order to counter the disadvantages of using magnesium. The net result is that this magnesium-aluminium crankcase is 24 percent lighter than a conventional aluminium engine.
In addressing the corrosion issue, a team of researchers at Monash University in Australia believe that they have found a game-changing solution. Their idea is to poison the chemical reactions leading to corrosion of magnesium alloys by adding a little arsenic to the mix. Led by Professor Nick Birbilis, the research team attempted to apply an additive known as a cathodic poison to a standard magnesium structural alloy. In doing so, the team say they managed to reduce the corrosion rate in a salt solution by a factor of almost ten. Research on this area continues.
High-end applications
The magnesium industry has benefited from a rise in automotive output, led by China alongside increases in specific consumption of magnesium per vehicle as manufacturers seek to comply with government-imposed emission reduction targets. Given the higher relative cost of magnesium, manufacturers of luxury vehicles, sports cars and high-end SUVs are using it sparingly for certain applications.
Some typical applications of magnesium alloys in cars include steering hanger beam, wheels, cylinder head cover, intake manifold, steering wheel, tailgate inner door panel, transmission case, seat frame and inner door frame.
The Audi A8 aluminium spaceframe contains no fewer than 29 different materials, consisting of 11 sheet steels, three alloy extrusions, three alloy castings, two forgings and eight sheets plus one magnesium casting and the CFRP (carbon-fibre-reinforced polymer) part. Rounding out the intelligent mix of materials is the magnesium strut brace, which is 28 percent lighter than before.
Magnesium alloys are also used in the Range Rover Velar to create the front-end carrier and cross-car beam. The Land Rover Discovery also incorporates a magnesium cross beam that supports the instrument panel.
The fabric top of both the Mercedes-Benz AMG GT and C roadsters are supported by a magnesium/steel/aluminium structure. Mercedes-AMG uses an intelligent material mix for the body structure of the AMG GT and GT C Roadster. Various aluminium alloys are used for the chassis and body, and magnesium for the front deck.
The seat frames in the new Jaguar F-TYPE range consist of pressure diecast magnesium alloy, giving a weight saving compared to their predecessors of 8kg.
For its part, Adient has been developing seats incorporating magnesium. "One key material to keep the weight reduction process ongoing is magnesium," executives told just-auto recently. "It is the lightest of all structural materials to help improve fuel economy while maintaining structural integrity. Our new lightweight cast magnesium seat structures offer a very good strength-to-weight ratio, design flexibility and excellent dimensional stability along with high dent and impact resistance. Modular designs with products such as our height adjuster series HA3000, Track 3000 asymmetric tracks and the 3000 series recliners make these world class structures adaptable to virtually any platform or body type."
With its high-power, high-downforce, low-weight philosophy, the Aston Martin Valkyrie promises to redefine the limits of road car performance. Though still in the early stages of development, the car is mounted to magnesium alloy wheels (20 x 9.5J front, 21 x 11.5J rear) featuring race-specification centre-lock nuts to further reduce unsprung mass.
Volume car producers using magnesium, too
Way back in 2006, GM started using die-cast magnesium for the engine cradle in its Z06 Corvette. GM currently operates a VSC (vertical squeeze-casting) machine designed to produce more affordable magnesium castings at its technical centre in Shanghai.
Ford began using magnesium in the liftgate of the 2010 Lincoln MKT, and the third-row passenger seats for the 2011 Ford Explorer. The 2015 Ford Mondeo also incorporates a magnesium inner tailgate structure for the four- and five-door models that deliver a weight saving of approximately 40 percent compared with a traditional steel equivalent. Three consecutive generations of Ford F-150 full-size truck use a die-cast magnesium alloy radiator support.
Volkswagen uses magnesium in its gearboxes and clutch housings in a number of models, including the Golf.
The 2017 Chrysler Pacifica minivan incorporates a magnesium crossbeam inside the instrument panel and rear liftgate inner. Chrysler also uses magnesium for certain interior parts fitted to its Wrangler, Liberty, Compass and Grand Cherokee models.
Is the tide turning in favour of magnesium?
While there has always been an appetite for magnesium in car production – particularly given the current industry requirement for lightweighting without compromising safety or performance – its application looks set to remain limited to certain parts of the car. The cost-benefit equation will also remain an important consideration.
and