Lotus under Geely - what's the plan?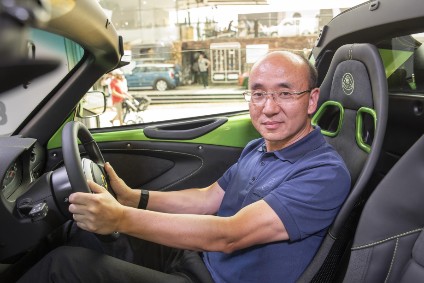 New CEO Feng Qingfeng was until recently chief technical officer of Geely Auto Group
Lotus is something of a curiosity. Like Chrysler, many companies have owned it, only to eventually sell to another firm, usually having sustained substantial losses during the period of control. Will things be different under Geely?
The following analysis of where the company is at and the cars it is said to be planning is the penultimate feature in the Zhejiang Geely Holding Group series. Previous reports have looked at Geely, Geely Emgrand, Terrafugia, Zhi Dou, LEVC, Lynk & Co, Polestar and Volvo Cars. After Lotus, the series will conclude with an examination of Proton.
Heritage - and the potential future cars
This year marks the 70th anniversary of Colin Chapman building his first competition car in a small London garage. Four years later, in 1952, he formed Lotus. The sports car maker's latest owner is Geely Holding (ZGH), the Chinese firm having closed a deal to buy 51 per cent of the tiny company in September 2017. The remainder is owned by Etika, a Malaysian automotive group.
Last year, some 1,600 Lotus cars were sold, an increase of 10% versus 2016. The company also says it "showed a profit for the first time in history". That came after a programme of cost cuts and the addition of various high-priced special edition models. The hardest work remains to be done, however; that being the successful introduction of desperately needed new vehicles.
Jean-Marc Gales, the now former CEO, left that position in June, but has a new title: chief strategic advisor to Lotus chairman Daniel Donghui Li. So having brought in its own management team, Geely must surely see that it needs to communicate what it intends to do with the company.
All manner of strategic plans were announced by former owners, including DRB HiCom, and not much came of any of these: the last new Lotus to be launched was the Evora and that was nine years ago.
Will Geely retain the majority of production at Lotus' Hethel base in Norfolk or will it instead shift build or assembly to China, a market which in theory could become a major one for the marque? And what of all the noises about Lotus SUVs? There have been unconfirmed claims that Volvo and Geely engineers have been tasked with creating two models which would in theory be aimed at the Porsche Macan and Cayenne. That idea could make some short-term sense as a way of establishing the brand in the minds of Chinese customers.
Lotus' past remains its present reality. A new era which defines - clearly - what Geely intends it to become could be dawning but that has been said multiple times before, under previous owners. Referencing long-ago times of James Bond cars, Formula 1, plus lightweight sports cars from the 1950s and 1960s is all well and good and a fantastic heritage of which it should be proud. Now though, Lotus must build strong, new foundations and tell the world what it intends to do next.
Elise
Type 111 is the original model code for the Elise. This is one of the oldest cars available from any OEM, production having commenced in 1996. Lotus' many owners and leaders are some of the reasons why the little sports car's replacement has been variously delayed, shelved, axed, revived and/or restarted over the last 15 or more years.
The Elise has had several engines, a Toyota powerplant having replaced the Rover-sourced unit in 2004. The last facelift took place more than eight years ago and at the same time (April 2010), a new 1.6-litre Toyota-sourced engine became standard for the base variant.
Lotus debuted a concept version of the proposed replacement model at the Paris motor show in September 2010. This was claimed to be powered by a 320hp turbocharged 2.0-litre (Toyota) engine. Originally due in 2014, it was reportedly to be the company's cheapest future UK sportscar, priced at about GBP35,000 in 2010 terms. Following a change in management, all previously stated future model plans were put on hold.
The April 2014 appointment of Jean-Marc Gales as CEO meant the creation of a new product plan. For the first three years, the current range was maintained and tweaked. There were some updates to the model line-up from November 2015 production and the cars lost 10kg.
The change of ownership in 2017 saw Lotus' future model plans delayed yet again. The Elise is expected to carry on more or less unchanged for another two years, with several more special editions due to be created in an attempt to give the car some chance of remaining news-worthy and therefore sales-worthy.
If Geely is intending to stick to Gales' plan, a successor should appear in 2020. The new model will be slightly larger and annual production of several thousand cars is the target. The second generation Elise would also be the launch vehicle for a next generation Lotus platform. The life cycle will probably be somewhat shorter than the current car's. Between six and eight years seems a fair bet.
Exige
The current-shape Exige, which is a variant of the Elise, debuted at the Geneva show in March 2004 and went on sale a few weeks later. It was originally powered by a 189bhp 1.8-litre Toyota engine.
A new Exige S was relaunched at Lotus' clothing shop in London in July 2012. This car was a facelifted and re-engineered version of the old one. It was originally revealed at the Frankfurt motor show in September 2011. Unlike the old Exige S, this one was powered by a supercharged 3.5-litre V6.
An Exige S roadster was announced in May 2013. Its global debut was at the Goodwood Festival of Speed, two months later. In October 2014, Lotus announced the availability of a six-speed automatic gearbox as a new option.
The Exige Sport 350 was announced in December 2015 as the replacement for the Exige S. Compared to the S, the Sport 350 was 51kg lighter, weighing a claimed 1,125kg. The saving came about thanks to the introduction of a louvred tailgate panel, a lighter battery, lightweight engine mounts, a lightweight centre console featuring an exposed gearshift mechanism, lighter HVAC pipework and what Lotus termed "the optimised use of sound insulation". The car was powered by a 345hp supercharged 3.5-litre V6. The Sport 350 went on sale across Europe in February 2016.
A replacement for the 350 was announced in November 2016. This, the Exige Sport 380, is powered by a 375hp version of the supercharged V6. Priced in its home market from an astonishing GBP67,500, this is also GBP11,000 more than the 350.
The Exige replacement might still be one of the vehicles which Lotus' former parent firm said it hoped to build in China, as well as in England. The company made the announcement on the eve of April 2015's Shanghai motor show, stating that it wished to partner with China's Goldstar Heavy Industrial Company. This would be for the production of both cars and engines. The position of Geely on this topic is not yet known.
The new car is due to be released six to 12 months after the arrival of the Elise, with which it will share a fresh platform, so that means 2021.
Evora
This mid-engined sports car had its world premiere at the London motor show in July 2008. Its engine is a Toyota 3.5-litre V6. Production started in May 2009.
A facelifted and renamed Evora, the 400, was revealed at the 2015 Geneva motor show. At the time, this was Lotus' fastest and most powerful car yet, with its engine a 400hp supercharged Toyota-sourced V6.
The 400 entered production for European markets in July 2015, with the first deliveries following one month later. North American markets received the Evora 400 as a 2016 model year car from December 2015.
An Evora 400 roadster was claimed to be under development. It would be on sale in the US from mid-2016, Lotus announced in July 2015. The car was to have a two-piece carbonfibre roof which would have to be removed manually and then stowed behind the front seats. In November 2016, Lotus told the media that this car had been delayed until late 2017. The roadster has still not appeared.
A lighter, faster version of the Evora 400 was also under development, the company's then CEO Jean-Marc Gales told the media in July 2015. This car, the Evora Sport 410, was announced in February 2016 and had its public debut at the following month's Geneva motor show. Compared to the 400, it lost 70kg. Lotus said it would build 150 units of this car per annum.
In July 2017, Lotus announced an edition of 60 cars called Evora GT430. The name was the output in horsepower of the supercharged and charge cooled Toyota V6 engine. Weight was claimed to be 1,258kg and top speed said to be 190mph (305km/h).
Lotus told the media about the (410hp) Evora GT410 Sport in January, which succeeded the Sport 410 and is priced from GBP85,900. This is said to have the same top speed as the Evora GT430.
Later in 2018, the company will begin selling the Evora in China.
Given its age, this model obviously needs to be replaced fairly soon but that's probably not going to happen: successors for other, older cars are the priority. Instead, there will probably be a major update for the Evora in 2020 and a replacement in 2023 or 2024.
SUVs
A rebodying of the Lynk 01 and Volvo XC40 was said to be planned as a way of getting a Lotus SUV onto the Chinese market as soon as possible. Patent drawings of such a model were published on the internet in October 2017. These plans might have changed as Jean-Marc Gales stated in March (three months before he left his role as CEO) that an SUV was some four years away. Gales also said that there could be two SUVs - one the size of the Porsche Macan and the other to be as long as the Cayenne.
The SUVs would logically be based on Volvo and Geely architectures, so CMA and SPA. Production would most likely be in China. More news on the possibility of one or more of these theoretical models reaching production is awaited.
Summary
Lotus remains something of a curiosity. Like Chrysler or Aston Martin, many companies have owned this maker of famously lightweight sports cars, only to eventually sell it on, usually having sustained substantial losses during the period of control. Will things be different under Geely?
In a few weeks' time, 12 months will have passed since the Chinese firm took control of Group Lotus. Still no firm dates for the release of fresh models have been announced. Nor has a strategic plan, if there is one, been communicated.
Next year isn't too far off and in 2019, Lotus might become infamous as the car maker which had gone a decade without launching any new cars. At some point, the special editions which have been an emergency measure aimed at keeping cash flowing and disguising the age of the underlying models, may not be enough to do that.
Geely would do well to learn from the mistakes of others: relatively cheap lightweight sports cars might thrill the enthusiast magazines but clearly, they are a recipe for losing money.
Perhaps the future has been hinted at by the actions taken under Jean-Marc Gales' recent period of management: prices have gone up - steeply in fact - and that could indicate how Group Lotus sees where it needs to get to. That would be as a maker of high-priced sports cars which use well-known names from the past such as Esprit or Elan, every one based on a single, advanced architecture. In effect, a would-be competitor for McLaren, only with one major difference - also having a manufacturing base in China where possibly, sports-SUVs are made which could generate some serious cash.
September, which marks the first anniversary of Geely ownership, the start of a new model year in North America and the build up to the largest motor show in Lotus' home region of Europe, would be a good time for Group Lotus or its majority owner to tell us what the future holds. Let's wait and see what, if anything is announced.
Future product program intelligence
Future model plan reports for other manufacturers can be viewed in the OEM product strategy summaries section of just-auto.com. Proton will be the next and final brand in the Geely series to have its passenger vehicle divisions' models plans explored.
More detail on the past, current and forthcoming models for every division of Geely Holding can be found in PLDB, the future vehicles database which is part of QUBE.
Most popular news
---
Most popular insights
---
Oops! This article is copy protected.
Why can't I copy the text on this page?
The ability to copy articles is specially reserved for people who are part of a group membership.
How do I become a group member?
To find out how you and your team can copy and share articles and save money as part of a group membership call Shivani Hayer on
+44 (0)1527 573 732 or complete this form..