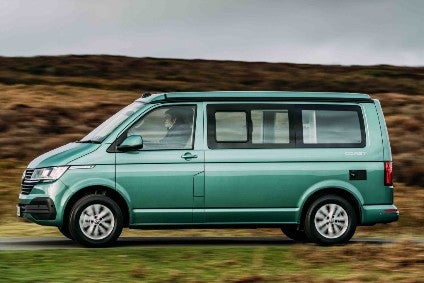 Stay At Home orders are behind a sales boom for manufacturers of campervans. Volkswagen has seen strong interest in a range consisting of the Grand California, soon to be launched and far smaller Caddy California, and the big-selling California 6.1. Time then to find out why the last of the three has such appeal to so many buyers.
It's been some time since I was on a plane or even outside the UK. Which puts me in sync with most Brits since late March. Even stranger, I'm at one with the 25 million-odd other Australians who haven't been allowed to leave their country since around the same time. As we all know, you can be in the most obscure corner of the world and suddenly hear an Aussie accent. Or at least until 2020, that seemed to be the case. To revive that over-used term from six months ago: 'strange times'.
Big vans = big business
Perhaps we'll all be back on planes in 2021 (and two-week quarantines upon landing will be gone), perhaps we won't. As always when there's a big economic shock, opportunities arise too. Imagine how much money the not especially young range of campervans has been making for Volkswagen Nutzfahrzeuge. Or for that matter, the 40,000 Fiat Ducatos sold in Germany during the year to the end of October, the majority of which will be campervan conversions. The KBA doesn't break out data by variant for the Volkswagen T6.1 range but in the same period, more than 20,000 were delivered and we can be certain that a high percentage of those were Calis.
I've never understood this idea that some OEMs have of playing their own factories and loyal workforces against one another. Be that as it may, Volkswagen has this very day trumpeted the fact that the Hanover/Hannover vans plant has 'won' an internal contest to build multiple new models. The division's juicy profits from much of 2020 will have been one of the deciding factors, I would presume.
The German giant's commercial vehicles division has had a massive boost since the late spring. The margin on a Crafter van-based GBP72,745 Grand California will not be small. Or for that matter, the one costing a few hundred pounds less than sixty thousand which was delivered to my driveway just before an Essential Travel Only order was handed down from Westminster. I don't live too far from the Prince Of Wales Bridge but Wales was under similar restrictions to England at the time so a grand tour of three of the UK's four nations was a non-starter. What to do?
I'm allowed to travel as I can't assess a vehicle from inside my home but even so, it didn't feel right to go too far. Especially when I have close friends elsewhere in the UK who've been self-isolating since March. Not to mention family members and friends in Sydney imploring me to 'please stay safe' as they view Britain's horrifying death toll numbers from afar. Yet a single California isn't multiple hotels or even campsites, so as much as any travel can be secure, to a large extent, this form is. Especially when the mobile motel mainly stayed on my driveway overnight.
Camper, Tour, Coast and Ocean
There are four versions of the California 6.1 line, these being Beach Camper (GBP53,395), Beach Tour (GBP54,190), Coast (GBP56,395) and Ocean (GBP64,873). The differences extend to wheels, single or double glazing for the rear windows, manual or hydraulic pop-up roof, pull-out awning, number of seats, hob and sink, and so on. Incidentally, the Camper and Tour don't become available in Britain until March and Volkswagen says it won't pass on any Brexit-related tariff costs for orders placed before 3 December.
Pricey options
The press tester was an Ocean which had quite a few options that lifted the VAT-inclusive OTR price to GBP59,611. Tyre pressure monitoring costs GBP162 and you must also pay extra for Traffic Sign Recognition (GBP282), Parking Sensors and Park Assist (GBP342), Navigation System including one-year sub (GBP1,338) and Active Lane Assist with side assist (GBP1,386). Did I mention Volkswagen Vans must be one of the most profitable divisions in the Volkswagen AG empire?
No matter how much any owner might wish to justify what a shiny new Coast has cost them, it doesn't have too much of the premium feel about it. That's not to say it isn't a great vehicle, which it is, but there's no getting away from the fact that the basic design is for an LCV, albeit a high quality one.
T6, T6.1, T7
The major re-engineering and facelift ('T6.1') which happened in February last year was an update of the T6 or sixth generation Transporter/Caravelle/Multivan/California van, MPV and camper launched in 2015. The T6 itself really wasn't that different to generation five, which is why the T7 is due for launch in (late) 2021, at least in Germany. This will be on a new platform, an adaptation of the Volkswagen Group's MQB architecture. The company stated in August that there would be a hybrid version of the Multivan variant. I would also expect to see some other petrol engine alternatives and possibly not much in the way of diesel choice.
Powering the California is a 2.0-litre TDI, which in the Coast, produces 110 kW (150 PS) and 340 Nm, drive going to the front axle via a seven-speed DSG. A bit more power and torque would be welcome, particularly for those times when an owner has piled in enough stuff to get close to the 3,000 kg maximum GVW (max payload is 515 kg). It's also a little too easy to provoke a spin from one or both front tyres but that might have been due to this being the month for clusters of damp leaves.
Apart from rattly sliding cupboard doors, the California Coast is genuinely good fun to drive. There's no way you'd throw it around elk test-style and yet it feels fairly firmly planted. It's kind of a buzz to know that you're positioned almost above the engine, which also has great character in a way that's being engineered out of so many other diesels in that it's a tad rattly when cold.
It's far from fast, 62 mph taking 14.3 seconds from rest, top speed is 111 mph, the CO2 average is 244-221 g/km and WLTP-rated consumption is 33.6 mpg. Maybe it was the fact that most of my driving was on empty-ish A-roads at 30-60mph but I got 36 mpg and 40 would be possible without trying too hard.
Long, tall and roomy
At 4.9 long, no California is a perfect fit for the average garage, plus you've the height to deal with too. That cannot be a valid criticism though, when the thing offers so much space, cleverly placed storage areas, beautifully detailed kitchen facilities, a comfy mattress, decent headroom for when you need to stand, a massive boot, that handy awning for campsites, power sockets that include a special adapter for UK plugs and many other great touches such as front seats which can be spun 180 degrees.
More than anything, the California also looks really good, and when did you last see a T4, T5 or T6 on the road? Exactly: they're everywhere so in that context, more than fifty thousand pounds perhaps isn't an unwise investment when VW's vans are clearly built to last.
After multiple days (and nights) with the Cali Coast I can totally see why people love them, and will join owners' clubs, and wave when they see another one, and keep theirs for years and years.