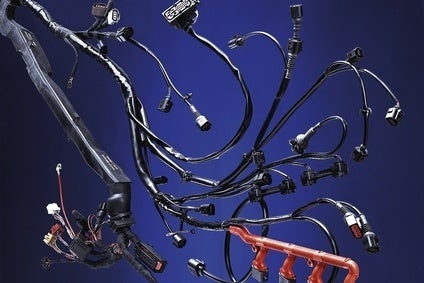 Continuing just-auto's series of research snapshots – pulled from its automotive research platform, QUBE – Matthew Beecham talks to executives at Lear Corp and Dräxlmaier Group about some trends in the automotive wiring harness sector.
Like most auto parts, the need to reduce cost, cut emissions, improve fuel economy and safety are the main forces driving the electrical and electronic distribution systems market. Manufacturers point out that the increasing use of electronics hard- and software can significantly help address these concerns.
Meanwhile, motorists' insatiable demand for comfort and convenience features is posing new challenges to manufacturers in terms designing each new vehicle's electrical and electronic architecture. While they must continually come up with novel ways of packaging certain solutions, they must also balance this need with keeping costs under control by reusing modules, functionalities, hardware and software parts wherever possible. For manufacturers, the increase in the content and complexity of electrical and electronic components also requires a broader overall design perspective.
Manufacturers say greater functionality is actually what's driving complex architectures. Bill Presley, Vice President Engineering, Wire/Terminals & Connectors, Lear Corp told just-auto: "In the past, more functionality meant more circuits. Functions were 'hard switched'. However, emissions standards are getting tougher so vehicles need to get lighter and everyone wants to maximise space utilisation. That means engineers need to be able to fit more functionality into the same amount of space or less space than vehicle engineers had in the past. As a result architectures have had to become far more intelligent than they were in the past. A multitude of functions can now be controlled through the use of electronic modules, control strategies and communication strategies."
Tobias Nickel, spokesperson for Dräxlmaier Group told us: agreed, adding: "Already we are seeing an average of some 2,000 wires per car. Although the engine wire harness itself is not as complex as other harnesses, the more cylinders and sensors that are added increase the complexity here. But most of the changes have been in the electronic circuits."
Weight is a major driver of harness development, of course. "There is a trend toward the greater use of aluminium instead of copper wires," added Nickel. "However, that makes the harness a little more expensive and calls for a different kind of crimping. The use of aluminium wires also means the development philosophy must change, too."
Lear Corp estimates that approximately 70-80 percent of the loads found on a vehicle are less than one amp. However, 80 percent of the wire volume purchased is between 0.35-0.5 mm2 which means 70-80 percent of the circuits on the vehicle are over gauged for the actual load they carry. "Wire suppliers are constantly developing alternative materials that meet impedance requirements," said Presley "but also have superior mechanical strength when compared to a copper wire of similar size. This allows us to substantially downsize the wire to shed size and weight."
While there will always be alternatives to traditional wiring – such as fibre optic, wireless and multiplexed systems – the challenge comes with those alternatives to compete on cost, quality and reliability on a consistent basis. Lear points out that multiplex is already happening on a larger and larger scale. "Singular state switches are not the norm any longer on vehicle," said Presley. "Multiplexing has to be considered in the total system analysis as we discussed earlier. When we think of multiplexing we tend to think of the old resistive multiplexing, right? But today, multiplexing just means we're doing multiple things with the same circuitry. … Technologies like fibre optics and wireless communication have benefits and drawbacks today. For instance, fibre optics are impervious to Electromagnetic Interference but they require additional components today to translate the light pulse into an electrical signal. Wireless communication would be the ultimate in circuit count reduction which would greatly reduce size and weight but the engine compartment is an electromagnetically hostile environment so steps would have to be taken to protect the signal integrity and interpretation. The point is that all of these technologies represent an opportunity in the future. It is only a matter of time before the technology meets the needs of the cost, size, weight and quality equation and we start implementing them."