VEHICLE ANALYSIS: Land Rover Defender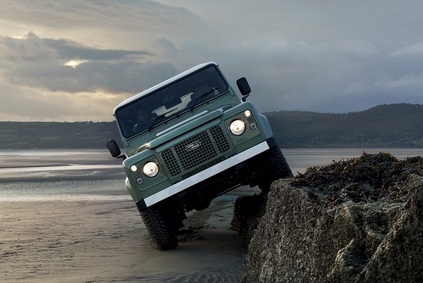 'Heritage': one of three special editions to mark the end of Defender production at Solihull plant
It's like driving an old-shape Transit and some of the final versions will cost in excess of GBP60,000, but the Defender will be much missed once production ends later this year.
Feeling the love for the Defender was not something that came naturally to me. I did like the look of it, but the first time I drove one, it was a shock. The same thing happened when I got behind the wheel of my first pre-BMW Mini. That's another car I admire but as with The Beatles, you had to be there to really understand the appeal. There, I said it.
There are no airbags in a Defender and I don't want to think about what all that hard plastic that you have to sit so close to would do to you in a serious collision. There's a big pad on the steering wheel but it's not too soft, and your front passenger has no equivalent. So there's the really bad news over with. If you're going to be anxious about getting squished, you're better off buying a Discovery.
Spending a week with this car was something I was in two minds about. I had a lot of miles to do due to various engagements, so how would it be? Would I end up with a bad back, would the huge turning circle annoy me, would it be too slow, would wind and engine noise combined with wandering steering make motorway trips exhausting? In the event, none of that occurred. In fact, what did happen, was I fell completely under the spell of the thing.
A Defender is like the previous Transit. You end up loving the ruggedness of the diesel noise, the slow gearchange, the floor-mounted vertical parking brake, the charm of the little wipers beating back and forth on the flat-glass windscreen. There was also the bonus of a trip down memory lane thanks to the same column stalks and door buttons as a V8 Rover SD1 that was superb at draining my bank account for much of the 1980s.
This is a car you must climb up into. The key is like something from the 1970s, but there's a separate blipper which is the standard JLR item, albeit without the button for a power tailgate that certain Jaguars and Land Rovers have. The aluminium doors are light and make an awful creaking sound as their stays lock them in place, but even that seems OK as you are greeted by a huge steering wheel and rubber flooring: i.e. this isn't going to be a premium driving experience. The contrast to Land Rover's other models is striking. You really can't believe the Defender comes from the same manufacturer which builds Range Rovers.
Once you find where to insert the key, which needs to go in at an angle to the left of the steering wheel, the 2.2-litre diesel comes alive after a brief churn of the starter motor. Producing just 122ps at 3,500rpm, progress isn't going to be rapid, but that's not the point. The 360Nm at 2,000rpm is more of what's it all about. This provides everything needed for towing, or indeed for off-roading. The CO2 average is 295g/km and the EC's Combined fuel consumption is an official 25.5mpg: blame the aerodynamics, weight and lack of stop-start.
The six-ratio gearbox is long of throw but precise. You just start to build a rhythm progressing to higher speeds. It's all very satisfying and, on the right road, fun. Moreover, serendipitous things happen: even in town people let you in, and on narrow lanes everyone gives way as you're presumed to be either a farmer or To The Manor Born. If ever proof was needed that the Defender is a much-loved part of British culture then there it is. People give it admiring glances in supermarket carparks too, even though the Station Wagon body style is fairly long for the standard space - entry and egress tend not to be quick and simple.
What about off-roading? Here the credentials are superb. There is up to 314mm of obstacle clearance, wading depth of 500mm (yes really, half a metre), maximum gradient is 45 degrees, approach angle of 47 degrees and departure angle of 35 degrees. I've taken a Defender estate around Land Rover's own proving ground in the English Midlands - not this test car, mind - and came away very impressed.
The spec of the sampled vehicle was interesting. Looking very much the English country gent's chariot, it was painted in 'Aintree Green' with black cloth seats. These had leather inserts and there was also some black carpeting covering parts of the floor. The tow ball drop plate and electrics are a GBP305 option, as is an under ride protection bar (GBP80). The 'audio system upgrade' (GBP180) and 'sunroof' (GBP265) each had the whiff of aftermarket items. The latter is a small panel of glass which tilts as you turn a knurled dial and provides an opening of about 5cm max.
At GBP33,405 before extras, this car is something of a bargain, especially when you see how strong resale values of recent models are. And just imagine what those special editions are going to be worth one day.
My lasting memory of the Defender 100 Station Wagon is this: on a long drive to Wales and back with intermittent storms and driving rain, the roadholding was nothing short of amazing. Even the brakes were far more retardant that I had expected, the A/C prevented any misting up and those dinky wipers did their job beautifully. I returned home amazingly relaxed, having even got used to the sort of hunched driving position you must adopt due to the lack of seat travel and the big steering wheel. Would I buy one? Indeed I would. As an everyday car? Were it not going out of production, I see no reason why not. But stashing a low-miles example away as an investment seems a better idea.
L663: THE SUCCESSOR
The next generation model (project L663) is expected to use a lower cost version of the same aluminium platform that features in the Range Rover and Range Rover Sport. Next year's Discovery/LR4 replacement should also use PLA/D7u. L661, a proposed pick-up, was at one time placed on hold but development is now said to be moving ahead.
Elements of the next Defender's styling were at one stage thought to have been previewed by the Land Rover DC100 concept. This was first exhibited at the Frankfurt motor show in September 2011. However, the thinking has now shifted and the next model should instead be more like the current one to look at.
L663 should be manufactured in England, and might also be assembled in India, China and/or Brazil but if it uses an aluminium architecture, this may make any SKD or CKD operations less likely. Land Rover has yet to confirm where the new model will be made but in announcing the DC100, it did reveal a launch date of 2015 for the next Defender. However, as just-auto.com reported in October 2013, there will not be a seemless transition to the new model when production of the current Defender ceases in late 2015.
The successor model series will not enter production until the second or third quarter of 2016, or later. That means the pick-up might not follow until 2017, and there could also be an upmarket derivative to take on the Mercedes-Benz G-Class. This could well end up being called 'Defender Heritage', though Land Rover might instead just use the Autobiography model grade name.
One final point: the Defender replacement will be sold in the US and Canada - today's vehicle is not due to its lack of airbags.
HISTORIC TIMELINE
1947 Land Rover project approved
1948 The Land Rover is launched at the Amsterdam Motor Show on 30th April
1948 First Station Wagon introduced
1949 British Army orders its first Land Rovers
1950 Freewheel 4x4 system replaced by selectable two or four-wheel-drive
1953 Long-wheelbase version introduced
1957 Diesel engine introduced
1958 Series II Land Rover unveiled with modified styling
1959 250,000th vehicle produced
1961 Series IIA with 2.25 diesel
1966 500,000th vehicle produced
1968 Headlights move position to the front wings
1970 Best year of sales with 56,663 vehicles retailed
1971 Land Rover Series III launched; 750,000th Land Rover produced
1976 1,000,000th Land Rover built
1979 V8 engine option introduced in March
1983 Land Rover goes coil sprung with introduction of One Ten
1984 Land Rover Ninety introduced
1990 Land Rovers are re-launched and renamed Defender 90, 110 and 130
1992 500 3.9-litre V8 Defender Limited Edition 110s for North America
1993 Land Rover North America adds the 90 soft top
2007 Major Defender evolution includes addition of six-speed gearbox
2012 2.2-litre diesel engine replaces previous 2.4-litre unit
2013 LXV Special Edition celebrates 65 years of Land Rover
2015 Final special editions announced, production due to cease by year-end
Company analysis

Tata Motors
Most popular news
---
Most popular insights
---
Oops! This article is copy protected.
Why can't I copy the text on this page?
The ability to copy articles is specially reserved for people who are part of a group membership.
How do I become a group member?
To find out how you and your team can copy and share articles and save money as part of a group membership call Shivani Hayer on
+44 (0)1527 573 732 or complete this form..