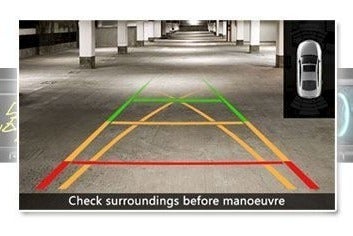 Driver assistance systems use a combination of warnings and some degree of active intervention to help steer the driver away from trouble. Although the accent is on giving assistance to the driver rather than take control away, motorists are still wary about cars that supposedly drive themselves. While active intervention clearly holds many possibilities, it is also fraught with difficulty. Matthew Beecham considers the stage we have reached with three advanced driver assistance systems (ADAS): rearview cameras; autonomous emergency braking systems; and head-up displays (HUDs) in cars. This first instalment considers rearview cameras.
Rearview cameras
Last year, the US Department of Transport and its subsidiary, NHTSA approved a final mandate requiring all vehicles under 10,000 pounds, including buses and trucks, manufactured on or after 1 May 2018, to come equipped with rear visibility technology that expands the field of view to enable the driver of a motor vehicle to detect areas behind the vehicle to reduce death and injury resulting from backover incidents.
In other words, the regulation sets a 2018 deadline for 'rearview monitoring technology' to be standard on passenger cars sold or leased in the US. In most cars, this technology will consist of a back-up camera. Indeed, following this ruling a number of OEMs said they would make back-up cameras standard across their model lines, regardless of trim level.
Andy Whydell, TRW Electronics' director of product planning, ADAS told just-auto that in North America, because there are so many larger vehicles, rear facing cameras have been popular for some time. "Today, more than half of all new cars sold in North America and about three-quarters of light trucks already have a rear facing camera. In Europe, because vehicles are generally smaller, it's much easier to see what is behind your car. Here, the growth of [rear facing] cameras will be slower but it is certainly an area where we do expect to see some more growth over what is in the market today.
"One other point," adds Whydell "[is that] most of those cameras are passive, which means they just send video to a navigation screen or a display embedded in the rearview mirror. In the near future, we expect to see intelligent rear facing cameras that can recognise objects and pedestrians and obstacles in the same way as front facing cameras."
In terms of the further development of rear-facing cameras, Rolf Adomat, head of innovation management and ADAS system design at Continental 's Chassis & Safety division told just-auto that today's rear facing cameras mainly serve viewing applications. "Future development will see object detection that could trigger an active brake manoeuvre if necessary. This will involve more algorithms integrated into the rear facing camera."
In the meantime, a myriad of ADAS camera technologies are already available on the road from the luxury class to small city cars. An upmarket model bristling with camera technology is the Volvo S60. The version that the author borrowed came with a driver support pack incorporating a full-speed collision warning and crash avoidance system, as well as pedestrian detection, lane departure warning, blind spot monitoring and road sign information. It also featured a so-called Queue Assist, another clever system that brakes the car in slower traffic.
On top of this lot comes a driver alert control system that (apparently) advises you to take a break if it thinks you are getting sleepy. We particularly liked the parking assistance camera (front blind view) enabling us to see around corners at tricky junctions where hedges or buildings impeded the view. This camera provides an increased 45-degree field of vision to the left and right. Its seven-inch screen shows you what the camera, mounted in the car's grille, can see. All this can mean quite a lot of visual and audible information to digest while on the move but crucial nonetheless.
At the other end of the segment spectrum and among those smaller cars offered with rear-facing cameras is the Ford Fiesta. Although the Fiesta has good visibility, its City Pack comes with rear parking sensors for an extra GBP400. Even the most attentive driver has to blink, and in that time Ford's Active City Stop low-speed collision avoidance technology captures and process 15 images of the road ahead in its search for potential hazards.
It uses a clear light-detecting and ranging sensor to scan the road ahead 50 times every second – more than twice the speed of the movie industry standard frame rate – to help prevent collisions at speeds up to 10mph, and help reduce the severity of impacts at speeds below 20mph. First launched on Ford Focus and ordered by nearly 5,000 UK customers to date, Active City Stop is available on Ford C-MAX, Grand C-MAX and Ford B-MAX. It is also offered on a Ford Fiesta in Titanium trim and test driven by the author who found it reassuring that the system would apply the brakes when needed. Fiesta drivers have never had so much safety technology at their fingertips.
More: Global light vehicle safety systems market – forecasts to 2029
Coming up next: Autonomous emergency braking systems and head-up displays (HUDs)