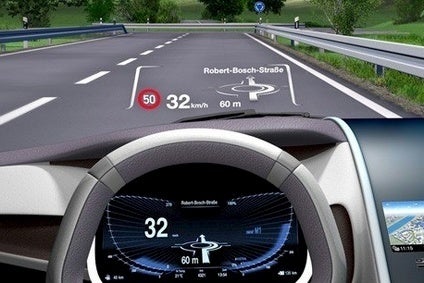 Driver assistance systems use a combination of warnings and some degree of active intervention to help steer the driver away from trouble. Although the accent is on giving assistance to the driver rather than take control away, motorists are still wary about cars that supposedly drive themselves. While active intervention clearly holds many possibilities, it is also fraught with difficulty. Matthew Beecham considers the stage we have reached with three advanced driver assistance systems (ADAS), rearview cameras, autonomous emergency braking (AEB) systems and head-up displays (HUDs) in cars. This second instalment considers AEB and HUDs.
Autonomous Emergency Braking
According to UK-based Motor Insurance Repair Research Centre (Thatcham), new technology fitted to vehicles is allowing electronic sensor systems to monitor the vehicle and the surrounding road traffic environment and warn or intervene on behalf of the driver in a potentially dangerous situation. Electronic stability control (ESC) was the first such system and has generally been seen to offer up to 50 percent reduction in single vehicle crashes. New technologies are integrating radar and lidar systems with beam sensors to allow autonomous braking in critical situations. The first generations of these autonomous emergency braking (AEB) systems were available in 2003 in Japan, marking a development of Adaptive Cruise Control (ACC ), a driver support system that controls speed to maintain a set braking distance from the vehicle in front.
AEB systems add to the basic ACC technology to initiate braking where a collision is imminent, regardless of whether the driver is using ACC. The AEB systems can provide different levels of braking: from partial autonomous braking at farer time to collisions, to full autonomous braking at very low time to collision where the collision is imminent. AEB systems automatically apply the brakes when sensors on the vehicle detect a likely collision and the driver has not applied the brake sufficiently and is not attempting to steer around the impact partner.
The technology generally uses radar for long-range sensing and either vision sensors or lasers for short range sensing. Most carmakers now have (or will shortly have) systems on the market but they don't all work across the full speed range. Lower-cost vehicles typically avoid the expensive radar systems by offering only operation at city speeds, which represent a high proportion of relevant impacts.
In June 2012, a new rating scheme of the European New Car Assessment Programme (Euro NCAP ) for the years 2013 to 2017 was announced. Trendsetting assistance systems like AEB and Lane Departure Warning (LDW) have been taken stronger into account into the assessment scheme from 2014 and are key for achieving a top Euro NCAP 5-star Rating. More specifically, from 2016, it will not be possible to achieve a Euro NCAP five star rating without the fitment of a LDW and/or AEB system. The European Commission has already mandated fitment of LDW and AEB systems for heavy trucks and buses starting in Q4 2013, with 100 percent fitment required from Q4 2015. This is a two-stage regulation, with enhanced AEB performance requirements from Q4 2016.
Given this Euro NCAP rating scheme, Vince Austin, Director, Product Planning, Global Braking Systems, TRW Automotive believes that it will be very difficult to maintain five stars without the fitment of relevant technologies to help score points in these categories. During an interview with just-auto, he said: "We believe this represents a major breakthrough in the market penetration of driver assist systems such as radar and video camera, and undoubtedly a significant step in making such systems standard across new vehicles platforms. It will also drive the further sophistication of electronic braking systems such as electronic stability control variants that can satisfy the requirements of rapid brake pressure applies – particularly for higher speed AEB."
In February 2015, the NHTSA said it plans to add two AEB systems to its list of recommended advanced safety features for its NCAP. The two systems include crash-imminent braking and dynamic brake support. Three recommended advanced technology features have already been identified by NCAP, namely forward collision warning, lane departure warning and rearview video systems.
As with a number of other collision avoidance systems, there is always concern that cars fitted with AEB will make the driver that little less attentive. Matthew Avery, Head of Research at Thatcham agrees, pointing out that driver adaptation, where a driver takes greater risks believing the technology will compensate, is an ongoing risk and one that researchers are keenly studying. "To date we only see positive benefits of AEB systems with up to a 27 percent reduction in crash frequencies, therefore any adaptation issues are hidden by the huge reduction in crashes. It's also important to note that AEB systems are designed to intervene at the very last moment, applying maximum braking at a point way beyond where most drivers would have any possibility of reacting. However, as drivers and car buyers become more used to such systems we may see more risk taking which is why we need to ensure a high level of system robustness."
Most carmakers now have an AEB system on offer or in development. The availability of these systems as standard or option is increasing and no longer restricted to premium models. AEB technology has different names depending on the maker of the car, For example, Volvo refers to it as City Safety, while Ford calls it Active City Stop. Where offered as an option, the price of such technology could put off some consumer despite its safety benefits. On Audi models sold in the UK, for example, AEB is offered on the majority of models from £260 whereas on BMW models, prices for AEB start from £1,300. Yet driving a car with AEB should result in lower insurance premiums.
Head-up displays
A driver's reaction time is delayed when they take their eyes off the road, even if only briefly. In an emergency braking situation the result can be an increase in braking distance. A head-up display (Hud ) system uses the optical combining characteristics of the HUD interlayer to provide a single focused virtual image appearing near the front of the vehicle. The HUD display enhances the overall driving experience by allowing drivers to keep their 'eyes on the road' while still viewing critical vehicle data, such as speedometer readings and GPS directions. It projects a visual image at a distance of about 2-metres in front of the driver.
General Motors began using HUDs in 1988 with the first colour display appearing on the Corvette C5. We believe that the Corvette was offered with a HUD which, at the time, was expected to see a take rate of around 25 percent. A year later, however, this high quality HUD was sold on over 85 percent of all Corvettes and now in the latest generation, remains a top requested option according to some. Nissan subsequently offered a HUD in the 240SX from 1989-1994. Toyota , for domestic market only, in 1991 released this system in Toyota Crown Majesta. In 2003, BMW became the first European manufacturer to offer HUDs. The displays are becoming increasingly available in production cars, and usually offer speedometer, tachometer, and navigation system displays. Night vision information is also displayed via HUD on certain General Motors, Honda, Toyota and Lexus vehicles. Other manufactures such as Audi, Citroën, Saab , Nissan, and KIA currently offer some form of HUD system.
Since those early applications, other manufacturers have been pushing back the technical boundaries. For example, Johnson Controls is supplying the HUD for the Citroen DS5. The HUD projects driver information from the instrument panel onto a transparent screen located in the driver's field of vision. The ergonomics of the display enables the driver to perceive and process the relevant information, such as speed, traffic sign recognition or turn-by-turn navigation, faster than standard displays positioned outside the primary field of vision. This is the fourth application of the HUD, but the first in colour says JCI . The HUD is also featured in the Peugeot 3008, 5008 and 508.
While some luxury vehicles offer HUDs – such as the Audi A6; BMW 3, 5 and 7 Series, X5 and X6; and the Lexus GS, HS 250h, RX 350 and 450h – some other mid-segment vehicles offer it, too, including the Chevrolet Corvette and Camaro, Buick LaCrosse, Cadillac ATS , Ford Fusion, GMC Acadia and Toyota Prius. Mercedes-Benz has also entered the HUD market with its first offering on the 2014 S-Class and 2015 C Class, the latter potentially opening the floodgates for a much broader market adoption. Looking further ahead, some manufacturers anticipate that the traditional dashboard embedded instrumentation cluster in some vehicles could be eliminated and replaced with the HUD by 2030.
More: Global light vehicle safety systems market – forecasts to 2029