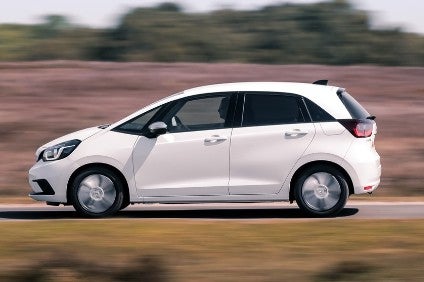 Honda's Jazz line, aka Fit in some markets, has a long history if you date it back to the innovative, tall 1983 City runabout that was sold as the Jazz here in the UK and other European markets (because, at the time, British Leyland, or whatever it was called that month, had dibs on the City nameplate for entry level variants of the Mini and Maestro). That mid-80s Honda City morphed into a much more conventional looking, lower roof small hatchback, not exported as widely, and, ultimately, the nameplate ended up on smaller-than-Civic sedans sold in emerging markets such as Thailand where they were locally made, not just assembled, and India, which built the model using bits sourced both from the mother plant in Thailand and locally.
Meanwhile, the original City/Jazz evolved into the mid-90s Logo, a circa-1300cc, three or five-door hatchback, sold mostly in Japan with CVT automatic transmission. Honda UK subsequently dipped a toe into this segment with a 1999-2001 three-door manual version (of the second facelift), ahead of the 2001 launch of the first of what is now four generations of Jazz. The first three, badged Fit, also found a welcome in North America, albeit with a larger 1.5-litre engine and a conventional automatic transmission option instead of CVT.
Within a half mile of Roberts Towers, I can count six second, third and fourth generation Jazzes, all manual, rather than CVT, two at one house, and owners I have spoken to cite reliability, good fuel economy and the spacious, versatile interior as their reasons for liking the model and, in one case, trading in for another when the first PCP contract ended.
Hybrid
A hybrid powertrain – from the original Insight – was added to the European Jazz line in 2011, using a single electric motor sandwiched between petrol engine and CVT automatic transmission. Now, for generation four, the UK gets only a much more sophisticated 1.5-litre petrol, two motor hybrid powertrain branded e:HEV similar (but updated) to that used in the latest CR-V and, in other markets, models such as the Accord. The UK Jazz comes with a choice of two body styles – the hatchback gets three trim levels while the higher riding Crosstar we reviewed earlier comes only with top EX specification. Other markets can also get this latest Jazz with a 1.3 petrol engine.
This is the first of six electrified Honda models scheduled to be introduced in Europe by 2022 and, Honda said, "has been engineered to deliver a compelling blend of strong performance and impressive efficiency to complement its class-leading levels."
The e:HEV system was newly developed for the Jazz and comprises two energy-dense electric motors, a 1.5-litre i-VTEC petrol engine, a lithium ion battery and an innovative fixed gear transmission intended to deliver the best ratio of fuel economy to acceleration in its class. It's certainly quick enough with 0-62mph acceleration in around 9.5 seconds and maximum speed of 108mph. CO2 emissions vary from 102-104g/km which ensures low road tax here in the UK. Combined fuel economy is around 61-62mpg and we had no problem achieving that, according to the trip computer, tootling around town which is where most local Jazz models spend their days.
The petrol engine kicks in and out seamlessly as required. There are three interchangeable drive modes: EV Drive: the lithium-ion battery supplies power to the electric propulsion motor directly; Hybrid Drive: the engine supplies power to the electric generator motor, which in turn supplies it to the electric propulsion motor and Engine Drive: the petrol engine is connected directly to the wheels via a lock-up clutch and driveforce is transmitted directly from engine to the wheels. In most urban driving situations, optimum efficiency is achieved through seamless transitions between EV Drive and Hybrid Drive. For driving at highway speeds, Engine Drive is used, supplemented by an on-demand peak power 'boost' from the electric propulsion motor for fast acceleration. In Hybrid Drive, excess power from the petrol engine can also be diverted to recharge the battery via the generator motor. EV Drive is also engaged when the car is decelerating, harvesting energy through regenerative braking to recharge the battery. Switching between the three driving modes is unnoticeable – Honda said engineers had dedicated significant efforts to minimising lag during transitions. They also developed the high speed electric motors in-house to be as lightweight, compact and efficient as possible, the electric propulsion motor spins up to 13,300rpm to achieve a maximum speed of 109mph. The maximum torque is generated from zero rpm so the 'mum or granny special' can be a lot faster off the line than expected.
New transmission
Rather than using a conventional transmission, fourth generation Jazz is equipped with a newly-developed Electronically Controlled Continuously Variable Transmission (e-CVT) with a single fixed gear ratio to create a direct connection between moving components. When in Hybrid Drive mode the new control logic ensures the electric propulsion motor provides powerful torque whilst the engine provides a direct and linear feel during acceleration, similar to that of a multi stage transmission such as the CVT automatic offered with previous petrol models. When more power is required, the new control logic can constantly select the ideal engine speed. This has the impact of maintaining a relationship between vehicle speed and engine speed and a more linear feeling, experienced by the driver and passengers as acceleration sound giving the model some 'fun to drive'.
Packaging
Honda said its new e-CVT is more compact than the conventional planetary e-CVT units typically found in rivals' hybrids and is an example of the intelligent packaging evident elsewhere on the car. With the full restyle, A-pillar thickness has been more than halved from 116mm to just 55mm with the pillar behind now providing the main structural strength. This, along with hidden windscreen wipers, provides unobstructed, expansive field of vision. Overall height versus the older models has been is reduced by 10mm (0.4"), though the new car looks lower, possibly due to the forward leaning tailgate design.
New advanced structural technologies and processes, such as adopting the latest semiconductor technology to downsize the power control unit by 20%, were key to incorporating the new two motor hybrid drivetrain while allowing the traditional Jazz shape to be retained. Despite incorporating a new two motor hybrid driveline, the fifth generation is only 16mm longer than the previous petrol model, and remains the same width. Luggage capacity (with rear seats up) starts from 298 litres – not enough to fit in The Family's weekly shop – and increases to 1,199 litres (to the roof with the rear seats down). This was achieved through clever packaging of hybrid drivetrain components into the chassis and within the engine bay – there is still room for the 12 volt auxiliary battery. There is no spare wheel under the boot floor, nor is there room even for an aftermarket kit as what was a spare wheel well in the previous car is no more. You get a pump 'n' gunk and like it or lump it.
Magic Seats
Key to maximising cabin room is the positioning of the fuel tank in the centre of the chassis beneath the front seats, which previous Jazz generations pioneered and Honda Europe claims is still unique in this (B-) class. This enables the latest Jazz to retain the clever Magic Seat configuration that offers both seatback fold flat or cushion flip-up seat flexibility so a tall plant or a smallish bike will go in. Revised packaging and overall design also permits a wider tailgate opening and new stepless flat floor that makes loading and unloading the boot easier.
Front seat occupants get a newly developed body stabilising seat frame with premium mat-structure support and a 30mm seat padding thickness increase. Brake pedal position has been changed to optimise the foot angle and steering wheel is now two degrees more upright and the range of adjustment has been revised to allow the wheel to be set closer to the driver. Redesigned Magic Seat structure allowed hinges to be moved outside of the passenger hip points. Claimed class-leading rear leg space of 986mm – made possible by the torsion beam suspension lay out – and seat padding thickness increased by 24mm also adds to comfort levels. Designers also added smartphone pockets in the back of the front seats for rear occupants which went down a treat with my gadget-toting daughters.
Structure
For the new generation, Honda enhanced the chassis, suspension and body rigidity. The ratio of higher tensile strength steel has risen by 80%, helping to reduce weight and improve safety performance in the event of a crash, static bending is improved by 6% while static torsion is improved by 13%.
The adoption of a new aluminium die cast rear damper mount structure improves driving experience while further suspension improvements, such as new spring material and reduced friction-bush design, plus the rear torsion beam suspension layout, also support improved ride comfort. The front suspension geometry has a low front roll centre to enhance stability, augmented by an electric power assisted steering system and steering ratio improvements which deliver accurate feedback to the driver and provide more natural direction changing behaviour. The low friction suspension components combine with the long wheelbase to naturally reduce pitching motions. Honda's Agile Handling Assist (AHA) system improves dynamic stability, particularly when reacting to fast steering inputs or high cornering loads. AHA operates through the Vehicle Stability Assist system and applies a light braking force, imperceptible to the driver, to the inner wheels when the steering wheel is turned. Brakes are all disc and electronic brake systems include: Vehicle Stability Assist, Brake Assist System, Hill Start Assist and Automatic Brake Hold.
Technology
The first impression on receiving the review car was how well equipped and high-tech is this latest generation. The instrument cluster is all digital, a feature not so long ago confined to top premium models. Honda claims seamless, intuitive in car connectivity is unrivalled in this class and starts the ball rolling with wireless Apple Carplay connectivity which is still quite rare (smartphone connectivity is still an extra for some premium brands). Older iPhones and others work well enough if connected via cable to Android Auto. The automaker also provides WiFi hotspot capability and remote services plus an AI-powered 'Honda Personal Assistant' (voice enabled features) and a My Honda+ app for smartphones. Connected infotainment features and apps can be accessed via touchscreen or voice activation, including weather, parking locations, music, navigation, location finding, and telephone services. The app provides access to a range of functions, journey information can be set up and sent from the app to the car and it can also lock and unlock the car remotely. The app also provides location monitoring and car tracking via GPS. Intelligent Geofencing can also be activated to alert the owner if the vehicle breaches a pre-set 'geofence' zone, plus a security notification delivered to the smartphone app if the car's security alarm is activated.
According to Honda, the LCD touchscreen interface is designed to minimise driver distraction and operation time for the most regularly-used controls is reduced by 58% compared with the previous model. The system is navigated using smartphone-style usability with swipe controls to scroll through pages and lists. The display can be configured to suit any usage requirements, incorporating customisable shortcuts to frequently used functions and audio sources. The owners manual can be accessed via the touch system or through AI voice control if owners have subscribed to Honda Personal Assistant.
Safety
Active and passive safety equipment includes a a new wider angle high-definition camera for Honda Sensing, 10 airbags, including a claimed class first front centre airbag. Enhanced Sensing technology includes collision mitigation braking system with improved night operation to also detect pedestrians when there is no street lighting, and the system also alerts the driver when it detects a cyclist cutting across. The system also now applies the brakes when the car cuts across or turns into the path of an oncoming vehicle. This is enabled by the newly developed front wideview camera. Other items include adaptive cruise control with low speed follow, Lane Keeping Assist, Road Departure Mitigation, Blind Spot Information with Cross Traffic Monitor (standard on EX), Traffic Sign Recognition, Intelligent Speed Limiter and Auto High Beam. The driver can select how much assistance information is displayed on the main display.
UK market
UK buyers are offered three trim levels – SE, SR and EX. All have adaptive cruise, Bluetooth, four speaker sound with digital radio, and numerous safety and convenience items. The SR adds a 9" touchscreen, part leather trim, wireless Apple CarPlay and park sensors while the loaded EX adds Garmin navigation, heated steering wheel and seats, rear camera, larger alloy wheels, smart entry/start and other goodies. The EX-only Crosstar has a few extra goodies including eight speaker premium sound and optional two-tone paint. Our EX hatch was listed at GBP22,035.
This is an extremely impressive update of a well established and popular nameplate. Honda has not only gone all-hybrid but developed its most sophisticated system to date and then packaged it in a car even more spacious and versatile than its predecessor. Technology and convenience items which would shame many a premium model add icing to the cake.