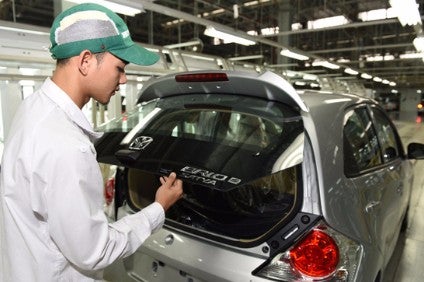 The Japanese auto industry maintained its strong grip on the vehicle markets of southeast Asia last year, according to exclusive data provided to just-auto.
The Japanese carmakers' combined sales in the region's five main markets rose by an estimated 3.3% to 2.62 million units in 2016, for a market share of 84%, according to data supplied by AsiaMotorbusiness.com.
The highest Japanese dominance is in Indonesia, the region's largest market, where their combined share of sales rose to a staggering 98.5% by last year. In Thailand, the Japanese accounted for 88% of sales, while in Malaysia it was 78%, including sales of Perodua – a domestic brand which depends entirely on Daihatsu for its products.
Competitors from elsewhere have tried and failed to gain a significant foothold in this region and in key markets the Japanese have only strengthened their grip in recent years.
European manufacturers such as Mercedes-Benz and BMW, and to a much smaller extent Jaguar Land Rover, dominate the premium segments and this is set to continue. But this success does not extend to other segments of the market.
Ford withdrew from Indonesia at the end of last year, choosing instead to focus on markets where it has a better chance of competing. It has had better luck in some of the smaller emerging markets such as Vietnam and the Philippines.
GM's efforts to break into the high-volume compact MPV segment in the region were short-lived. It closed its "Spin"MPV plant in Indonesia last year and is downsizing its product range in the region to include just pickup trucks and SUVs.
Toyota dominates the ASEAN region, with sales in the five main markets estimated at 910,263 units in 2016 – for a market share of 29%. If combined with Daihatsu, upon which it relies heavily, and with its Hino subsidiary, Toyota group's sales in the region rose to 1.355m units last year (including Perodua) – to account for more than 43% of sales.
Toyota has been extremely successful in maximising synergies with Daihatsu in Indonesia, which is by far its largest market in the region and where it is responsible for 56% of total sales.
Toyota has by far the largest range of vehicles in this market and has been at the forefront of the development of new market segments across the region, including low-cost green cars and small and medium MPVs and SUVs. It enjoys the best economies of scale and strongest pricing power.
Honda has emerged as the second-best selling brand in the region in recent years, despite the company's lack of a presence in the commercial vehicle segment. Its share of regional sales has risen from just over 8% in 2012 to almost 14% in 2016.
Honda's recent growth has been underpinned by its strong and successful product range expansion, particularly in the compact MPV and SUV segments. New models such as the Mobilio, H-RV and B-RV have proved to be extremely popular in markets such as Indonesia, where its sales and market share have almost tripled in since 2012.
Not all Japanese automakers have enjoyed growing sales in the region. Nissan and Suzuki in particular have struggled to keep pace with their more successful rivals, while Mitsubishi/Fuso has also been impacted by weak commercial vehicle demand in key markets.
In ASEAN's smaller markets the Japanese dominance is not so overwhelming. Japanese brands accounted for 69% of total vehicles sales in the Philippines last year, while in Vietnam their combined share was below 50%.
South Korean brands such as Hyundai and Kia have been more successful in penetrating these markets, as have Ford and GM. Chinese brands have also targeted in the commercial vehicle segments here with a degree of success.
But one wonders whether it's just a matter before the Japanese tighten their grip on these markets too.
NB The top five ASEAN markets are Indonesia, Thailand, Malaysia, Philippines and Vietnam