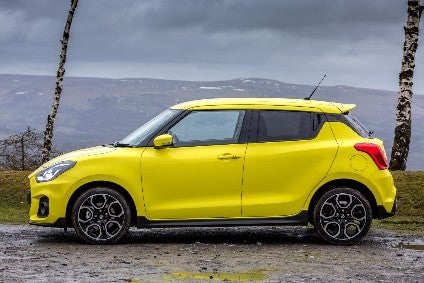 Not all Suzukis are inexpensive or bought by people whose priorities are a no-fuss, no-frills small car. For those in the know, a certain Swift variant is doing great things for Suzuki's long term image that no 'influencer' or 'brand ambassador' ever could.
The Swift Sport is, to the lament of many a US-based gearhead tweeter, hewn from pure Unobtanium. On the other hand, we in Britain cannot walk into a showroom and buy a Ram HD 3500. None of us lives in an ideal world.
My first car in the UK was a tiny Peugeot and while determined not to even suggest that the 205 GTI was ever a gold standard which cannot be matched, it was a buzz. That was a long time ago though. Now, I would struggle to love it due to things such as what would happen in a collision, the lack of air conditioning, brittle plastics, no back doors, how ridiculously easy it would be to steal and the tiresome exhaust boom on motorways. There are many in this business who can bore for Britain on the topic of Many Things Were Better In The Eighties. I won't. Plus, I wasn't here.
The cost conundrum
Fast forward to 2019. Cars are light years ahead of where they had been. Suzuki has channeled some of the things which defined A/B segment hot hatchbacks from the 1980s but it's also looked to its own more recent track record. Specifically, previous generations of fast Swifts.
The latest Sport has one problem. Price. Some might consider GBP18,499 too steep. To me, it's worth the money and anyway, previous editions of the Swift Sport were never cheap.
What's so great about this little car then? It starts with dimensions and with weight. The Sport is under a tonne and under four metres. The second of these is crucial for the length-based taxation threshold in India, Suzuki's number one market.
Small car, big build numbers
Maruti Suzuki accounts for one in every two passenger vehicles sold in India. The Swift's total of 223,630 in 2018 made it the country's third best seller behind the Alto (256,661) and Dzire (264,612). Last year the little sedan also happened to knock the Alto off a perch various generations of the model had held for thirteen years. But the Dzire isn't just the best selling model, it's a four-door version of the Swift. Sometimes then, small is big (business). Such is their popularity that two plants – Hansalpur 1 and Hansalpur 2 in Gujurat – are needed to satisfy demand.
Sadly for Indian buyers, Maruti doesn't offer the Swift in Sport form. And unlike certain other Suzukis imported to the UK, this model isn't built in India either: all versions of the Swift for our market come from the Sagara plant in Japan. Which makes it fairly exotic and even rare, with production being at a level which is nowhere near that of the India-made Swift. In the Japanese market, this model was well inside the top 50 in 2018 with deliveries of 36,628 units. And according to how JATO defines Europe, the Swift was the second best selling Suzuki in the region behind the Vitara, deliveries shooting up by 43% to 54,266 cars.
Life cycle and some stats
The Sport, which should be facelifted next year and replaced in 2023, premiered at the Frankfurt IAA in September 2017. The car went on sale in Japan from later that month but did not reach European markets until March (2018). Weight is 80kg less than the previous Swift Sport (now 970kg), torque rose by 70Nm to 230Nm and power from the turbocharged 1.4-litre 'Boosterjet' 1.4-litre engine is 103kW (140PS).
Why light is right
Returning to the topics of size and weight, parking and driving the Sport are simply joyful. It's narrow compared to all the crossovers and SUVs which dominate UK sales charts and the lack of excess heft has major benefits for emissions, fuel consumption, wear and tear on components and driving fun. What's more, this little five-door hatchback hardly ever feels anything other than solid. The one exception is a centre console tray into which the cupholders and gear lever are integrated. I accidentally made it move slightly sideways when stashing a squishable 500ml water bottle between it and the passenger seat. This piece of trim shifted back the instant that the offending plastic vessel was removed, no harm done. Not something you'd see in most cars though.
How Suzuki makes money from small cars
The doors don't feel fragile, nor do their interior trims, nothing rattles, it's all good. Go out of your way to look and you'll soon see where this famously canny company saves money. The parcel shelf is fairly thin but that's not to say it looks as though it won't endure many years of use. Similarly, the single supermarket bag hook in the boot is tough – how many yen did not putting one on the other side save? And does Mister Suzuki know that someone authorised TWO internal handles for the tailgate? That there is one either side of the centre lock catch was a genuine shock, knowing the lengths that this company goes to keep parts costs to the absolute minimum. Don't believe me? In this eighteen thousand plus car there is just the one USB socket.
The first thing I do when getting into any car which is to be evaluated is zero the trip meter. Being male, reading the owner's manual is a last resort. Far better to sit in the car with the 'no seatbelt' or 'door open' bong going as I naively believe that all functions are but a quick press of the touchscreen away. Rarely does this prove to be the case. Similarly, too-bright instrument lighting needs to be turned down. Oh, and I must also silence the SatNav ladies. Their voices may differ from car to car but they all have the same ever so slightly sarcastic tone when telling me to – with an almost-audible sigh – 'attempt a U-turn'.
In the Swift Sport, the navi mute button is – hurrah! – easily found rather than buried in endless illogically named menus, while the lighting and trip meter can be reset in seconds via little plastic wands which stick out either side of the speedo and tacho. Bliss. It's a very easy car to fall for this one, and full of other such traditional delights.
As expected, the overhead grab handle on the driver's side is missing (fine, not everyone needs one), there's no cubby bin between the seats and each of the front seats' backrests is made by the supplier as one component. However, there are separate head restraints – three in fact – for those in the rear. Well, for the extra GBP6,000 over a base Swift, Suzuki-san probably allows that. This is not mockery by the way, it's admiration: this fiercely independent OEM makes good profits even though it has zero presence in the world's two largest national vehicle markets.
I could probably make my phone and wireless headphones take turns on the charger but what about that solo carrier bag hook? As a single man the term 'big shop' means my local Tesco Extra rather than well…I don't really know…whatever multi-persons households buy once a month at my local big shop I guess. The Swift Sport is more than likely aimed at the likes of me too. It hits the bullseye. Is it even possible not to be grinning when you drive this car on pretty much any kind of road?
Forget power and torque outputs
What says it all about the Sport is that you don't even need to know how much power there is or exactly how long it takes to reach 30, 62 or any other speed. The way the tyres grip is what makes you fall for this car, as well as how rapidly the tachometer needle spins to 6,000rpm and how terrific the sound emitted by the engine is beyond 3,500rpm.
Low weight means narrow-ish tyres which equals more smiles. I have referenced the i3 here before. The little BMW remains for me one of the best B segment cars for anyone who adores driving thanks to the delicacy of the rubber's contact points being easily felt through the steering wheel. So it is with this little Suzuki. Push too hard and you need only back off the throttle and the car realigns itself. The thing is though, an immensely satisfying time can be had throwing the Sport around empty roads at speeds well under what's needed in bigger, way more powerful cars. Therein lies the genius. No-one needs to drive like a hoon in a Swift Sport: it is thoroughly entertaining company even at modest speeds.
UK market performance
Suzuki had a better January than many in the UK market, selling 3,006 vehicles and securing a 1.7% share of the market. Nonetheless this was a fall of 9%. Still, it fared well in 2018, delivering 38,519 cars and SUVs, which was some 1,500 more than Jaguar (37,019), an amazing 3,000 more than Fiat (35,652) and only a thousand-odd fewer than Mazda's total (39,602).
Summary
The Swift is a big part of the brand's volume and the addition of the Sport will be likely doing very good things for the importer's profit margin. In a market segment replete with highly competent yet often forgettable hatchbacks, the little Sport is on its way to being remembered as a bit of a legend.
The Suzuki Swift Sport costs GBP18,499, is in insurance group 35D, has an NEDC CO2 rating of 125g/km, Combined fuel economy is 47.0mpg while the car is 3,890mm long and 1,735mm wide.