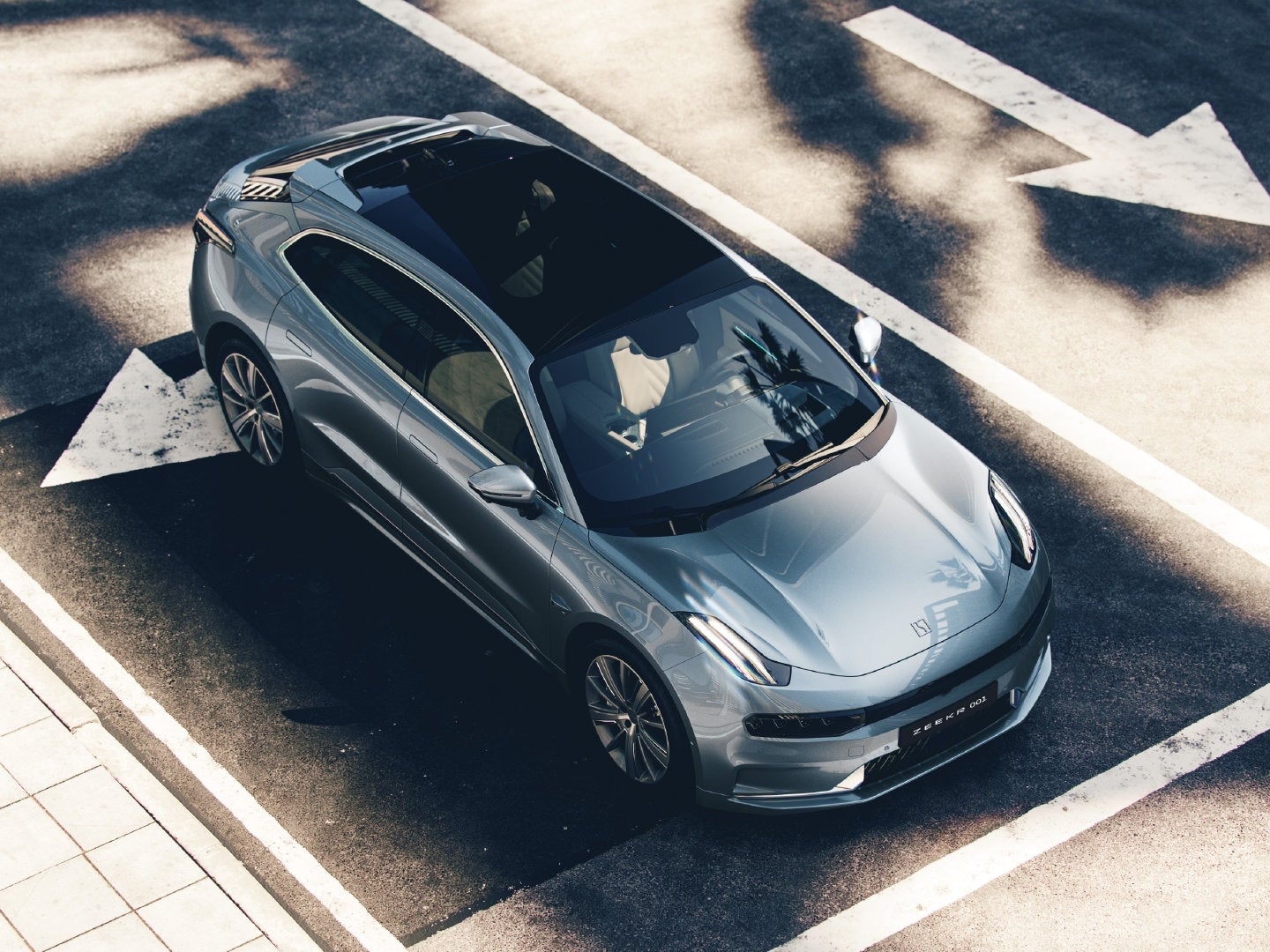 China's number one OEM has added multiple additional brands in years gone by. In each case, these divisions were eventually discontinued. Still, the company persists.
Maple, which is for cheap models, isn't doing too well yet a couple of other relatively new additional names – Geometry and Zeekr – are thriving while Jidu Auto may do too when it's launched in 2023.
Maple
It hasn't been the best of quarters for Maple, a brand which markets inexpensive models in China. The strategy gives Geely a way of giving certain older, outdated vehicles a second life long after they would have been discontinued. In theory that makes them more profitable but there's all the costs of marketing, advertising, sales and so on.
Strictly speaking, the division is separate and was created by Fengsheng Automotive Technology Group Company Limited. This firm is jointly controlled by the micro-SUV specialist Zhejiang Kandi Vehicle Company Limited and Geely Technology Group.
SMA (Shanghai Maple Automobiles) and Huapu ('Maple') branded small cars were produced in Shanghai from the start of the 2000s. Geely bought the company in 2003 with the M203 the only Maple model being produced when the brand was would up in 2011.
The latest Maple is called 60S, this third vehicle having joined the 30X and 80V in early 2022. The 4,730 mm long sedan is a modified and electrified Geely GL. The recent very low sales volume for all models could well be temporary as the parent firm fast-tracks microchips to higher-priced Group cars and SUVs.
See the link below to PLDB for other Maple models.
Jihe/Ji He (Geometry)
There's some uncertainty over the name of a small electric SUV which is to be an additional model for the Geometry brand. However, it's far from being a new design, being closely related to the existing EX3 Kung Fu Cow. Insider reports claim the E (to be confirmed but it might instead be called Thunder Tiger) is 4,006 mm long. Expect the market launch in China to take place during the second half of 2022.
The EX3 Kungfu Cow was added to the domestic market line-up in September 2021. As with the future Geometry E, this wasn't so much a new model as yet another renaming of an aged crossover which had already had various evolutions. One of these is the Geely Emgrand Yuanjing X3.
The motor of this EV is said to produce 70 kW and 180 Nm, while the Ternary lithium battery pack has a capacity of 37 kWh. We can expect an upgraded battery and a facelift in 2025 and then a successor in 2028.
Production of Geometry's best seller started three years ago this month. Customer deliveries of the 4,736 mm long electric car commencing in mid-2019.
The Jihe A (or Ji He A) is powered by a single 120 kW and 250 Nm motor. The (lithium-ion 51.9 kWh and 61.9 kWh) battery packs are supplied by CATL and buyers have the option of variants with claimed ranges of 410 km and 500 km.
Presented at the Shanghai motor show in April 2021, the A Pro is a higher priced variant. This has a a NCM523 lithium battery and is powered by a motor with outputs of 150 kW and 310 Nm. The claimed range is 600 km.
Geometry is due to be offering ten EVs in multiple segments including sedans, SUVs, crossovers, and MPVs by 2025. That means another six models should be launched within the next 30 or so months.
Zeekr (Ji Ke)
A new Geely subsidiary called Lingling Technologies launched another electric vehicles brand during the fourth quarter of 2021. Called Zeekr (Chinese name: Ji Ke) and aimed at the premium segment, it isn't clear why it is needed when the group already had Volvo, Polestar and Geometry.
During the first month (October 2021) retail sales of the 001 amounted to 156 cars. However, things soon picked up and even with the shortage of chips and other components, 8,241 units of the brand's only model were sold in the PRC during Q1, even with March sales plunging to 1,795 vehicles, a 38 per cent drop from February.
The first Zeekr, a crossover-estate, is based on SEA, a Geely Group electric-only platform. Vehicles are retailed in similar ways to Nio, with city centre sales hubs rather than dealerships.
Similar to how the Volvo 40.2 concept from 2016 was recycled into a Polestar (the 2) four years later, the 001 started life as a Lynk & Co. Called Zero, this concept debuted at the Beijing motor show in September 2020. It took only until April 2021 for the vehicle to reappear as part of a different Geely Group division. The model is a 4,970 mm long electric shooting brake available in single-motor and two-motor forms.
Power for two-motor variants is claimed to be 400 kW while torque is 768 Nm. Zero-100 km/h takes a claimed 3.8 seconds and top speed is limited to 200 km/h.
With an 86 kWh or a 100 kWh battery installed, the maximum NEDC range is 712km with rapid charging of up to 360 kW possible. Nidec supplies its Ni200Ex electronic axle for the 001.
Geely created and is expanding a national network of what will be an eventual 2,200 battery swap stations and more than 20,000 charging facilities by the end of 2023.
The car itself is manufactured at the rebranded 'Zeekr Intelligent Factory' in Hangzhou Bay. What has been termed a "global market expansion" is to commence during 2023. News is awaited of which markets will be targeted (the USA and some in Europe have been suggested) and when exactly this might happen.
An MPV will be the brand's second model. There should be others between then and perhaps 2025, which is when a robo-taxi is expected to appear. Such vehicles, which are being to be developed in Sweden by Zeekr, will become part of the Waymo One autonomous ride-hailing fleet in the United States.
Jidu Auto
As with Maple, Geely Holding has spread the risk and expense for another brand, this time with Baidu. The firms announced a JV for electric cars in January 2021 but did not disclose much else information. The media statement was as follows:
"As the world's leading artificial intelligence platform company, Baidu announced the formal establishment of a smart car company to enter the automotive industry as a vehicle manufacturer. Geely Holding Group will become a strategic partner of the new company."
It is important to note that the OEM partner is not Geely Automobile Holding Co., Ltd, which is a listed company.
The firm has also partnered with ZF Friedrichshafen for various technological aspects of what Baidu and Geely call a "robot car". That is believed to mean Level 4 autonomous drive. The JV company is called Jidu Auto.
The first vehicle might be an SUV but this is speculative. A prototype should have debuted in a few days' time at the Beijing motor show but with that event now postponed, we'll have to wait a little longer to see it.
Reports for many other manufacturers' future models are grouped in the OEM product strategy summaries section of Just Auto.
Future platform intelligence
More detail on past, current and forthcoming models can be found in PLDB, the future vehicles database which is part of GlobalData's Automotive Intelligence Center. That includes cars and SUVs not featured in this report.
This is the second of multiple reports looking at the current and future models of brands controlled by Zhejiang Geely Holding Group. It follows a recent feature on the Geely brand. Others to follow will examine Lotus, Lynk & Co, smart and Proton; as well as Volvo; plus Polestar.