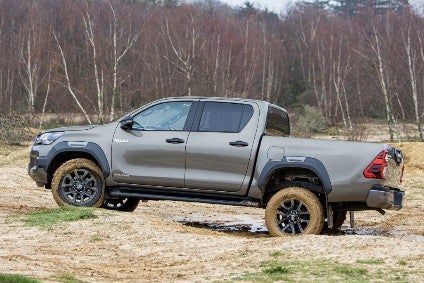 Soon to be six years old, the eighth generation Hilux continues to sell up a storm the world over, especially in the Pacific Rim and many African nations. So does the recently updated model have what it takes to beat the Ford Ranger, Nissan Navara, VW Amarok, Mitsubishi L200, SsangYong Musso and new Isuzu D-Max?
In Britain, this is more of a niche vehicle although a tax loophole means we see a lot more pick-ups on our roads than was once the case, and 5,928 sold in 2020 is a great result considering all that happened to the market last year.
Toyota Motor Europe says that from 154,000 vehicle sales in 2015, the Hilux's class could expand to 208,000 units per annum by 2023. Don't forget that Brussels-based TME's responsibilities stretch beyond most OEMs' definition of Europe, comprising not only EU-EFTA-UK but the brand's operations in Russia, Ukraine, Turkey, Israel, Armenia, Azerbaijan and Georgia too.
Buyers can choose from 2,393 cc (2GD-FTV) and 2,755 cc (1GD-FTV) engines, each of these four-cylinder diesels being linked to a six-speed manual or automatic gearbox. As with all of its competitors, there's part-time four-wheel drive, a ladder frame chassis and some fairly impressive off-roading abilities.
On-road, neither the Hilux nor others in the class are up to the dynamics standards set by pretty much any car yet that doesn't worry the typical buyer. I'm not saying that any of these pick-ups is unstable; it's just that leaf springs aren't designed for comfort. At least things get better when there's a load in the tray.
Aside from the fresh engine, the latest, facelifted model has had some other changes such as revised suspension calibration which is meant to make the ride a little less jittery, while an automatic limited slip differential is standard.
Toyota has continued to refine Hilux generation eight since it first appeared in 2015. Built in multiple factories but with the mother plant being one of two under the umbrella of TMT (Toyota Motor Thailand ), the biggest market has for years been Australia. It's also that country's best selling vehicle and appeals not only to mining operators and urban Tradies but can be thought of as a family car, at least in dual cab form.
In Britain, the Hilux is aimed more at farmers and increasingly, business operators or anyone else who wants something a bit different and perhaps likes making a statement. You don't have to go all high-spec though, as there are basic single cab light commercial versions as well as the pricier five-seater ones.
The test vehicle had sombre grey-ish brown paint yet that was about the most understated thing about it. The trim level is called Invincible and it sits one from the top below Invincible X and above Active (base) and ICON . The least expensive versions have the 112 kW (150 PS) 2.4-litre engine and can be ordered as a Single cab, Extra Cab (still only two doors but with occasional back seats) or Double Cab (four doors and five seats). Automatic transmission isn't available though. The next step up, Icon, comes only as a Double Cab with the same engine and choice of manual of auto transmissions.
For Invincible, it's a standard Double Cab and 2.4-litre engine with either gearbox or for extra money, the new 150 kW (204 PS) 2.8-litre alternative with the same transmission choices.
The 2.4-litre engine isn't available in the Invincible X and the same applies to a recently added range topper called Invincible X AT35. This one has that whole rally raid look going on and it's got to be the most desirable of the lot. If you include VAT, the OTR price for the top-spec Hilux is GBP63,011.
Who's going to pay sixty three thousand pounds for a Hilux, you wonder? I also asked myself that question, before concluding that if Tgb didn't believe that there are customers out there who will, then it would have told TME to forget about the British market. It also makes the case for the Invincible and X a bit easier. Don't forget either, that ex-VAT, a Hilux can be had for as little as GBP23,045, or GBP27,590 On The Road.
Both gearboxes have been upgraded for the new 2.8-litre engine, which incidentally, comes with two torque outputs. That's because with manual transmission, it's limited to 420 Nm but choose the six-speed torque converter auto and you get the full 500 Nm (it's 400 Nm for all 2.4-litre versions).
The facelift means the latest Hilux is 5mm shorter and 45 mm wider than its predecessor, while the bed length is between 1,525 and 2,315 mm (dependent on cab format). Payload stays at one tonne but the 3.5 tonne towing capacity now applies to all three four-wheel drive body types – Single Cab, Extra Cab and Double Cab. The last of the three bodies means a length of 5.3 metres.
No version could be called brisk but choosing the larger of the engines drops the 0-62 mph time to 10.7 seconds from 12.8. It's also an especially smooth unit, and I wasn't expecting that. Toyota says idle speed is only 680 rpm, and even on steep hills, it's noticeably quieter than the comparable four-cylinder diesels in some of the competition.
I'm yet to try the new Isuzu D-Max so until that happens, I won't declare the updated Hilux segment leader. The new engine and the refined suspension and steering combine to put it back into my personal top three, with the Musso still the one I'd most recommend because you get so much for the money. And even though we all know how old the Amarok and Ranger are, I can understand why each remains well liked.
As an Invincible or Invincible X, the Toyota certainly looks the part, and for many, that and the vehicle's reputation for taking just about anything in its stride help explain why buyers continue to love it.