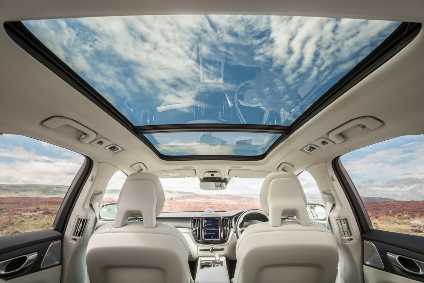 Geely's Volvo Cars reported that global sales continued to grow in October 2020, with volume up 7.1% compared with the same period last year, partly driven by continued demand for the XC60 mid-size SUV. Continuing just-auto/AIC's review of interior design and technology trends, we take a closer look inside this best-selling SUV.
The second generation XC60 has a number of trim levels to choose from: the entry-level Momentum, Inscription Expression (Recharge plug-in hybrid T6 only), R-Design and R-Design Pro, Inscription and Inscription Pro and Polestar Engineered. The interior, regardless of trim, is cloaked in classy materials.
The Inscription Pro we took out last week featured a frameless rearview mirror; heated steering wheel, windscreen and wiper blades; front seat backrest massage function; active bending headlights; keyless entry and start; head-up display; powered boot opening/closing; and puddle lights. It also came with driftwood inlays along the dash and centre console.
Additional equipment in the Polestar Engineered trim includes a Harman Kardon premium audio system, aluminium front tread plates, Polestar's 'signature gold' seatbelts and a stitched finish for the instrument panel. Volvo points out that Momentum is the most popular trim level, accounting for around 35% of total sales.
Connectivity and infotainment
Crowning an uncluttered central stack is an iPad portrait-style touchscreen that conveys the non-critical information. The nine-inch touchscreen, flanked by a pair of vertical chrome air vents, can also be controlled by voice.
The voice-activated control system works in tandem with the touchscreen. We used it to operate functions such as changing the cabin temperature, inputting an address in the sat-nav or changing radio stations. It generally worked fine although a little hit and miss. Another feature fitted to all XC60s is a built-in car modem creating a WiFi hotspot and enabling happy passengers to remain connected.
Incorporated across the Volvo range is its so-called Sensus Connect. This cloud-based service allows the driver to find and pay for parking from the car, find a restaurant, stream favourite music and a few more things besides. The driver can also have text messages read out loud without removing their hands from the wheel. Also falling under the auspices of Sensus Connect is Volvo On Call that allows drivers to communicate directly with their car via a smartphone application to lock, unlock, check fuel levels, locate the car and check mileage. The Sensus Connect infotainment system is compatible with Apple CarPlay, Android Auto and 4G standard.
As part of Volvo's Sensus technology, In-car delivery is a new service that allows online orders to be delivered directly to the boot of any Volvo. Using the carmaker's On Call service, In-car delivery allows single-time access for depositing items such as groceries or dry-cleaning in the boot of a parked car. It essentially turns a car into a preferred delivery address. You can also send a destination directly to the car's sat-nav so it's all ready to go when you get into the car.
Last year, Volvo Car UK let it be known that it was boosting its in-car connectivity offer by fitting a data SIM card as standard to all new models. The feature has since been introduced on all 2020 model year cars and can be retrofitted to any that have already been delivered to customers. The SIM card creates an on-board WiFi hotspot that can be used for up to eight devices.
The sat-nav is also worthy of note. While all the usual apps are provided on Volvo's Sensus Navigation, they include useful things like: Glympse (send your location to friends and family); Send to Car (send a destination to the car from a phone using Volvo On Call); and Weather. Volvo On Call was initially developed as a telematics safety system that alerts the emergency services if you are involved in an accident, or if you need roadside assistance due to a flat tyre. It now also acts as a security system allowing stolen vehicles to be tracked. Other neat tricks include notification if your car alarm is triggered, remote car lock/unlock, flash headlight for location in a crowded car park and remote operation of the HVAC system.
The DAB sound system is engineered by Bowers & Wilkins. The set-up involves 15 speakers, surround sound digital processing and a total system output of 1,100 watts. More specifically, it includes an air-ventilated subwoofer integrated into the car's body (as opposed to a freestanding unit) to provide low bass tunes, and a speaker on top of the dash. More specifically, the 'Tweeter-on-Top' technology minimises acoustic reflection from the windscreen while also reducing colouration, resulting in a sound that's a more detailed, purer and truthful account of the information on a track.
Cavernous cabin
The posh cabin is long and wide with an optional panoramic powered glass tilt roof providing lots of natural light in the back. Seating-wise, the power front seats allow plenty of headroom for six-footers, although the XC60's panoramic sunroof leaves a little less head room in the back. Rear seat occupants also benefit from four-zone climate control which also cooled the glovebox.
The boot holds 483 litres with rear seats in upright position. Boot shape itself is deep and practical with no major wheel arch intrusion. Folding the 60/40 rear seats flat liberates 1,395 litres of space enabling a mountain bike to slip through the large power-operated tailgate which can be activated by pressing a button on the key, dash or underside of the boot lid.
Forward visibility is good with no major blind spots to get bothered about thanks to some relatively thin A-pillars. Rear visibility is not so great (it rarely is in any SUV), although a rearview monitor, bird's eye view camera and Pilot Assist (see below) help during parking manoeuvres.
While the heated rear seats do not slide or recline like some rivals, the outer seats incorporate a neat storage idea in the shape of a compartment incorporated into the seat base that can store an iPad, book or magazine.
Storage-wise, the XC60 has plenty of sizeable rubber-lined cubbies with two cup holders in the front and rear. The rubber prevents objects from sliding around. We also like the attention to detail. For example, the storage bins are fitted with soft close lids and the sides of the centre console are lined with carpet so you won't graze your knuckles as you buckle up your seat belt.
Other comfort and convenience features fitted to the press tester included an interior air cleaner, wireless/inductive mobile phone charger pad located on the centre console, and power folding second row headrests.
Suppliers to the XC60 include Autoliv, Faurecia and Tenneco. Autoliv supplies the airbags; Faurecia the door panels and exhaust manifold for the gasoline-powered versions of the XC60. The car seemingly flies over bumpy country roads thanks to its controlled electronic suspension system, supplied by Tenneco. The XC60 uses the same suspension as the flagship XC90.
Advanced driver assistance systems
As expected from Volvo, the XC60 comes wrapped in a safety blanket of advanced driver assistance systems (ADAS): Steer Assist (automatically provides steering input in an emergency to help avoid potential collisions), Oncoming Lane Mitigation (designed to prevent head-on collisions at certain speeds if you unwittingly drift out of lane, guiding you into your lane and out of the path of any oncoming cars) and Blind Spot Information Systems with Steer Assist (automatically applies the steering to bring the car back into its own lane, again at certain speeds). The Run-off Road Protection is another useful ADAS feature that automatically tightens the front seatbelts should the car inadvertently leave the road, while front seat frames with a collapsible section reduce vertical forces to help prevent spinal injuries.
The XC60 also features the carmaker's Pilot Assist semi-autonomous drive technology. Available across the XC60 range, Pilot Assist that helps the driver to drive the car between the lane's side markings using steering assistance as well as to maintain an even speed, combined with a preselected time interval to the vehicle ahead. It assists with the steering (up to 80mph) to keep the car within its lane, and works with the adaptive cruise control to maintain the desired cruising speed or a safe distance from any vehicle in front. Pilot Assist can automatically accelerate and brake with the flow of traffic, right down to a standstill. The system is optimised for motorway driving and requires you to have your hands on the steering wheel at all times.
Other ADAS technologies include adaptive cruise control, rear parking and 360-degree surround-view cameras, cross traffic alert and pedestrian detection. The spec list goes on.
On the road
Our press review B5 (diesel) AWD unit with an automatic transmission and 20-inch diamond-cut black alloy wheels returned 43.2 mpg, compared to the headline figure of 44.1 mpg combined. We clocked up a few hundred miles last week in this tank-like SUV, most of that enjoyed cruising along smart motorways and country roads. Seated for long-ish and winding journeys felt comfortable surrounded by a commanding cockpit. Its minimalist cabin swathed with soft-touch trim and supportive cream ventilated leather seats make this an undeniably snug place to sit for a few hours.
Best-seller
Volvo Cars global sales continued to grow in October, with volumes up 7.1 per cent compared with the same period last year, driven by double-digit sales increases in China and the US. The company sold 65,290 cars during the month and the volume growth was driven by continued strong demand for Volvo Cars' award-winning SUV range. In the first ten months, Volvo Cars sold 516,418 cars, down 9.2 per cent compared with the same period last year. In October, the XC40 compact SUV was the top-selling model for Volvo Cars, followed by the XC60 and the XC90 large SUV. During the month, SUVs accounted for 73.3 per cent of the company's total sales, up from 65.3 per cent in the same month last year.
The XC60 is built alongside the V90 and XC90 at the carmaker's Torslanda plant in Gothenburg, Sweden (Recharge plug-in hybrid versions are built in Chengdu, China.) Its rivals include the Audi Q5, BMW X3 and Land Rover Discovery Sport.