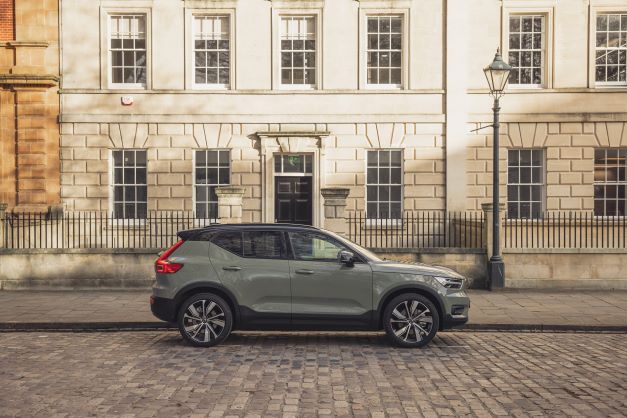 Inside story
The first-generation XC40 has several trim levels to choose from: the entry-level Momentum, R-Design and Inscription. The interior, regardless of trim, is cloaked in classy materials.
Positioned centre stage is the portrait-layout touchscreen, flanked by a pair of vertical chrome air vents. These have a silver central section – for directing the flow of air – that appears to 'float' in the middle of the vent. This is adjusted via a diamond-cut rotary control knob, which is also seen in Volvo's new 60 and 90 series cars. While we appreciate the clutter-free dash, the temperature control can only be adjusted using a vertical slider on the touchscreen thereby making it fiddly to operate while driving.
We have often found that the steering wheel controls on Volvo models are particularly intuitive. The XC40 is no exception. The left-hand spoke offers control of driving-function related systems such as speed limiter, adaptive cruise control and Pilot Assist. The right-hand spoke accesses all the infotainment features, including audio, phone and navigation.
Other welcome creature comforts found during some chilly winter days included heated front seats, steering wheel and windscreen, active headlights and even an illuminated glass gear knob. The frameless auto-dimming interior rearview mirror was another nice touch. Volvo's pride in its homeland is shown in a tiny fabric Swedish flag stitched into the side of the driver's seat.
Storage
Designed primarily for city dwellers, Volvo has gone to some lengths to research how this target group store their belongings in their cars. Customers were also asked how they would like to see the interiors of their cars improved.
"As we spoke to people about how and where they store the things they carry with them daily, it was quite clear that most of today's cars are falling short in this area. Phones slide around in the mid-console, takeaway bags are at constant risk of falling over and people fumble behind the wheel as they try to get service cards out of their wallets. We set out to solve these and many other issues we encountered," says Louiza Atcheba, Model Brand Manager for the 40 Series at Volvo Cars.
By moving speakers from the front doors and developing an air-ventilated dashboard-mounted sub-woofer (see 'sound system' section below), enough storage space was created in the door compartments for a laptop, a tablet and a water bottle.
"When we designed the tunnel. the focus was not only creating a nice design but also to ensure that cup-holders can be used as cup-holders and that the design itself provides areas for coins, cards or charging cables. Another focus area was to make a usable space for your phone which offers wireless charging as well as USB ports," said Conny Ewe Blommé, Senior Design Manager at Volvo Cars.
Directly ahead of the gear lever is a wireless charging pad for mobile phones. This area also houses the USB and 12v sockets.
The glovebox features a fold-out hook that can be used for takeaways or small shopping bags, and there are slots for service and credit cards in the dashboard by the steering wheel, ensuring they are readily available when needed.
The driver's seat is available with a storage space beneath its base that is large enough for a compact tablet, while the area beneath the central armrest is a removable, washable bin. The posh cabin is long and wide with an optional panoramic powered glass tilt roof providing lots of natural light in the back.
Moving further back, boot space is 460 litres with the rear seats up and 1,336 litres with the rear seats down. The boot itself has large, straight-sided walls, while a flat floor with no luggage lip helps make loading easy. Pressing a button on either side of the luggage area flips forward the rear seats and headrests, creating a long, level load area.
In the luggage area, the parcel shelf can be removed and stowed beneath the luggage compartment floor, while a flexible floor is available that lets you neatly separate your luggage. As with most models in this segment, the XC40 is offered with a power-operated tailgate, hands-free opening and closing, which allows you to operate the tailgate simply by waving your foot beneath the rear bumper.
"A lot we have done with the XC40 is based on extensive consumer insight. With the XC40, we declare the end of clutter, making sure that everything is within arms reach but also out of sight. It's about clearing the clutter so you can clear your mind," concludes Atcheba.
Voice activation
The voice-activated control system works in tandem with the touchscreen. We used it to operate functions such as changing the cabin temperature, inputting an address in the sat-nav or changing the media. It generally worked fine although a little hit and miss. Another feature fitted to all XC40s is a built-in car modem that turns it into a WiFi hotspot, enabling happy passengers to connect up to eight mobile devices to the internet via the car.
Sound system 
A Harman Kardon sound system is available in the XC40. The set-up includes 13 speakers, surround sound digital processing and a total system output of 600 watts. It also introduces a world-first in car audio technology: an air-ventilated sub-woofer mounted in the dashboard. This provides low-frequency 'bass' sound without the need for a traditional large sub-woofer taking up space within the car's cabin. It also means the large speakers have been removed from the front doors, resulting in door panel storage with no sacrifice to sound quality. The system also allows you to optimise the sound settings for specific occupants or for everyone on board and you can even adjust the level of surround sound to suit your preference.
Connectivity
The XC40 uses the same Sensus touchscreen control system as Volvo's other new-generation models, which reduces the number of buttons required to operate various functions. Its portrait design displays information in a tiered order. Android Auto and Apple CarPlay smartphone mirroring can be added. Several cloud-based apps are also available, including TuneIn, Yelp, Google Local Search and Spotify.
As part of Volvo's Sensus tech, In-car delivery is a service that allows online orders to be delivered directly to the boot of any Volvo. Using the carmaker's On Call service, In-car delivery allows single-time access for depositing items such as groceries or dry-cleaning in the boot of a parked car. It essentially turns a car into a preferred delivery address. A destination can directly be sent to the car's sat-nav so it's all ready to go when you get into the car. The XC40 also comes with a car-sharing feature. This means owners can share their car with family and friends without having to hand over the key.
US owners of the XC40 Recharge can soon optimise the driving range of their car even further, thanks to a new Range Assistant in-car app that is released in a beta version as part of the latest over-the-air software update for the Android Automotive OS infotainment system.
Advanced driver assistance systems
As we would expect with Volvo, the XC40 comes bristling with advanced driver assistance systems (ADAS), including the carmaker's City Safety suite of safety aids. This uses a radar and camera unit to scan the area in front of the car and identify any objects it detects. It will detect vehicles, pedestrians, cyclists and even large animals, and warn the driver if a collision is likely. If they fail to react, it will automatically apply maximum braking force to avoid the collision entirely or limit its severity.
Other ADAS technologies include Oncoming Lane Mitigation, which is designed to prevent head-on collisions. If the XC40 inadvertently moves out of its lane into the path of an oncoming vehicle, the system alerts you to the potential danger by automatically providing steering assistance to guide you safely back into your lane.
Other standard-fit safety features are Run-off Road Mitigation and Run-off Road Protection, which help prevent the car from running off the road and protect the car's occupants should this be unavoidable. Run-off Road Mitigation uses the car's camera to monitor the position of the car in relation to road markings. If the car gets too close to the edge of the road, the system automatically applies the steering to help keep it on course.
If the car does leave the road, Run-off Road Protection tightens the front seat belts to keep the occupants in position, while a specially designed section in the front seat frames collapses to cushion the vertical forces that can occur in these accidents, helping to reduce spinal injuries.
Parking is made easier thanks to the 360-degree surround-view parking camera and Park Assist Pilot automatic parking system.
The XC40 introduces Volvo's Pilot Assist semi-autonomous drive technology to the compact SUV class. Available across the XC40 range, Pilot Assist is a driver-support system that combines a forward-facing camera and radar to detect your lane and any vehicles in front. It then assists with the steering (up to 80mph) to keep the car within its lane, and works with the adaptive cruise control to keep at the desired cruising speed or at a safe distance from any vehicle in front. Pilot Assist can automatically accelerate and brake with the flow of traffic, right down to a standstill. The system is optimised for motorway driving and requires you to have your hands on the steering wheel at all times.
On the road
Our press review was powered by a T4 FWD plug-in hybrid unit with an automatic transmission. Customer research shows that Volvo Cars' plug-in hybrids are now driven around half of the time in pure electric mode. This powertrain upgrade will increase that percentage, further cementing their position as 'part-time electric cars'.
On balance, the plethora of places to store and hang bits and pieces also make for a practical cabin. Road noise inside our press review was kept to a minimum while out and about. It also felt steady and comfortable on long journeys with just a small amount of vibration through the steering wheel and pedals. Ride quality was also good thanks to suspension parts from Tenneco. Last October, Tenneco revealed it is supplying the XC40 with its CVSAe adaptive suspension technology from its Monroe Intelligent Suspension portfolio. Tenneco supplies the CVSAe suspension technology for the carmaker from its plant in Ermua, Spain. On balance, the XC40 comes with a generous list of standard equipment, clever safety technology and an intuitive infotainment system. The net result of all this interior and acoustical development makes it a good place to spend time. Rival models include the Audi Q3, BMW X1 and Mercedes-Benz GLA.
Bestseller
Geely's Volvo Cars reported an 8.8 per cent sales growth for the first 11 months of 2021 to 634,257 cars. Worldwide, the XC60 remained the best-selling Volvo model in the period with 195,108 cars versus 169,445 in 2020, followed by the XC40 with total sales of 184,842 cars (2020: 161,329), while the XC90 is the third best selling model with 97,365 cars (2020: 80,275).
Last summer, Volvo Cars UK started online sales and subscriptions for an extended XC40 Recharge pure electric SUV range. 'Care by Volvo' Fixed and Flexible monthly subscription packages are now available online and expected to account for 95% of retail business, the automaker said. Fixed offers EVs from GBP619 a month over a three-year term or from GBP769 a month under the Flexible open-ended, rolling three-month contract. As well as access to the car, monthly subscriptions also include scheduled servicing, wear and tear maintenance, vehicle tax, replacement tyres and roadside assistance cover. Insurance can also be factored into the monthly fee.