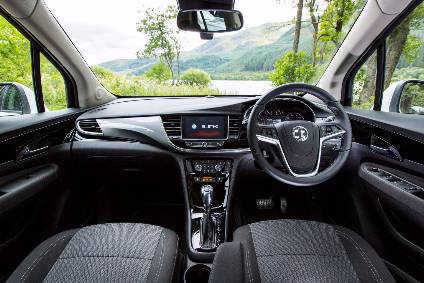 It is only when you get to drive a certain car model for a few days that you begin to notice them everywhere. The Vauxhall Mokka is no exception, with more than 120,000 buyers here in the UK alone, its single biggest market in Europe. Continuing QUBE/just-auto's review of interior design and technology trends, we take a closer look at the facelifted and renamed Mokka X.
Appealing to retail and fleet buyers, the Mokka X builds on the popularity of GM Europe's most successful B-SUV, introducing a fresh interior and exterior design and a new powertrain. It is also the first model to use the 'X' segment identifier for future Vauxhall SUV and crossover vehicles, namely the Crossland and Grandland. As Glenn points out in his detailed analysis, production of the Mokka X commenced at Figuerelas/Zaragoza, Spain in September 2016. Its rivals in the highly competitive compact SUV segment include the Nissan Juke and Qashqai, Renault Captur and Ford Kuga.
"We have renovated the interior. It is the same level as the Astra with a new infotainment system and fully networked."
While the Mokka X arrived in UK showrooms late last year, Opel used the 2016 Geneva motor show to present the car to the world's media. Here, Opel/Vauxhall CEO Karl-Thomas Neumann, told just-auto: "Mokka X is the focus of this show for us. We were first to this small SUV segment as a European car maker with Mokka. We have been very successful and have sold over half a million of them. The most important thing [with the revised model] is the inside. We have really renovated the interior, it is the same level as the Astra with the new infotainment systems, fully networked."
Renovated interior
The Mokka X does indeed feature a newly designed sleek dashboard, taking its inspiration from the latest Astra . It certainly looks less cluttered with fewer buttons and a 7-inch responsive and intuitive touchscreen taking centre stage. Those buttons that do still exist are logically arranged and quickly become second nature to use, including a 'home' button which sets you straight.
Given its SUV status, the elevated, commanding driving position is good for forward and side visibility as the A-pillars are relatively narrow. Rear visibility is a different story, however. The rear window is small, flanked by wide C-pillars. So you really do appreciate the all-round parking sensors, fitted as standard, to help avoid any bumps and scrapes.
The model we borrowed came with a beige headliner that contrasted nicely with the dark cloth seats, touches of chrome, gloss-grey dash panel and soft touch plastics.
Useful storage places are dotted around the cavernous cabin and boot, including a generous cubby-hole located directly in front of the gear stick. Extra storage space is located beneath the boot floor, the spot where you go to find the spare tyre. On the flipside, the front door panel compartments are quite pinched. Storage capacity with both rear seats down in a 60/40 split liberates some 1,255 litres of luggage space, well on a par with rivals.
New infotainment system
Two versions of the new generation IntelliLink infotainment system have debuted in the Mokka X, namely the R 4.0 IntelliLink and NAVI 900 InteliLink. Both bring the world of smartphones to the car via Apple CarPlay and Android Auto phone projection. Trim levels on the Mokka X range from well-equipped to luxurious. Our Design Nav spec came with a NAVI 900 InteliLink sat-nav fitted as standard. Apple CarPlay allows you to make calls, send and receive messages and listen to music through the touchscreen or by voice via Siri.
Fully networked
The Mokka X also comes fitted as standard with Vauxhall's personal connectivity and service assistant, OnStar, turning this car into a 4G LTE mobile hotspot. Up to seven devices, from smartphones to tablets, can be connected simultaneously. OnStar's only visible feature in the cabin is a module comprising three buttons located close to the interior rearview mirror. The blue service button gives the driver access to services such as vehicle diagnostics. For example, OnStar subscribers looking for a certain destination such as a restaurant or the nearest petrol station can press it to talk with an advisor who will send the desired destination directly to their navigation system. Although OnStar has a privacy button, allowing you to mask the position of your car, the system will overrule this command if it detects deployment of an airbag. Oh, and if you forget to lock your car, there's a neat trick of doing so remotely from your phone.
On the road
The Mokka X we took out and about was powered by a 1.4-litre Direct Injection Turbo (152PS) petrol unit paired with a six-speed manual gearbox. It also featured adaptive (cornering) LED headlights, start-stop and a welcome manual handbrake. Another agreeable feature is the four-wheel drive that automatically adapts according to road conditions.
The long list of creature comforts fitted as standard on the Design Nav includes dual climate control, high beam assist, cruise control, auto-dimming mirrors and parking sensors front and rear. And all for an on the road price of just under £20,000.
The car's fuel economy lived up to expectations, too. Fully loaded up with passengers and the sat-nav set for the coast, the turbocharged 1.4-litre still managed to deliver just enough oomph when needed. While the headlined combined petrol economy is 43.5 mpg, our spin covering motorways, country roads and crawling town traffic pretty much matched that.
What is not to like? Well, the caramel-coloured body exterior (Amaretto, in Vauxhall parlance) may not be to everyone's taste but we grew to like it.