Inside story
Astra incorporates Vauxhall's Pure Panel digital instrument display. A seamlessly integrated display contains both the digital instrument panel and the central touchscreen. The design helps reduce the need for multiple buttons and controls, allowing drivers to maintain concentration on the road. Key settings such as climate control can still be operated via physical switches and buttons, however.
Through Vauxhall PureConnect, the sat-nav system provides real-time traffic updates and route adjustments. Live Navigation Plus services available via Vauxhall Connect give drivers additional information including fuel prices and nearby charging locations, local weather forecasts and parking information when on the move. Vauxhall Connect SOS also forms a part of the PureConnect system, with the SOS e-call technology automatically alerting emergency services in the event of an accident. Vauxhall Connect SOS can be activated manually by pressing the button near the rearview mirror.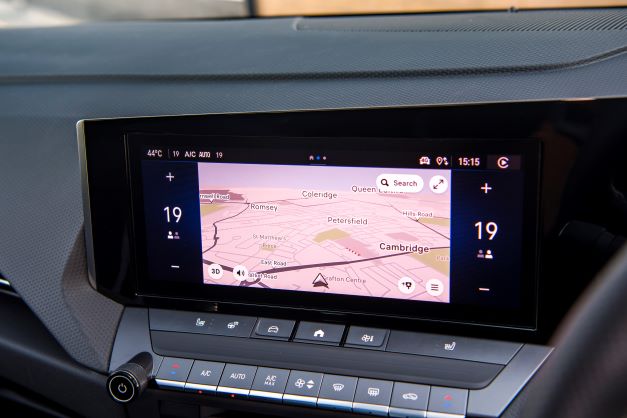 A wireless smartphone charging tray is located on the base of the centre stack. USB sockets are also available for both front and rear passengers and the rear of the centre console is available with a 230V power outlet to charge mobile devices.
All Astra models come standard with Apple CarPlay and Android Auto, Bluetooth connectivity, DAB radio, hands-free calls via the steering wheel, and SMS readout and reply functionality.
The rest of the cabin is cloaked in a rich mix of materials, touches of brushed chrome and plenty of hi-tech equipment. The upmarket textiles cover the door-card inserts, headliner, windscreen pillars and dashboard inlay. There are also powered and heated wing mirrors and an (optional) panoramic roof.
Size-wise, Astra measures 4,374mm in length and 1,860mm wide. Thanks to the especially short front overhang, it is just 4mm longer than the previous model, despite the increased wheelbase of 2,675mm (+13mm).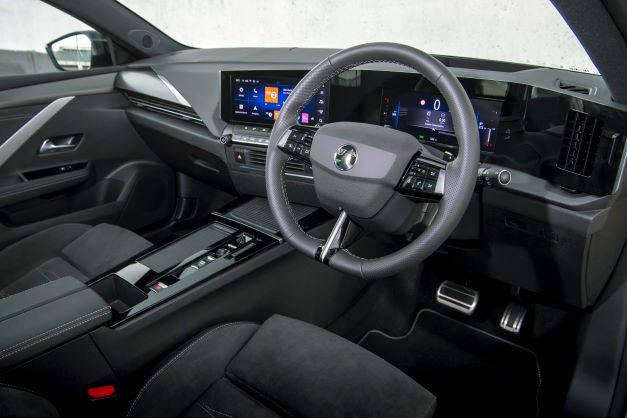 Seating
Certified by Aktion Gesunder Rücken e. V. (Campaign for Healthy Backs) the position of the front seats is 12mm lower than in the previous model, further enhancing the feeling of a "sporty" drive. Good posture is guaranteed, with the foam density of the seats optimised according to the "Sport" or "Comfort" contours.
Astra's AGR front seats feature a range of optional adjustments, from electric tilt to electro-pneumatic lumbar support. In Nappa leather trim, they offer ventilation, massage for the driver and heating at the rear as well as the front. Seats trimmed in stylish Alcantara are also available.
Three trim levels are offered; Design, GS Line and Ultimate. Standard interior features include: 'Pure Panel' Infotainment and Navigation system, electronic parking brake, keyless start and electronic climate control. The GS Line adds dual-zone electronic climate control, heated steering wheel, heated front seats, and driver's ergonomic active sports-style seat. The Ultimate adds Intelli-HUD head-up display, wireless charger for mobile devices. heated ergonomic active sports-style front seats and Alcantara interior seat trim.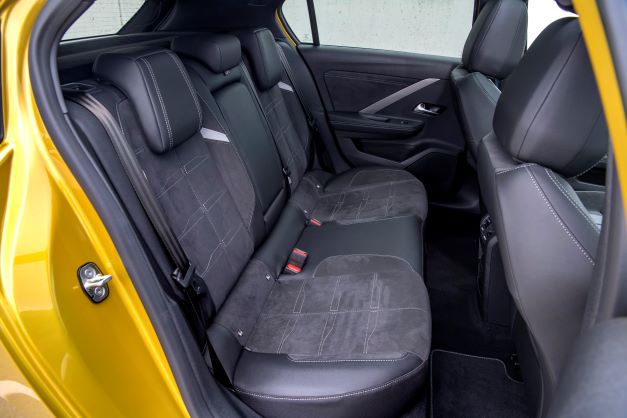 Advanced driver assistance systems
Astra comes with an array of advanced driver assistance system (ADAS) technologies, including automatic emergency city braking, cruise control, speed limiter, forward collision alert, speed sign recognition, driver drowsiness alert and lane departure warning with lane-keeping assist.
Other features include a large Intelli-HUD (head-up display), long-range blind-spot detection, Intelli-Vision 360-degree camera for easier parking, extended traffic sign recognition, rear cross-traffic alert and active lane positioning, which keeps the car in the middle of the driving lane.
IntelliLux LED matrix headlights
Although our focus is on the interior, the nitty-gritty technologies behind the headlamps are worthy of note.
The IntelliLux LED lighting features new functions, including curve and spotlight illumination, improving long-range visibility when driving at night. For example, when taking a curve with the full beam engaged, the light intensity automatically rises based on the steering angle, in order to increase the illumination and to help the driver see the road situation ahead.
First shown on the Monza concept in 2013, Opel/Vauxhall introduced IntelliLux LED matrix headlights in the Astra in 2015. Initially featuring a 16-light system, the automaker has been able to develop the technology significantly with the second generation, incorporating twice as many LED segments while maintaining an ultra-slim appearance. Gentex's so-called SmartBeam HBA (High Beam Assist) automatically turns on a vehicle's high beams when it's dark enough and no other vehicles are present. The system is already in production with well over one million units sold. BMW was the first carmaker to introduce it in Europe in 2005.
On the road
Astra is offered with a plug-in hybrid electric drive as well as petrol and diesel engines. Power ranges from 81kW (110PS) to 96kW (130PS) with the petrol and diesel variants and up to 165kW (225PS) system output with the plug-in hybrid variants. A six-speed gearbox is standard on the petrol and diesel power units, with an eight-speed automatic transmission (electrified on the plug-in hybrids) optional on the more powerful engines.
On balance, our GS Line eye-catching cabin looks the business with its angular dash and fancy switchgear and comes with a generous list of standard equipment, clever safety technology and an intuitive infotainment system. How the 'Pure Panel' central touchscreen seamlessly integrates with the instrumentation and accentuates its high-tech appearance helps this model stand out in a crowded marketplace. Rival models include the Ford Focus, VW Golf and Mazda3.