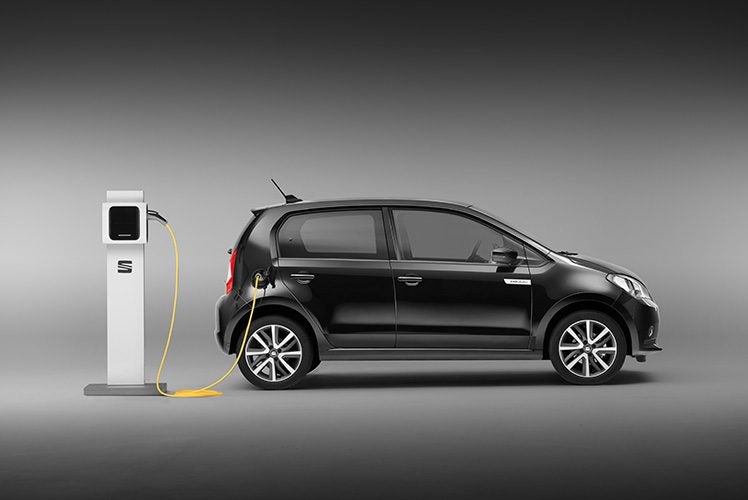 Launched in 2019, the Seat Mii electric is the first all-electric vehicle from the Spanish brand.  Continuing our review of interior design and technology trends, we take a closer look at this perky, no-fuss city car.
At first glance, the Mii electric's boxy exterior is pretty much the same as the outgoing petrol-powered version albeit with the addition of electric badging stickers on the rear and side. Five exterior colours are offered: Deep Black, Candy White, Tornado Red, Costa Blue and Tungsten Silver.
Two trim levels are available on the Mii – electric and electric Plus. Mii electric trim includes power front windows, central locking, side and curtain airbags and three-zone air-con. Move up to the electric Plus trim and you get tinted rear windows, black leather interior pack and sport design seats with white stitching. Comfort levels are also increased with the inclusion of heated front seats, heated, electric door mirrors, front fog lamps and a six-speaker audio system.
There are also five optional packs available:  Garage, Easy Flex, Below Zero, Home Charge and Fast (DC Charging).
Garage adds rear parking sensors, cruise control and ambient light. Easy Flex includes height regulated front passenger Seat , a hook in the glove box, split foldable rear seats and a double floor in the boot. Choosing Below Zero brings heated front seats, electric and heated mirrors, a heated front windscreen and rain/light and coming home sensor.
Size-wise, the Mii electric measures 3,556mm long, 1,645mm wide, 1,481mm high with a wheelbase of 2,421mm. Its deceptively large boot holds 251 litres with the 60/40 split rear seats upright and 923 with them folded flat. That's quite impressive for a small car. The rear Seat bench is positioned slightly higher (5cm) compared to the petrol version due to the location of the battery.
While there are plenty of hard, scratchy plastics dotted around the cabin and door panels, the dashboard is distinctive with its Seat IML foil (in-mould labelling) decoration and ambient lighting,  The groovy striped and piped Seat upholstery is also worthy of note.
Getting comfy in the driver's Seat requires using a ratchet lever to adjust the backrest (rather than a rotary wheel) and there is no adjustable lumbar support. The steering wheel may be adjusted upwards or downwards but not in and out. That said, forward visibility is good and rear parking sensors help when reversing into tight spaces.
Infotainment, connectivity and ADAS
The Mii doesn't offer a built-in touchscreen – not even as an option. Instead, it comes fitted with a smartphone dock located on top of the dash. While it may appear low-tech compared to its rivals, it does the job by allowing the driver to link their phone to the car via two apps: Mii Drive and Seat Connect. The latter provides remote access and management of the vehicle, so drivers can review driving data, parking position, the vehicle's status, including doors and lights, manage the charging process via the e-Manager and the ability to control air-conditioning remotely from the app.
In the ADAS department, standard equipment includes electronic stability control, hill hold control, lane assist and traffic sign recognition.
On the road
The 32.3kWh lithium-ion battery can be 80 per cent recharged in an hour using a 40 kW DC charge connection or four hours using a standard 7.2kW wall box. On a full charge, it can provide enough juice to cover up to 161 miles of range. This is based on the combined WLTP test cycle and in towns this increases to potentially 222 miles.  That's more than enough for anyone just looking to potter around and about with the occasional longer journey.
There are three driving modes – Normal, Eco and Eco+ – to help stretch the miles if you are caught short or get a touch of range anxiety. The single-speed transmission means that you are never in the wrong gear. It's fun to drive, nippy around town and quiet, even at dual carriageway speeds. The fact that it doesn't offer a touchscreen is one less thing to get distracted by (or told off for fiddling) while driving.
The interior is more functional than stylish. While the cabin may appear a little bleak in places, it feels well put together and maximises space. The simplicity of it all is refreshing.
For an electric city car that offers two trim levels and a handful of optional packs, the Mii Electric's trump card is its price. Seat points out that it costs the same as an equivalent combustion engine vehicle in the segment, but with a lower total cost of ownership – given that battery electric vehicles require less maintenance.  Our Mii Electric 83PS came in at £20,300, including the UK government's £3,000 plug-in car grant. That makes it one of the cheapest electric cars that you can buy in Britain today. For those that do not wish to buy the car outright, then leasing options are available of course. In Germany for example, over a 36-month term and 10,000km (6,213 miles), it will cost approximately €145/month without a down payment. The leasing model is available in Norway, Germany, Spain, France, the Netherlands and the UK.  Rival models to the Mii include the Renault Zoe, Honda E and Hyundai i10.