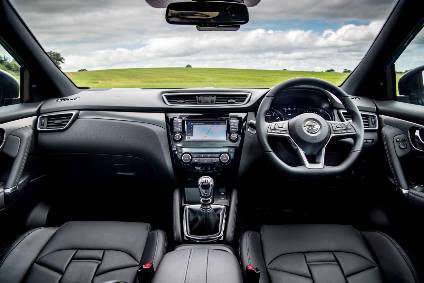 Launched a decade ago, the Nissan Qashqai started a trend for the compact crossover SUV. Since then, more than 20 rivals now populate this segment with each still trying to carve out its own niche. Continuing QUBE/just-auto's review of interior design and technology trends, we take a closer look inside the second generation Qashqai to see what makes this a popular choice.
The latest Qashqai (known as the Nissan Rogue Sport in the US) is offered in five trim levels, namely the Visia, Acenta, N-Connecta, Tekna, and, recently added, Tekna+. The spec sheet left on the back seat of the top-spec Tekna+ included a long list of standard equipment, from clever safety technology to 19-inch alloys. There is even a blind spot warning system and another that detects driver tiredness.
Creature comforts
Tekna+ cabin is cloaked in dense, soft materials. The nappa leather-trimmed seats and 3D quilting on the centre panels are a first for Nissan in Europe. The powered driver's seat is a further innovation for Nissan Europe. A seat memory function with two stored positions has been added, linked to the door mirrors.
Another welcome addition on Tekna+ is the Bose eight-speaker audio system, specifically two 25mm tweeters at the base of the windscreen, a 165mm woofer in each front door and a 130mm mid-range speaker in each rear door. Another two 115mm woofers are housed in a 7.7-litre custom-engineered enclosure mounted in the spare wheel well. A Bose digital amplifier with eight channels of custom equalisation and digital signal processing is concealed under the passenger seat.
The D-shaped steering wheel borrows design features from the Micra and X-Trail. The steering wheel's compact central hub is smaller than its predecessor and the three spokes are slimmer, creating an upper space that's larger by 17 percent, thereby improving instrument visibility. The four-way controllers for the combimeter display (left spoke) and cruise control (right spoke) are also new and not too fiddly to use.
A number of other areas of the cabin have been upgraded. For instance, the air vents and interior door handles are finished in some tactile materials, while a line of stitching smartens up the centre console armrest. The Tekna+ panoramic roof created an airy, spacious feel on some dark, gloomy January days.
The NissanConnect seven-inch touchscreen sat-nav is app-like in appearance and more responsive than we have found elsewhere. As with most centre mount touchscreens, it is a little fiddly at first to work your way around, but you soon get used to it. The HVAC unit positioned directly beneath is the polar opposite in terms of its simplicity, with large, clearly marked buttons.
Moving to the rear, the back of the front seats have been redesigned with the addition of some scratch-resistant plastic trim and two map pockets. Although this slimmer finish improves knee room for rear seat passengers, the actual space left for tall occupants is pinched.
The boot has a carrying capacity of 430 litres which increases to 1,598 litres when the 60:40 split rear seats are folded flat. It also features Nissan's so-called Flexible Luggage Board System, which allows for shelves and dividers to be adjusted in any one of 18 configurations.
Safety
Europe's best-selling urban crossover has also been upgraded with new safety features. In Spring 2018, Nissan will introduce ProPilot autonomous driving capability. This will control the steering, acceleration and braking in a single lane on highways during heavy traffic congestion and high-speed cruising. It is based on three technologies – Lane Keep Assist, Intelligent Cruise Control and Traffic Jam Pilot.
Earlier this month, Nissan announced that it reached the milestone of selling 75,000 vehicles equipped with its ProPilot Assist autonomous driving technology (known as ProPilot in markets outside North America).
Also new to the Qashqai is a technology called Stand Still Assist (SSA), which supplements Hill Start Assist on cars with a manual transmission. SSA holds the car in a stationary position for up to three minutes, after which time the parking brake is automatically activated. These refinements have been carried out by Nissan engineering teams based in the UK, Spain and Germany. The car continues to be built at Nissan's manufacturing facility at Sunderland, UK.
On the road
The 1.6 petrol unit paired with a six-speed manual gearbox returned 41mpg, mostly along motorways, a little short of the headline figure of 48.7mpg combined. While it isn't particularly quick off the mark, it still manages to deliver power smoothly.
Despite our test run taking us along some of Britain's most potholed highways, the Qashqai remained relatively composed and quiet. Some neat modifications to the suspension, damping and steering systems give it a refined ride. The quiet cabin is partly thanks to some improvements to noise, vibration and harshness (NVH) performance. More sound insulation material has been added inside the front doors and behind the rear wheel arches. Additional sealing around the front doors has been integrated, while the rear door glass is now thicker – from 3.15mm to 3.85mm – to improve the rear passenger experience. Such measures also improve the audio experience and performance of the Bluetooth hands-free phone. All in all, the change has been quantified by Nissan engineers as a 5 percent improvement in speech intelligibility during in-car conversation.
On balance, the top-spec Qashqai comes with a generous list of standard equipment, clever safety technology and an intuitive infotainment system. Its comfortable drive is partly thanks to NVH refinements, suspension set up and a cabin filled with dense, soft materials.