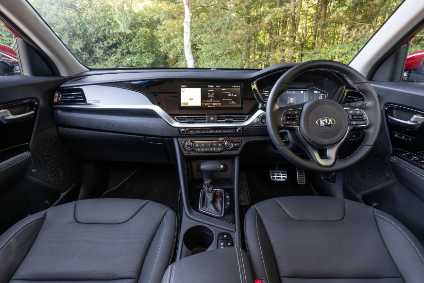 Hybrid sales in the UK and mainland Europe have doubled over the past five years and show no signs of easing.  The KIA NIRO – the Korean carmaker's third plug-in hybrid after the Optima and Optima Sportswagon – slots into this blossoming market place.  Continuing just-auto/AIC's review of interior design and technology trends, we slip inside this compact crossover to see if this is just another small SUV or something different.
Inside information
Once seated, the fascia and gloss black information clusters follow what is becoming a modern theme for the Korean brand, starting with a wide dashboard set out on horizontal lines. The dash itself is split into upper display area and lower control area where the heating, ventilation and driver assistance switches are located.
Material-wise, the areas of the cabin that you touch the most are swathed in soft-touch materials, while other parts are hard plastic set beneath a light grey headliner. A leather-trimmed steering wheel and gearshifter, high-gloss black inserts hither and thither and satin chrome interior door handles add to the classy feel.  Elsewhere in the cabin, just about every last nook and cranny has been used for storage of bits and bobs.
Since launch, Kia has introduced a series of visual and material upgrades including soft-touch coatings and satin chrome highlights to the dashboard, a larger touchscreen and greater choice of cloth and leather upholstery on certain trim levels. The Niro also now has an electric park brake in place of the previous foot-operated parking brake to release more space for oddments in the centre console, and is fitted in the UK with a tyre mobility kit rather than a spare wheel to reduce weight and ensure the boot is as large as possible.
Size-wise, front seat head, leg and elbow room is ample while space in the back seat is also good thanks to the long, 2,700mm wheelbase.  The under-seat battery positioning allows for a 373-litre boot with a rectangular shape and low loading lip. The boot expands to 1,371 litres with the 60:40 split rear seats folded. That's pretty good, especially compared to a Nissan Qashqai, where the boot has a carrying capacity of 430 litres, increasing to 1,598 litres with the 60:40 split rear seats folded flat. The luggage area features a useful undertray for storing bits and pieces.
Another neat trick of the Niro is its HVAC system. This has been adapted from that in the Soul EV, and allows only the driver's side of the car to be cooled when the other seats are unoccupied to minimise energy usage. It does this through a smart air intake, in contrast to rival systems which merely divert the airflow towards the driver when other vents are closed and consequently do not reduce energy consumption.
Advanced driver assistance systems and connectivity
Standard advanced driver assistance systems (ADAS) include forward collision avoidance assist, adaptive smart cruise control with start-stop, lane departure and lane keeping assist on all models, blind spot detection and rear cross traffic alert. With these features fitted, Niro has been awarded a five-star crash-test rating by Euro NCAP .
The Niro also comes fitted with Kia Connected Services featuring Tomtom and wireless smartphone charging. The latter is located in the centre console tray and uses inductive charging to power the batteries of a smartphone. It works a treat with a confirmation light that illuminates when charging. It also displays the phone's charge status in the instrument cluster. An in-built safety system prevents overheating, while occupants are warned if they are about to leave the car with their phone – or even a chocolate bar – still on the charging pad. The 10.25-inch touchscreen displays the sat-nav with easy-to-follow menus plus view from the reversing camera, itself cleverly integrated high into the rear wiper housing.
The Niro also features Android Auto and Apple CarPlay, which, via pre-downloaded apps, link smartphones to navigation, music, hands-free calls and texts and voice recognition services. Perhaps best of all is an eight-speaker JBL Premium sound system with a 320-watt external amplifier that again come as standard.
Weightwatchers
Made up of 53 per cent advanced high-strength steel, Niro's structure is particularly strong. It also has liberal doses of aluminium. Its bonnet, tailgate panel, front bumper back beam and several chassis elements, including the front knuckles, front lower arms and brake calipers are made of aluminium to further help reduce weight. Even the parking brake pedal, which is made of fibre-reinforced plastic, contributes to the weight savings.  The lightweighting theme spreads into the interior as the front powered seats save 1.3kg each thanks to their high-strength steel frames. The shapely front seats are also space-saving with special foam-backed covers and slim headrests.
On the road
When pushed hard on a clear road, the cabin remains quiet thanks to some high-insulation rigid bushes in the front subframe, high-strength steel in the rear wheel arches and additional insulation in the A- and B-pillars. The low drag co-efficient (Cd) of 0.30 contributes towards the suppression of wind noise, aided by laminated windscreen glass, a cowl over the front windscreen wipers, specially profiled door mirror casings and covers over the holes in the roof rails, which sit flush on the bodywork.
On balance, the stylish Niro stands out and ticks a lot of boxes. While consumers are unlikely to consider buying one because of its interior, it offers plenty of standard kit that we have come to expect from this carmaker.
Design-wise, the car is a joint effort between Kia's studios at Namyang in Korea and Irvine, California. All versions are built alongside the European Optima saloon and Sportswagon at Kia's Hwasung plant in Asan Bay, South Korea.