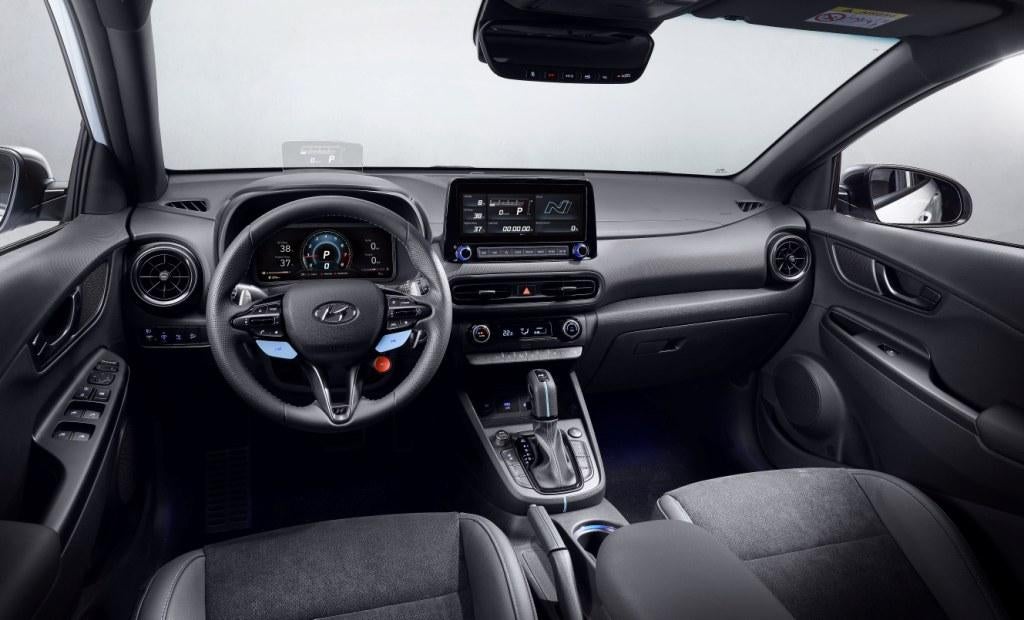 Hyundai's Kona combines electrified powertrains with a sub-compact SUV body type. Continuing just-auto/AIC's review of interior design and technology trends, we take a closer look at Hyundai's no-nonsense five-door hybrid.
Inside story
Once seated, it doesn't take long to find a comfortable position using the power-adjustable controls. The cockpit has a straight-forward sturdy feel making everything easy to find with plenty of physical buttons. The dashboard is wide and airy. And an electric parking brake has been recently added as part of a range of upgrades.
Further upgrades include some new colours and materials to give the cabin a little razzmatazz. The seat cover options, for example, include a black woven houndstooth design, cloth seats with black and grey embossing, and perforated leather seats in black, beige, or khaki. The front seats are heated and ventilated while the rear seats are heated.
Head, shoulder and legroom are generous for front seat occupants. Although headroom for tall rear-seat passengers is good, knee room feels a little cramped against the hard plastic back of the front seat. Door bins are also a little pinched although the glovebox has lots of room. Further back, the boot offers 374 litres of luggage space which expands to 1,156 litres with the 60/40 split rear seats flipped forward.
Connectivity
The crisp and clear central touchscreen comes with a split-screen function and some Bluetooth connections. It also features the carmaker's Bluelink upgrade, which includes a User profile, Last Mile Navigation, Connected Routing, and Live Parking Information.
Drivers can have a personalised User profile which can be transferred to other Hyundai vehicles providing the same feature. Last Mile Navigation helps drivers continue the journey to their final destination even after the car has been parked, using either Augmented Reality or Google Maps. Connected Routing is Hyundai's cloud-based navigation system. Live Parking Information gives users real-time information on the location and price of nearby available parking spaces. In addition, the Bluelink upgrade features Free Text Search for users to enter addresses or points of interest.
The Kona is also equipped with voice recognition features, allowing them to activate and control features such as climate, rear window and side mirror heating along with steering wheel heating through a voice command.
Head-up display
While head-up displays (HUDs) have been in cars for more than 20 years, OE fitment rates have been slow and gradual. But the HUD market is predicted to flourish as more cars are being equipped with ADAS and drivers are demanding graphically rich data, visual alerts and greater levels of connectivity.
HUD technologies fall into two camps: Combiner and Windscreen. A combiner HUD uses a screen to reflect an image to the driver, while a windscreen HUD has images projected directly off the windscreen.
The Kona incorporates a pop-up combiner that displays information on speed, adaptive cruise control, navigation and other ADAS critical data. Using buttons on the dash and steering wheel, the display angle of the retractable plastic screen can be adjusted for individual driving positions, while brightness can also be altered to match the surrounding light level (both automatically and manually).
Advanced driver assistance systems
In the ADAS department, Hyundai's SmartSense technology package includes front collision warning and avoidance assist with pedestrian and cyclist detection, driver attention warning, lane-keeping assist, high beam assist and smart cruise control.
Optionally available is lane following assist which keeps the car in the middle of a lane so drivers can navigate safely even in heavy traffic during rush hour. Also, an intelligent speed limit warning, that uses the front camera and information from the navigation system to identify road speed signs, and displays the speed limit and no-passing signs in real-time.
A new option of leading vehicle departure alert notifies the driver when the vehicle in front has driven away from a stop. Other options include blind-spot collision warning and rear cross-traffic collision warning. All told, it's hardly surprising that Euro NCAP has awarded the Kona with a five-star safety rating.
Solar control glazing
The Kona also has solar glass fitted to the front doors' glazing and windscreen. Solar control glazing uses a coating that allows it to reduce the transmission of solar heat from the sun yet still permit the optimal light transmission into the car. This type of glazing can reduce by over 25 per cent the heat penetration in cars exposed to solar radiation, thus reducing the need for the use of the air-conditioning system. Dark-tinted rear side car windows and switchable glazing also have solar control properties which can reduce the amount of solar heat entering the cabin.
The two most common types of solar control glass technology are solar absorbing glass and infrared-reflective glass. Solar absorbing glass is made by the addition of materials such as iron into the molten glass before the glass is shaped into a window. An emerging trend is to have glass coatings that are surface durable, eliminating the need to be embedded in laminates to enable solar control. These can be used on tempered monolithic glass as well as windscreens.
On the road
On the inside, the Kona boasts plenty of kit to keep all occupants connected and comfortable on short and long journeys. While there are lots of scratchy interior plastics, we have come to expect that in this segment regardless of the brand. Like most of its rivals, the Kona's rear visibility is hampered by a shallow rear window and thick C-pillars. Our Kona had a 1.6 GDi Hybrid engine with a six-speed automatic gearbox. Officially, it will achieve 55.4 mpg although our real-world test returned a very agreeable average of 54 mpg. Rival hybrid models include the Kia Niro, Toyota C-HR and Renault Captur