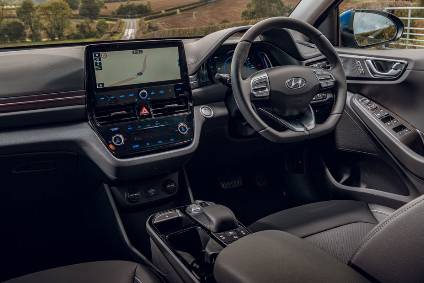 On launch back in 2016, the Hyundai Ioniq offered three electrified powertrains – a hybrid, plug-in hybrid and full electric. Since then, the Korean automaker has offered an upgrade incorporating more connectivity, infotainment, driver assistance, and, crucially, a beefed-up battery for its all-electric version. Continuing just-auto/AIC's review of interior design and technology trends, we take a closer look inside this no-nonsense five-door rewired hatch.
Connectivity and infotainment
With the facelifted Ioniq, Hyundai has introduced eCall, automatically dialling emergency assistance if airbags are deployed or when the call button located above the rearview mirror is pressed. Relevant information (car information, time of the accident, driving direction, airbag and impact sensor information) is sent to the local emergency service.
In addition, Hyundai Live Services are available for the sat-nav which offers updated data on weather, traffic, speed camera warning, on- and off-street parking, as well as identifying nearby charging stations and live POI Search.
The 10.25-inch split tablet-style touchscreen features Cloud-based voice recognition. It provides two home screen versions and the ability to edit displayed widgets and icons. In addition to standard Android Auto and Apple CarPlay, drivers can connect two phones at the same time to listen to each phone's music through Bluetooth streaming. So that rules out any chance of arguments when deciding whose Spotify to stream en route from A to B.
In addition to standard grey cloth seat trim, customers have the option of four leather seat colours: two shades of grey (fossil and shale), red (for the hybrid and plug-in versions) and 'electric shadow' (another shade of grey for the electric version).
Beneath the touchscreen, the HVAC control panel has been redesigned with a glossy black surround. A mix of physical buttons and touch-sliders allow for intuitive operation of the climate control.
And to round off the upgraded interior, moody blue ambient lighting has been applied across the passenger-side lower dash and the centre console. The dashboard itself is almost identical to that found in the Hyundai Tucson.
Driver assistance
In the ADAS department, Hyundai's SmartSense technology package includes front collision warning and avoidance assist with pedestrian and cyclist detection, driver attention warning, lane keeping assist and high beam assist and smart cruise control.
Optionally available is lane following assist which keeps the car in the middle of a lane so drivers can navigate safely even in heavy traffic during rush hour. Also intelligent speed limit warning, that uses the front camera and information from the navigation system to identify road speed signs, and displays the speed limit and no-passing signs in real-time.
A new option of leading vehicle departure alert notifies the driver when the vehicle in front has driven away from a stop. Other options include blind-spot collision warning and rear cross-traffic collision warning.
Increased battery capacity
The battery has also been upgraded from 28 kWh to 38.3 kWh. This 36 percent additional energy storage capacity provides a claimed total of 194 miles of range. Its e-motor delivers a maximum power of 136 PS and 295 Nm of torque and is fitted standard with a 7.2-kW on-board charger – an upgrade from current 6.6-kW – for Type 2 AC charging. Using a 100-kW fast-charging station, the battery can reach 80 percent charge in just under an hour.
Last October, the automaker launched Charge myHyundai, a pan-European integrated public charging service. With it, the brand says its Bev and PHEV owners have access to 160,000 charge points across Europe, including AC and DC connectors.
Although the range has been markedly improved, the brand has come under an unwelcome spotlight recently due to a battery fault resulting in a recall of a number of its EVs, including the Ioniq. The recall comes at a bad time for the automaker as it prepares for the global launch of the Ioniq 5 – the first purpose-built EV to use its electric-global modular platform (E-GMP).
Ioniq 5
Earlier this year, Hyundai released details of its forthcoming Ioniq 5. The company points out that the driver and passengers can freely enter and exit the cabin on either side when parked in a narrow spot, because the flat floor allows the centre console to slide back and forth. This resulted in a fundamental rethink of the conventional centre console and to offer greater function than a static storage box. The newly developed 'Universal Island' replaces the centre console and becomes the centrepiece of the cabin.
The driver and front passenger seats are equipped with leg rests that allow passengers to 'relax and recharge' while their vehicle is being recharged. All seats can be operated and repositioned, making it easier for adults in the front to care for children and pets seated in the rear.
The seats are clad in eco-processed leather that is dyed and treated with plant oil extractions from flaxseed. Other soft furnishings throughout the cabin consist of textiles derived from sustainable fibres such as sugar cane bio components, wool and poly yarns, as well as material woven from fibres made from recycled PET plastic bottles. Surfaces such as the dashboard, switches, steering wheel and door panels are coated in a polyurethane bio paint composed of oils from rape flowers and corn.
Among the suppliers to the Ioniq 5 will be Hanon Systems . The supplier announced earlier this year that it is building its fifth plant in Korea. The new facility will produce a range of solutions including heat pump modules and coolant valve assemblies to support electric vehicles for the Genesis brand and Ioniq 5 model of the Hyundai Motor Group. Hanon expects the Gyeongju facility will supply eco-friendly solutions on approximately 300,000 electric vehicles by 2024.
On balance, the current generation head-turning Ioniq interior boasts plenty of kit to keep all occupants connected and comfortable on short and long journeys. Other welcome features include a wireless phone charging tray beneath the centre stack. And the push-button drive selector further adds to the car's effortless driving feel. The net result is a stylish, economic car loaded with the generous kit that we have come to expect from this carmaker.