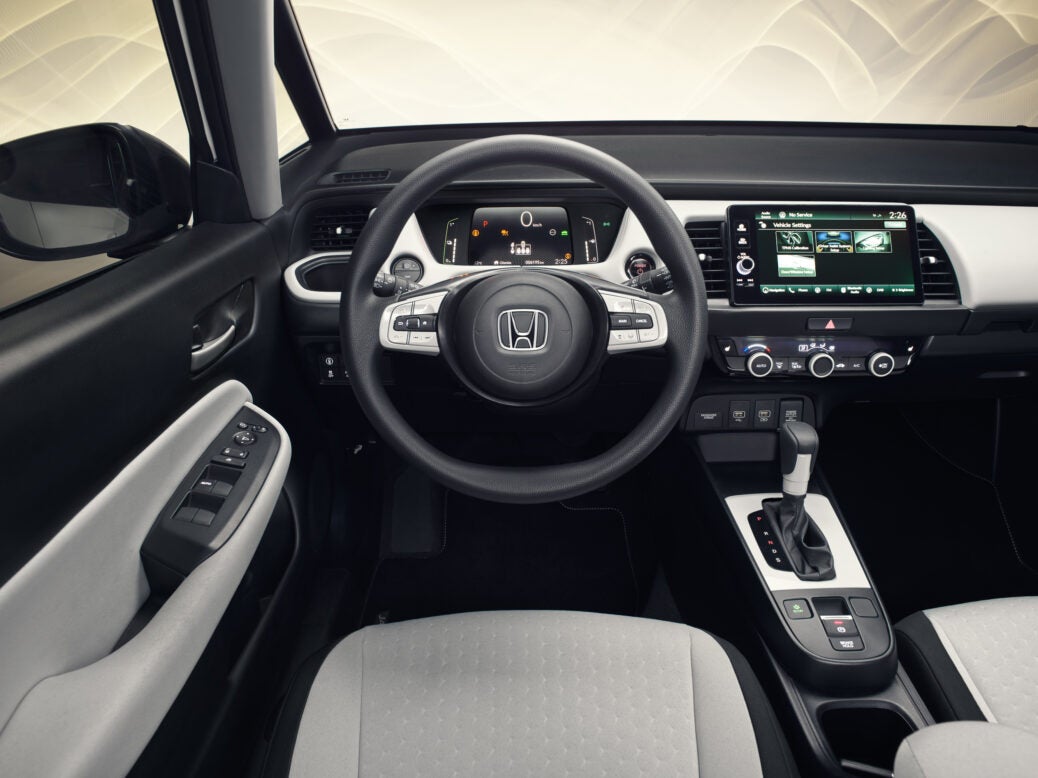 Despite its popularity, it is not until you drive a Honda Jazz that you begin to notice them everywhere, driven mainly by an older generation. Yet that could change as the carmaker's fourth generation supermini has more connectivity and infotainment features which may appeal to younger drivers.
Inside story 
The latest generation Jazz , also known as 'Fit' in some markets, has even more space and technology than its predecessor. Honda's 'magic' seats fold and collapse into a range of configurations for carrying passengers and stuff. We have seen this same arrangement on other Honda models for quite a while but it's still impressive. The luggage capacity (with rear seats up) starts from 298 litres and increases to 1,199 litres (to the roof with the rear seats down). This is partly thanks to the packaging of hybrid drivetrain components into the chassis and within the engine bay.
Fundamental developments include incorporating the air intake and components on top of the engine. This allows room for the electric motors (propulsion motor and generator) to be integrated into the engine compartment, as well as the power control unit which is reduced by 20 per cent compared with conventional technology. This also allows the auxiliary 12v battery to fit into the engine compartment, liberating space at the rear. This packaging is made possible by using semiconductors for the power control unit.
Also key to maximising cabin room is the positioning of the fuel tank in the centre of the chassis beneath the front seats, which is a first in this class. The packaging and overall design also permit a wider tailgate opening and a new stepless flat floor that makes loading and unloading the boot easier.
Front seat occupants benefit from Honda's newly developed body stabilising seat frame with mat-structure support and a 30mm seat padding thickness increase. These changes enhance comfort levels and provide greater lumbar support to minimise fatigue.
To further increase driver comfort, the position of the brake pedal has been changed to optimise the foot angle offering a more natural foot placement. In addition, to support taller drivers, the quirky two-spoke steering wheel is now 2 degrees more upright and the range of adjustment has been revised to allow the wheel to be positioned closer to the driver. All in all, it makes for a pleasant place to sit.
Forward visibility is good, partly due to the fact that the A-pillar thickness has been more than halved from 116mm to 55mm with the rear pillar now providing the main structural strength. This, along with the hidden windscreen wipers and deep, flat dashboard. provide the driver and front seat passenger with a good field of vision. The sweeping A-pillars and door-mirror design minimise noise and drag caused by wind turbulence. The highly raked windscreen and front quarter glass allow more natural light to flow into the cabin resulting in a greater sense of space for occupants.
There are four trim levels: SE, SR, EX and Crosstar EX. The Crosstar variant of the Jazz presents a more SUV-style proposition. Available with the same hybrid powertrain and interior features as the standard model, it provides increased ride height, water-resistant upholstery and integrated roof rails. Its distinguishing marks include a bolder front grille design, black cladding around the wheel arches and stylish side sills. The Crosstar-specific 16-inch silver and black alloy wheels complete the look.
The central nine-inch touchscreen – standard on SR and EX grades – and seven-inch full TFT instrument cluster – is simple and easy to read. On the connectivity front, the touchscreen allows you to pinch, swipe and tap through the Honda Connect in-car audio and information system. This includes DAB and internet radio (with a welcome dial to control the volume rather than a touch-slider), phone interface and Bluetooth connectivity, rearview parking camera with dynamic guidelines. Beneath the touchscreen is a no-nonsense cluster to operate the HVAC with chunky dials and buttons. Plenty of storage spaces and cubby holes are dotted around the cabin, including a useful pair of glove boxes.
Advanced driver assistance systems
Every Jazz comes with a number of advanced driver assistance systems (ADAS), including city-brake active (to help avoid low-speed accidents), forward collision warning (detects the risk of collision by recognising the vehicle ahead, using a camera), traffic sign recognition system, intelligent speed limiter (combines two otherwise independent safety systems – adjustable speed limiter and traffic sign recognition system), lane departure warning (increasingly common across the segment) and high-beam support system (which is surprisingly quick at adjusting the headlight beam).
On the road 
The Jazz is fairly quiet on the road. More insulation and sound deadening material has been fitted to reduce road noise from road surface variations, improving cabin ambience in three frequency ranges. The cabin and floor panel are separated to reduce resonance through the car's structure, and sound insulation has been added around the dashboard. Noise from the engine has also been reduced through the use of resin material to the engine mount to insulate the engine bay. The sound-absorbing materials and thicker glass contribute to a 10 per cent reduction in noise intrusion to the cabin over the previous Jazz model.
The latest generation Jazz is the first model to be presented under Honda's new e:Technology branding. It consists of two electric motors connected to a 1.5-litre DOHC i-VTEC petrol engine, a lithium-ion battery and a fixed-gear transmission via an intelligent power control unit. The total output of 109PS can propel the car to 62mph in just over nine seconds. While our road test didn't match Honda's headline fuel economy of 62.8 mpg, we weren't far off at 58 mpg.  All in all, the latest variant still feels just as spacious, practical and comfortable, even on long journeys, once you get into it. So its redeeming features remain a perfect match for Honda's loyal band of repeat customers. Time will tell if its attractive equipment levels across all model grades will appeal to a younger audience. Rival models include the Ford Fiesta, Hyundai i20 and Peugeot 208 to name a few.