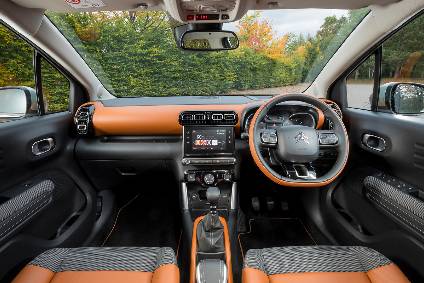 Following Citroën's launch of the C5 Aircross in April 2017, the brand stepped up its international SUV offensive later that year with the C3 Aircross. At first glance, this small SUV cuts a dash with its quirky body styling, funky cabin and customisation options. Continuing QUBE/just-auto's review of interior design and technology trends, we take a closer look inside this practical take on a concept car.
Popular model
For the third year in succession, Citroën C3 Aircross won the 'Compact Crossover of the Year' trophy in the 2020 Company Car Today CCT100 Awards. And last summer, less than two years since its launch, we learned that the French automaker had sold some 200,000 units, of which 17,000 found homes in the UK. At the time, orders for the model recorded a growth of 16 per cent compared to the first five months of 2018. This strong performance positioned the model as Citroën's second best-selling passenger vehicle, just behind C3. This achievement placed Citroën C3 Aircross Compact SUV as the sixth best-seller in the Compact SUV segment in Europe. It is assembled at the automaker's Zaragoza plant in Spain.
Inside story
This small SUV can be personalised, thanks to the 34 different colour combinations and five interior ambiences on offer. Each interior design is inspired by the worlds of furniture and fashion. The emphasis is on pure lines, protective forms and a variety of textures on the dash. Three trim levels are available: Feel, Origins and Flair. Our press review Flair was upholstered in grey cloth with flashes of lipstick-red sewn strips on the seats.
Rear knee room for back seat occupants is quite good as a direct result of the 2.60m wheelbase. The 60/40 split and folding rear bench have independent sections that slide through 150mm (if the appropriate option boxes are ticked). The front passenger seat can be folded down, useful for loading long flat-pack furniture boxes from the likes of IKEA.
Infotainment
The uncomplicated seven-inch touchscreen is used to operate the dual air con, radio, telephone and sat-nav controls. While we would prefer to operate the HVAC using physical buttons and dials rather than prodding at a screen, it is simply not available for love nor money. Just one USB socket is located in the area at the bottom of the centre console alongside a 12V socket.
The sat-nav features connected 3D navigation with voice recognition. Citroën's Connect Nav is a new-generation navigation system that comes with connected services such as TomTom Traffic, for real-time traffic information, service station and car park localisation and prices, weather information, and a local point-of-interest search function. There is also an accident blackspot warning.
Another noteworthy fitment is the Citroën Connect Box. Incorporating Citroën's Emergency & Assistance system, this piece of equipment links to a specialised assistance platform in the event of a breakdown or accident.
Small SUV, big boot
There are plenty of cubby holes to stash stuff, including a wireless smartphone charging area on the central console. A 'penholder' space on the passenger side of the dash can accommodate slim objects such as keys, pens and coins. The front door pockets have enough room for 1.5-litre bottles of water. Rear passengers have extra storage spaces behind the front seats although the door panel storage bins are on the small side. The central section of the rear seats can fold down to create an armrest with cup holders. This also features a ski flap for carrying long objects.
The boot's standard volume of 410-litres can be increased to 520-litres with the rear seat bench pushed to the fully forward position. Total load volume with the rear seats folded flat is 1,289-litres. The boot liner features a removable (false boot floor) luggage shelf that can be stored in a vertical position behind the rear seat bench when loading taller objects. The dual height boot floor provides the option of a flat floor with the rear seatbacks folded down.
Advanced driver assistance systems
In terms of advanced driver assistance systems (ADAS), the C3 Aircross is available with a rear reversing camera, an active parking assistance system (for parallel and perpendicular parking), active safety brake (with a sound and visual alert to reduce the risk of frontal impact, plus the ability for the system to brake in place of the driver), lane departure warning, blind-spot monitoring system, speed sign recognition, intelligent beam headlights and driver assistance alert. The latter monitors driver behaviour using the multi-function camera on the upper part of the windscreen and alerts them to potential fatigue. This system assesses the driver's attention level by comparing the direction of travel relative to the road markings. The C3 is also equipped with a 'coffee brake alert' that recommends a break if driving non-stop for two hours at speeds over 43mph.
Polycarbonate glazing
It is not often that we come across polycarbonate (PC) glazing on cars but the C3 has some. Compared to the shape limitations of glass, PC glazing is highly versatile. It is also lighter by as much as 50 per cent and has high impact resistance. Suppliers claim that a total weight reduction of more than 20kg is possible when replacing all glass windows (except the windscreen) for a standard minivan. The lighter weight of PC glazing is not the only benefit, however. Automakers can now consider 3D-shaped windows using PC along with innovative designs, locations and new opening and closing mechanisms.
The C3 Aircross incorporates PC rear quarter windows, distinguished by a 'Venetian blind' white film print. Previewed on the C-Aircross Concept, it creates a graphic contrast on the C-pillar while concealing the inside of the car's boot from prying eyes.
The PC glazing part is produced and supplied by Freeglass GmbH. In late 2007, Saint-Gobain acquired the share of Freeglass GmbH that it did not own from its joint venture partner Schefenacker German Holding for an undisclosed sum. The Freeglass venture has become well known in Europe as the supplier of PC glazing for the Smart ForTwo.
On the road
Our press review C3, painted 'spicy orange' with a black roof, was easy to spot in a full car park. From the outside, it looks the part with its beefy front-end and je ne sais quoi. Its compact and high-set dimensions (4.15m long, 1.76m wide and 1.64m tall) seem well proportioned too.
On the inside, it boasts plenty of kit to keep all occupants connected and comfortable on short and long journeys. Its ace card is the cavernous space available for carrying people and luggage. While there are lots of scratchy interior plastics, we have come to expect that in this segment regardless of the brand. Like most of its rivals, the C3's rear visibility is hampered by a shallow rear window and thick C-pillars.
The hill descent setting is another nice-to-have feature that will allow the car to descend hills at a gentle, controlled pace. While the C3 Aircross isn't designed for off-roading, its Grip Control system enables it to get the wheels muddy when the need arises.
While our test drive didn't take us off-road, we enjoyed a gentle potter around and about. Our C3 had a 1.2-litre turbo petrol engine with an automatic gearbox. Officially, it will achieve 49.6 mpg although our real-world test returned an average of 37 mpg. Voila.