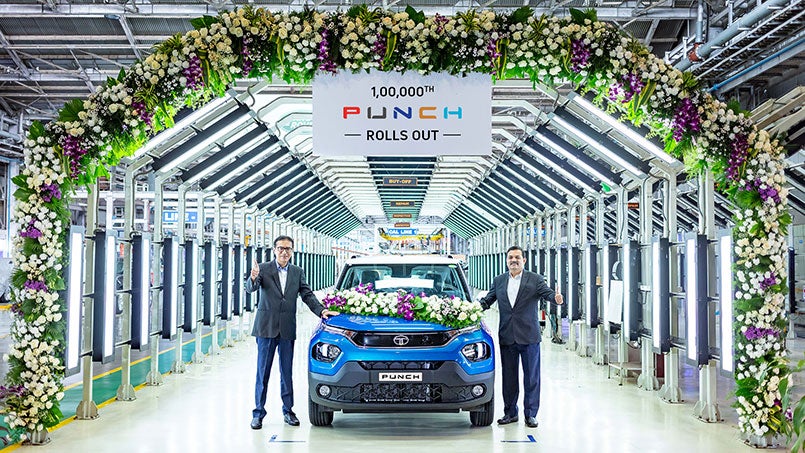 Analysis of the Indian vehicle market undertaken by GlobalData unit LMC Automotive, suggests that underlying demand is strong this year.
The Indian market is booming, despite the adverse economic conditions. The August selling rate reached 4.74 mn units/year, down 4% from an all-time high of 4.94 mn units/year in July – but that was still the third highest rate on record. That has brought the YTD average selling rate to 4.36 mn units/year, significantly higher than last year's total LV sales of 3.54 mn units. In YoY terms, sales expanded by 27% in August and 20% YTD.
Improved semiconductor supplies, coupled with restocking at dealerships, are driving up the Indian light vehicle market this year.
Consequently, the selling rate (SAAR) spiked to a record high of 4.78 mn units/year in June, up nearly 13% from a strong May.
"The PV segment continued to see robust growth. An increase in wholesales clearly shows that semiconductor availability is now getting easier. Waiting periods, especially in the compact SUV and SUV segments continued to remain high. New vehicle launches are seeing robust bookings, thus reflecting healthy demand pipelines," said Federation of Automobile Dealers Associations (FADA) President Vinkesh Gulati.
Cumulative LV sales in the first half of this year surged by 19% YoY to 2.13 mn units. This total was divided between 1.78 mn PVs (+16% YoY) and 349k LCVs (+37% YoY).
On the supply side, the chip shortage is easing. Also, some OEMs are introducing variants that use fewer chips. OEMs in India, such as Tata and Maruti, are not expecting any major disruptions in production in the coming months. As such, we expect that production will continue to improve to meet strong demand – and to meet a large number of backlogged orders over the next year.
On the demand side, rising vehicle prices and financing rates do not seem to be deterring consumers from purchases. Currently, there are no reports that indicate that consumers are canceling their orders in a significant way due to higher vehicle prices. That must be at least partially explained by the fact that sales growth is now led by SUVs, not inexpensive entry-level models. And many SUVs are purchased by consumers in middle and upper income class, who have been less impacted by the pandemic and the worsening economic conditions. While small vehicles currently remain the top-selling models in India, the market driver has clearly shifted from the entry-level segment to SUVs and that trend is expected to continue.
Although the fluid supply situation is a risk, the robust sales momentum is likely to carry over into H2 2022, LMC says.
However, LMC warns that there are risks arising from macroeconomic challenges. In the wider economy, a plunging rupee and high inflation and interest rates are squeezing consumers' purchasing power and business earnings.
As sales are now looking more resilient, and have been exceeding expectations, LMC has raised the 2022 forecast to an all-time high of 4.53 mn units (+28.5%). Next year, LMC expects that sales will contract by 8%, as pent-up demand will be satisfied by then and the worsening economic conditions will hit consumer spending.
Analysts at LMC also say that OEMs are continuing to raise prices to pass on higher material and logistics costs.
The Indian government is planning to make it mandatory for automakers to install a minimum of six airbags in PVs carrying up to eight passengers, starting from October 2022. If implemented, the new safety norm will increase the manufacturing cost of vehicles (especially of Mini Cars) and will likely push vehicle prices higher. Maruti-Suzuki is lobbying against the plan, as it will impact the already shrinking Mini Car market and could even jeopardize jobs in the industry.
This year, a number of OEMs plan to launch EVs in India, including Mahindra and Hyundai. The market leader, Suzuki, announced its plan to invest 150bn Japanese Yen (about US$1.3 bn) to produce EVs and EV batteries in India from 2025 and aims to increase its share (of both Suzuki and Maruti-Suzuki brands) in LV sales from the current 40% to 50%. Backed by the government's FAME II program the shift to EVs is expected to accelerate and could boost replacement demand in the future.
The sales outlook is, however, not without risks. Among them are the fluid global supply situation, high global commodity prices, and a plunging rupee and high inflationary pressures. Extreme weather (droughts and floods) in India could also cause serious power shortages and disrupt production. As shown in the market's volatile history, sales could swing much higher or lower than we currently expect.