ANALYSIS: Imminent record year hides dark side of Australia's boom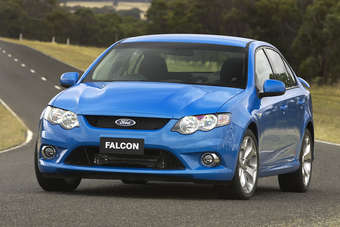 The current Falcon will be facelifted one last time before production ends for good in 2016
Two weeks back home show Glenn Brooks that Australia's economic boom has created a paradise for consumer choice but a hellish market for local manufacturers.
Within minutes of exiting Sydney airport, it's obvious just how much New South Wales has changed in the 21 years since I moved to England. The taxi drivers are as reassuringly grumpy but their origins are different now. The guys of Greek, Lebanese, Italian, Yugoslavian and Maltese origin and accent are almost gone, having retired, and even the wave of Cambodian, Fijian, Vietnamese, or Korean men who moaned about the traffic and the unsociable hours of the job also seem to have vanished - to the burbs, no doubt. For Sydney and Australia's other major cities are made up of suburbs spreading ever closer to the bush, the desert or harbours/rivers. And those new-era taxi drivers? They've come from Afghanistan, Pakistan, India and elsewhere, stepping onto the rungs of the ladder up to a more prosperous existence.
Where once there was a Holden Kingswood and then from 1978 onwards a Holden Commodore being washed and polished on most driveways of a Saturday afternoon - after mowing the lawn of course - now there might be a Toyota (Land Cruiser) Prado or Kluger, or perhaps a Mazda3 or CX-5, or less likely but still possible, a Ford Territory. As for the never ending land of cul-de-sac upon cul-de-sac, so too for the city streets: the big rear-wheel drive sedans which were once the default choice have become an endangered species.
Australians are rich and the A-dollar is strong, even if it remains one of the world's most volatile currencies. When I left in 1992, a dollar got you just 37 pence, but now the Aussie dollar is worth about twice as much again. Friends who in British terms would be classified as Middle Class wondered why my partner and I hadn't spent what would be a combined ten thousand bucks for flat bed seats for our flights to Sydney and back. These are the people who are now ordinary Australians - they are discerning, super-snobbish about brands and eager to keep on spending. I said a year ago when last down under that it felt like the UK in 2007. It still does - some people think there might be an eventual reckoning but for now, the economy continues to ride high.
Unlike the US and the UK and most of southern Europe, the generation of Aussies now in or entering the workforce have or will have an even higher standard of material wealth than their parents. And these people regard locally built cars sniffily - big Holdens and Fords are driven by taxi drivers and public servants, goes the thinking. Tariffs and a weak dollar made an A4, a 3 Series or a C-Class way too dear (to use an Aussie term) for most people 20 years ago but now these cars are almost commonplace. The best selling SUV is not the made-in-Broadmeadows Ford Territory but the Mazda CX-5, while all manner of other pricey imports exist in Australia that we don't see in the UK, such as the Lexus LX 570 or Volvo S60 Polestar, as even things like the Renault Latitude, complete with a 3.5-litre engine.
Income tax is high compared to the UK but wages have always been at lofty levels. Factor in low interest rates, a national unemployment average of just five percent, a compulsory self- and employer-funded pension system, plus a highly skilled workforce and you soon see why I saw relatively few new big Australian RWD cars. In their place are huge numbers of what were once called 'prestige' models as well as lots of cheaper mass market brand vehicles, the same as you'll find in California - the Civic, Mazda3, Corolla and Cerato are popular purchases.
The phasing out of what had once been some of the world's highest duties and most stringent import quotas was the first step towards where the new car market finds itself today. That's the reason why Hyundai and Kia became mainstream brands down here long before it happened in the US and Europe, and why Toyota now effectively controls the market. There have been one off factors too, such as the mining boom. This is some of the reason why the Toyota Hilux, an import from Thailand - Australia has a free trade agreement with many other ASEAN member states - sells in such vast numbers. The Aussie market is the world's largest for this medium sized ute and fleet sales in Queensland and Western Australia are mostly responsible for that statistic. A new generation of Tradies (tradesmen and women) also seems to prefer the Hilux to the traditional and larger Holden and Ford six- and eight-cylinder utes.
I learned from a contact that we'll see a BMW four-cylinder diesel in the Hilux - a new model is due out of the two Thai plants which build it during the first half of 2015 - and surprisingly, a diesel-electric powertrain in certain Lexus models. These hybrids are still in the early stages of development, so don't expect to see, say, an NX 200hd or CT 200hd until 2017. But it's interesting to learn that TMC is quietly planning such powertrains having said for years that petrol-electric is its only strategy for hybrids.
Other unusual facts about Australia's new vehicle market: this is also easily the most successful country for Subaru in terms of sales per capita - the Legacy (Liberty down here) is a default choice in the D segment as is the Impreza in the C segment - the Honda Odyssey is the country's top selling MPV (Asia-Pacific's recently revealed new shape model goes on sale in February), Mitsubishi remains a mainstream and highly popular brand, and there are multiple Chinese brands on sale. The latter is more a theoretical thing as apart from the occasional Great Wall pick-up or even rarer Chery J3, you just don't see Chinese vehicles. Heavy trucks here and there but cars, not so much.
With so much choice, it's little wonder that there is much pain for some manufacturers and by that, read Ford, Holden and even Toyota. Does the market leader turn a profit on cars such as the Yaris - starting price AU$14,990 (US$13,725)? I was told off the record that it doesn't. Toyota Australia knows it has to compete in this segment to win over customers who it hopes will stay with the brand, or else risk losing them to Korean, European and, one day, Chinese rivals. The Camry, Corolla and Kluger are popular models, but its domination of the LCV segment is what gives Toyota such muscle power. You see tradie-driven Hiaces and tourist-filled Coaster minibuses rather than Transits on Sydney's motorways but year-on-year there were definitely more new VW Amaroks and Hyundai iLoads around.
I pressed my insider to confirm that Toyota Australia would eventually close its suburban Melbourne works. There, it makes the Camry, Camry Hybrid and a unique V6-engined model, the Aurion, which is a derivative of the Camry. Yes, he admitted, without the export programme to the Middle East, the Aussie operations would not be viable. But Toyota is famously far sighted, it hates the idea of sacking workers, the Japanese Camry plant has been told not to undercut Altona's export programme, and the parent company sees the potential for growth in the local market. Why shut up shop when, should the mining boom continue, this could be a market of 1.5 million annual vehicle sales within a decade or so? And don't forget how deeply the tsunami in Japan, which many have forgotten about, affected TMC. Having a Camry plant plus four-cylinder petrol and hybrid powertrain manufacturing capability in Victoria adds a safeguard against any future disruptions resulting from regional disasters.
My contact insists that these and other factors - Toyota pays far more tax as do its workers than what it gains from state and federal government grants - are the reasons why a theoretical plant shutdown will remain just that. Not to mention the knock-on effect of a closure to local suppliers: Japan's largest OEM does shut plants occasionally but it remains a rare occurance. And speaking of the local supplier base, I knew that the Camry had the highest local content of any Aussie-made vehicle but have just learned that Holden brings its glass in from far-away China. Toyota? It sources its windows from an Australia-based supplier.
More fascinating insights: I was told that Ford Australia might well "find a way" to keep its own manufacturing operations going, despite having announced their closure for 2016. Are talks going on between Dearborn and governments in Melbourne and Canberra? Perhaps, but whatever the result of them, it's hard to see Ford Australia building anything like its current local products if it does in fact stay - what's needed is a proper export programme and for that you need four-cylinder engines, something Ford presently does not make locally (the slow-selling 2.0 EcoBoost unit in the Falcon is imported).
As for Holden, it does look as though despite all the rumours, its factory in the suburbs of Adelaide will remain, but the cars it will be making from 2016 onwards will be quite different to what it manufactures today. The Commodore nameplate will survive but it won't be attached to a big, rear-wheel drive V6 and V8 sedan, ute and wagon range. As GM Holden's outgoing MD has repeated ad infinitum, the days of any local manufacturer making and selling 100,000 units of one model are never coming back. I didn't envy Mike Devereux betting on what product he will put into the Elizabeth plant in South Australia - it has to be one that will sell and be exported at the rate of 30,000+ units per annum. And how, given the historic wild movements, to predict where the dollar will be in three years' time? And then over a future 5-7 year product lifecycle?
The head of Toyota Australia recently predicted a record market for 2013, up by around 20,000 units on the 1,112,032 vehicles sold in 2012. But he also noted that 10 years ago, there were some 200 models on offer. Now, it's around 400. There aren't many other places in the rich world where that level of choice is available. While that's terrific news for consumers, it certainly does make things extremely tough for those execs charged with trying to plan for future manufacturing.
If you were running Toyota, would you build the next Camry in Altona? It seems an easy choice given the success of the current model. But this time around there will be major investments needed for new tooling. And what of the necessary spend should Ford decide that it can be persuaded to stay, or Holden attempting to match the cost of next-gen Cruze build against plants in Thailand, India, Korea and China? Sometimes things going on in far-off, medium-sized markets can be revealing for the future challenges that are only just within sight in some of the world's larger car manufacturing countries.
Most popular news
---
Most popular insights
---
Oops! This article is copy protected.
Why can't I copy the text on this page?
The ability to copy articles is specially reserved for people who are part of a group membership.
How do I become a group member?
To find out how you and your team can copy and share articles and save money as part of a group membership call Shivani Hayer on
+44 (0)1527 573 732 or complete this form..