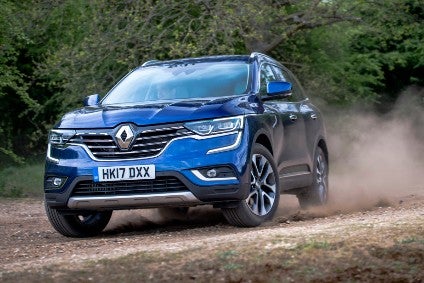 With the second generation Koleos, Groupe Renault is going bigger, and in markets such as the UK, that means a presence in the D segment for the first time in years.
Thanks to Renault Samsung and Dongfeng Motor, this is a global SUV. Without these partners, this SUV probably wouldn't exist, given the potential volume in European countries alone.
Renault's new rival for the Kodiaq
The latest Koleos is a 4.7m long Kadjar-based SUV which was developed mainly for Asia, the Pacific Rim and Europe. It is manufactured by Renault Samsung Motors (RSM) in South Korea, and also by Dongfeng Renault Automotive Company (DRAC), an SUV manufacturing joint venture in central China.
The new HZG series model, which is a size larger than the first generation, entered production at DRAC in the city of Wuhan during the final quarter of 2016. This is the same plant which manufactures the closely related but smaller Kadjar. Production at RSM's sprawling Busan works, meanwhile, commenced in July 2016. The model for the South Korean market, the Samsung QM6, has different badges but is more or less identical to the Renault Koleos.
Renault stated in April 2016 that sales would begin "…in the third quarter of 2016 in Australia, Turkey, the Gulf states and some Latin American countries, followed by China at the end of 2016, then Russia and Europe at the beginning of 2017". RSM is the production source for all markets with the exception of China. The DRAC plant supplies only the domestic market.
The Chinese government granted Renault a production licence purely for SUVs but the company is keen to add cars in due course. Dongfeng Renault sold 23,857 units of the Koleos in the first half of CY2017. The smaller Kadjar was the first vehicle to be built at DRAC. It entered production in January 2016. The JV delivered 13,604 Kadjars in H1 of this year, so things are off to a good start if not a great one. Still, Renault is doing far better in the PRC than rival Groupe PSA and its embattled JVs.
DRAC's Wuhan base includes a vehicle assembly plant, a powertrain plant and an R&D Centre. It has an initial production capacity of 150,000 vehicles per year which has the potential to be doubled.
As for RSM, its Busan manufacturing base began making the Koleos for European markets in March. At that time the company said it expected to be shipping around 30,000 units a year to the region. An additional roughly 10,000 vehicles per annum are delivered to markets in South America and the Middle East. The official market launch for European countries was June with cars for RHD markets in the region following as of now.
Renault's return to the UK's D segment
The Laguna and Espace were withdrawn from Britain many years ago and the Talisman was rejected by the importer as being not worth the bother. Why not, when it's such a great looking car, in both saloon and estate forms? The answer is simple: the UK's D segment has too many mass-premium and non-premium brands, not all of them making money either. Why buy a Peugeot 508 when you can have an Audi A4? Or a BMW X3 or Volvo XC60? Renault thinks it could well have a chance once more against mass-luxury brand SUVs such as the Mercedes GLC, thus the arrival of the Koleos.
It is telling that no-one on the media preview event would be drawn on sales expectations. When I asked "Do you see annual sales in the hundreds?" to ascertain if that would be corrected with a curt "not at all; definitely in the thousands", there were just smiles and a statement along the lines of "whatever volume we do we will be more than happy with". Hmm. Perhaps the idea of under-promising and over-delivering will work. After all, Hyundai does that with the Santa Fe in Germany but there again, in Britain and other EU countries, Ford's Edge is a strong rival but nothing like a popular one. This size class and non-luxury badges generally aren't terribly compatible.
Renault clearly sees that it won't set the segment alight with the Koleos in any European market but that's OK. Sales of the QM6 are strong and rising in South Korea, so it's not far fetched to say that pretty much every Koleos sold elsewhere can be treated as a bonus. RSM's best seller is the SM6 (Renault Talisman sedan), followed by the QM6. Their respective H1 deliveries were 23,917 and 13,920 units. Add in DRAC's 23,857 and suddenly, Groupe Renault's global strategy for entering the D-SUV segment makes sense.
Diesels only and no third seating row
Renault UK is offering the Koleos with only diesel engines but a petrol may come later. For now, it's a 1.6-litre dCi 130 and a 2.0-litre dCi 175. The more powerful of the two has 380Nm and really, it's the one to go for, even though you can only haul five people in this SUV. If you want a seven-seater with a diamond badge in its grille and you live in Britain, then it's a Grand Scenic or nothing.
There is a choice of front-wheel drive or what Renault calls All-Mode 4x4i. AWD is standard for the 175hp (127kW) engine. Sampled off road and left to its own devices, the Koleos just scrambled its wheels up a steep and slippery off-road trail before sliding back down. Slip your hand down between the door and the steering wheel, press the 4×4 LOCK button and suddenly there is grip a-plenty and up you go.
The standard gearbox is a six-speed manual with a seven step CVT which is termed Auto X-Tronic. If this is not the best of its type on the market then I don't know what is. There is no 'rubber band effect', and the ratios feel genuinely like gears.
The 2.0-litre diesel manual returns an average of 50.4mpg with CO2 of 148g/km, which means BiK of 31 per cent, whereas with the CVT, it's an official 47.9mpg and 156g/km, attracting Benefit in Kind of 33 per cent.
Due to the decision to make the Koleos a five-seater, there is lots of room in the back for legs and the vehicle itself is fairly wide too, so it's a very roomy place to put not just kids but adults. The boot doesn't suffer either, with 458 litres (VDA) available, rising to 1,690 with the seats flipped. And yes, these are the same one-touch electrically dropping ones which are so terrific in the Espace, Scenic and Grand Scenic, and supplied by Faurecia. The lengthy 2,710mm wheelbase is identical to that of the Nissan X-Trail, which is no co-incidence due to these two sharing the Alliance's CMF C/D platform. The Kadjar, Megane, Scenic, Grand Scenic, Talisman and Espace are also CMF C/D-based.
Faults? The ride isn't the best, and that's in spite of that lengthy wheelbase. Also, if you're expecting the same levels of feedback from the steering as you find in an X-Trail or Qashqai (or even a Kadjar), it's going to be disappointing. Roadholding is strong and the handling is benign but there just isn't anything much here for the enthusiast. You won't be paying Audi Q5 prices, mind, so maybe that's OK. Renault lists the new Koleos from GBP27,500, rising to GBP34,200 via a six-variant line-up.
Hybrid Assist to come?
As the Koleos is still new, there won't be much in the way of news for a year or more, unless of course Renault chooses to add some fresh engines. Perhaps a more powerful version of the just-released dCi 110 Hybrid Assist diesel will appear at some stage? In the Scenic, this system combines low fuel consumption and a boost of acceleration at certain speeds, particularly at low revs. As well as recovering energy during deceleration and braking, it functions with a 48-volt battery, enabling the motor to support the engine, which remains in continuous operation. Renault collaborated with Continental for this system.