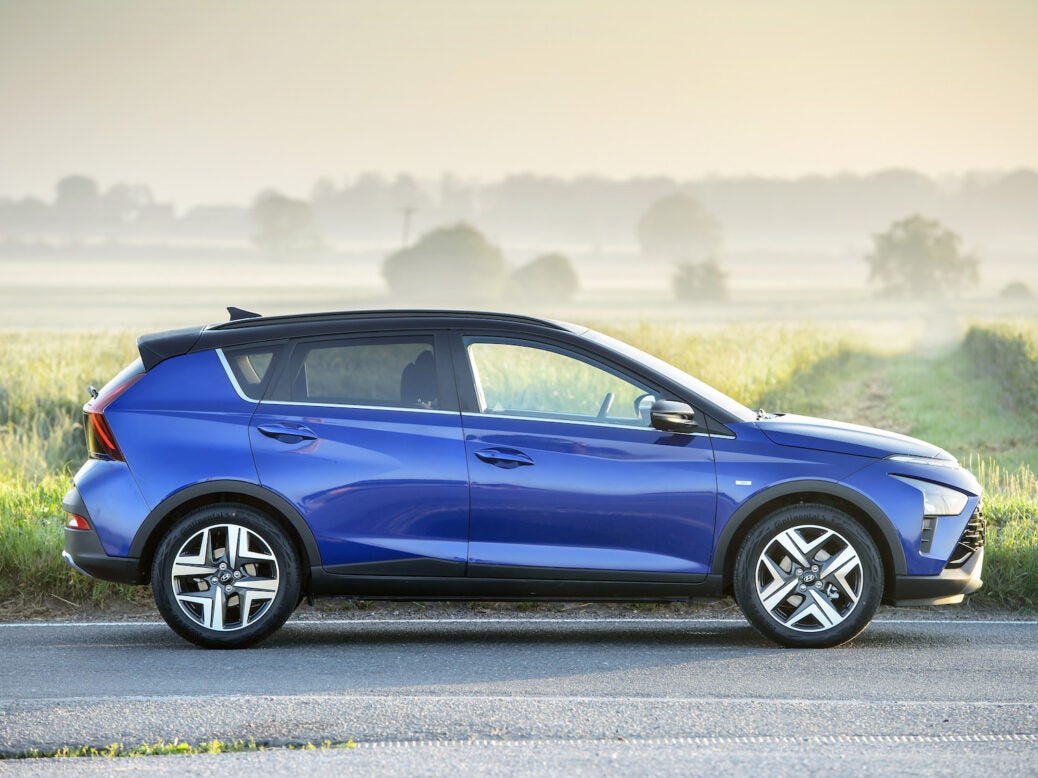 The first thing anyone asks you about Hyundai's smallest SUV is how to pronounce the name. Officially it's BUY-on but will that stick? Whatever it ends up becoming in popular parlance, the Bayon has joined a class overflowing with choice.
Stand-out looks
A wedge profile as well as boomerang-shaped tail lights plus a distinctive front partly defined by arrow-shaped, ultra-thin lights get this model noticed. That's no small achievement when other than the boxy Jeep Renegade, few other small crossovers or SUVs have a memorable appearance.
There are various wheel choices, the base ones having a 15-inch diameter with 16- or 17-inch alternatives also offered. Another way to get yourself noticed is via an optional two-tone roof in what Hyundai calls 'Phantom Black'.
How about inside?
Hyundai has also made a strong effort in terms of space on the inside as well as understated yet attractive looks. Plastics are nicer than what's offered by many competitors and as for colours, there is either all-black or a combination of dark and light grey.
The touchscreen isn't too big or overloaded; a bonus these days. The HVAC system consists of both physical and digital controls which in practice is safe and quick-to-operate.
There are two USB ports up front, one of which allows data transfer with a third one in the back plus a wireless phone charger and a Bose sound system. For a car of this price, sound quality is also surprisingly good.
Bluelink
Hyundai's Bluelink and LIVE app has many handy features, such as Connected Routing, a cloud-based navigation system, and Live Parking Services (includes on-street parking price information in addition to availability of nearby parking space). Calendar integration comes as standard too. This means the driver can sync their Google or Apple calendar with the car's infotainment system and navigate directly to appointments.
Other things which are part of Bluelink and LIVE:
Remote services: lock/unlock and view vehicle status using the app
Online voice recognition: control functions such as heating and cooling
Find My Car: locate your Bayon if you forget where it's parked
Send to car (POI): search for local points of interest and send results to the navi system
Security: alarm notification
Maintenance: diagnostics and vehicle report (e.g. tyre pressure and airbags) plus driving information
Roomier than a Kona
Officially, those in the front have 1,072 mm of leg room, while rear passengers have 882. Boot space is equally generous, 401 litres being really quite amazing considering how small the Bayon (4,180 mm long) is. That's also more commodious than the bigger (4,205) Hyundai Kona, which only takes 356 litres.
How new is new?
Revealed in March last year, in common with other vehicles launched during the era of Covid waves and microchip shortages, the little Hyundai's production ramp-up hasn't exactly been textbook. As it's built in Turkey, currency and inflation challenges can be thrown into the mix. No wonder it's taking time to build sales momentum.
This new crossover shares much with the i20; particularly the interior. Competitors include the Peugeot 2008 and Renault Captur. Like both of those, there's no all-wheel drive option; nor is there an EV or PHEV, something which neither Ford (Puma) nor Volkswagen (T-Cross) offers either.
Three or four cylinders
There are three petrol engine choices: two versions of Hyundai Motor Group 's 998 cc T-GDi mild hybrid three-cylinder turbo with 48 V electrics plus a 1,197 cc MPi four-cylinder non-turbo.
Outputs for the T-GDi are 74 kW (100 PS) and 172 Nm (127 lb ft), with more expensive variants offering 88 kW (120 PS) with identical torque. Both six-speed manual and seven-speed DCT transmissions are available.
The base MPi alternative has 62 kW (84 PS) and 118 Nm (87 lb ft) and comes only with a five-speed manual gearbox.
Which engine is best?
Hyundai UK lent me a Premium model grade 88 kW three-cylinder Bayon with the manual gearbox, a far better bet than the lower power alternatives yet – initially at least – seemingly lacking torque.
Learning that holding onto revs doesn't really make progress much more rapid made me adjust the way I drove. Soon enough, all was OK and consumption in the high 40 miles per gallon range became the norm. A bit more oomph would be handy though – how about a PHEV or even a hybrid, Hyundai?
Dynamics & summary
Even if it can't compete with the Puma for steering and general handling prowess hardly any other model in this size grouping can so it's not fair to single out the Hyundai. In fact, this is really an excellent effort from the Korean manufacturer in most ways and given the choice of a Bayon or a Kona, I'd choose the former.
Bayon pricing starts at GBP20,530 (versus GBP19,035 for its i20 hatchback equivalent)