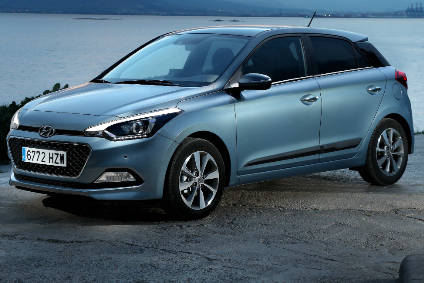 You could be excused for overlooking the Hyundai i20. The styling isn't memorable, but a new three-cylinder turbo petrol engine gives this two-year old car fresh appeal in what is a crowded B-hatchback segment.
Hatchbacks, and a crossover
The current generation IB series i20 had its public debut at the Paris motor show in October 2014. It arrived in European dealerships during the first quarter of 2015 and is perfectly sized for the Polo and Fiesta class, being 4,035mm long.
Ford is copying Hyundai's strategy for the i20, in that it will have a crossover version of the next Fiesta. That's thanks to the success of the i20 Active, which though developed for India, has found quite a bit of success in Europe. Cheekily, even the Active part of the name is being used by the blue oval brand.
No build in South Korea – India and Turkey instead
HMIL (Hyundai Motor India Limited) began exporting the car to EU countries during the fourth quarter of 2015. Like the hatchback which it is based upon, the i20 Active was styled and engineered at Hyundai Motor's Design Centre Europe in Rüesselsheim.
There is a third derivative and this is the i20 Coupé. It too was designed and developed in Germany. Unlike the five-door cars, the three-door hatchback is manufactured in Izmit by Hyundai Assan.
The latest turbocharged 1.0-litre three-cylinder petrol engine was added to Europe's i20 range this August and is already leading to increased sales for the cars across the region. Some of the reason for that is the CO2 average, which on the five-door hatchback as tested, is 104g/km.
New turbo engine boosting Hyundai sales
Performance isn't bad, as long as you don't mind changing gear often. Unusually, the gearbox has five speeds, not six, and fifth is really tall, so at first the driver can tire of changing from fourth to fifth and back again. However, you soon learn to give top gear a miss unless you're on a flat road with the national speed limit. Zero to 62mph takes 10.7 seconds and top speed is 116mph. VED band? That's B.
The 998cc engine has outputs of 74kW/100hp and 171Nm, though there is also a 120hp version. The lower powered unit returns an official 72.4mpg on the Combined cycle but all that gear changing means most people will see their average consumption in the fifties.
The i20 has a lot to do with how good a year it has been so far for Hyundai Motor UK. Sales rose by five per cent during the last eleven months to 86,794. That's also (just) enough to keep the brand ahead of Kia, which has delivered 85,576 cars.
Spec, dynamics and design
The as-tested Turbo Edition costs GBP12,975. Standard equipment includes 16″ alloy wheels, DAB digital radio, cruise control with speed limiter, and a leather wrapped steering wheel with audio and phone controls.
Turbo Edition cars come with a seven-year TomTom Live Services subscription, and that gives you traffic information, speed camera alerts, weather updates, and live Point Of Interest notifications.
Suspension travel seems to be longer than others in the class, though that might be an illusion yet it would make sense, given that the car was developed with rural Indian roads in mind. Whatever the case, the chassis engineering is clearly about comfort as a priority, but that's not to say that handling is average, more that you just wouldn't call this a car for the enthusiast driver. The lack of any kind of sporting trim level shows that the target buyer is far more interested in longevity and low running costs than driving dynamics.
Any i20 will go the distance, Hyundais being amongst the most reliable models sold in Britain, and the build quality of the press car was faultless. There is nothing special about the plastics of the interior, though, and these were all dark and hard-feeling with not too much imagination applied to their shapes either. A Kia Rio is a more stylish alternative, so you can see why HMG decided that Peter Schreyer should oversee Design for the Group.
What's coming next?
As a no-nonsense small car, it's easy to see why the i20 is such a success in so many countries. There shouldn't be any changes to the range in 2017, but a facelift is expected in 2019, and then a replacement in 2021. The main production location should again be HMIL's Chennai 2 in the state of Tamil Nadu, with Izmit in Turkey supporting the lead Indian plant.