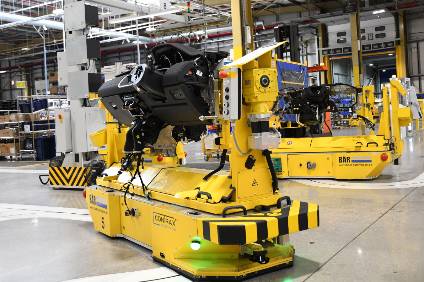 Founded in 2005 by billionaire investor Wilbur Ross (now US Secretary of State for Commerce), International Automotive Components (IAC) is a Tier I supplier of interior systems and components specialising in instrument panels and cockpit systems, door assemblies, overhead systems, door and trim systems, and flooring and acoustic systems. Mike Vousden visited an IAC facility in the UK to hear how it is preparing for 'Industry 4.0' to impact its operations.
Stepping out into the middle of IAC's factory floor in Halewood (near Liverpool, northwest England), plant manager Trevor Warner remarks on how much more 'open' the space feels since it was updated in line with the firm's new Industry 4.0 strategy.
It's true – despite the people, parts and machinery moving in countless different directions, you can easily see from one end of the floor all the way to the other – a noticeable departure from the claustrophobic work stations that used to define working on a production line. That new-found visibility makes it all the more obvious when a conga line of bright yellow vehicles carrying dashboards in various states of assembly begins to silently bear down on you.
Despite every reassurance from Trevor, it's still unnerving to stand in the way of IAC's fleet of AGVs (autonomous guided vehicles) – if this was a twentieth-century factory I'd have received a face full of steering wheel, so how did I live to tell the tale? It's all thanks to sensors that detect when the AGV's path is blocked and bring it to a halt before it can cause injury – once the clueless journalist has moved, the machine waits six seconds before resuming its predetermined route.
The benefits are clear – the AGVs can work safely alongside humans, plus the line itself is significantly easier and cheaper to reconfigure than the old-fashioned overhead rails they replaced. Changes that used to take months can now be completed in a single weekend.
What is IAC making at Halewood?
IAC has two production lines in Halewood that deliver interior parts in time and in sequence to their neighbours at Jaguar Land Rover. Specifically, this facility delivers dashboard modules for the Range Rover Evoque and Land Rover Discovery Sport – producing roughly one finished module every 82 seconds to stay in time with JLR's production rate. This proximity and sequencing means that most modules end up fitted to their target cars within just two hours of leaving IAC's plant.
The line is equipped to handle roughly four million different variations of interior parts and trim pieces across the Evoque and Discovery Sport. This is a crucial strength according to President of IAC Europe, Jonas Nilsson because OEMs are asking for ever-increasing interior customisation options.
Halewood is a pilot location for IAC to test out its new 'Manufacturing 4.0' and 'Smart Factory' processes – an ongoing program that's already seen the introduction of those AGVs mentioned earlier. The installation of the new equipment took place over Christmas 2017 and, after a few practice runs, production accelerated to full speed in the first half of 2018.
The timing of the new installation was crucial – IAC needed to be confident it had all the kinks ironed out before JLR announced any new models whose parts could come with their own bug-fixing periods. QUBE by just-auto's PLDB service indicates the Evoque's replacement is imminent, so it's likely IAC was racing to get things straight before it starts production in late 2018.
How is IAC upgrading to Industry 4.0?
Simply installing a fleet of AGVs wouldn't be enough to drag the factory into Industry 4.0 – those systems need connecting together to leverage real benefits. Step in Shoplogix, a computer program that's enabled IAC to link up nearly every machine it owns across all its manufacturing locations. With this, managers can monitor every part of the production process including job time, idle time and waste amount, allowing them to identify and solve hold ups, and make optimisations backed up with real-time performance data.
Another facet of IAC's introduction of Industry 4.0 is the addition of 'cobots' – a portmanteau of 'collaborative' and 'robots'. Where old-fashioned factory robots were expensive and required sections of the line to be gated off to prevent injury, cobots are smaller, cheaper and can work safely with humans. Equally, should the line need to be reconfigured, moving a cobot around is far easier than relocating a sizeable robotic arm.
At Halewood, a cobot – in this case, a camera on a robotic arm – is used in quality control to ensure that various components are fitted correctly. From there, the nearly finished part passes under human eyes to check for minute finish issues that the cobot can't yet identify. Elsewhere, IAC uses cobots for pick and place, and other transport activities – crucially, all are designed to work safely alongside humans.
Do human workers have a future at IAC?
You might think the rise of Industry 4.0 would ring the death knell for human factory workers. Concerns surrounding greater numbers of robots and more omniscient monitoring of performance could ultimately push humans out of the factory. However, the response from IAC's workforce suggests otherwise because the company has designed its Industry 4.0 processes to work in harmony with humans, rather than as a replacement for them.
Plant Manager Trevor reports that the upgrades to the line were fantastically well received. Each station on the line was designed to allow humans to easily perform processes thanks to optimised ergonomics – for example, fitting a dashboard wiring loom is now easier because the AGV mount permits the whole module to be flipped upside down for greater access. Additionally, workers appreciate improvements to their environment with enhanced visibility across the line and noticeably lower noise levels than older plants.
The future of human workers on production lines has been up for debate for a while, and was catalysed recently by actions at Tesla. The electric car company infamously said it wanted to automate as much of its Model 3 production line as possible while racing to ramp up production. Ultimately, it turned out that some tasks were simply too costly and complicated for robots to do – forcing Tesla to hire new human workers to cover the more intricate tasks the robots struggled with.
IAC, however, is more positive about its human workers – Jonas Nilsson notes that "technology is progressing, but at the moment the most precise instrument to highly crafted and tailored interiors is still the human hand". That thinking can be felt down the line – all the advanced AGVs, cobots and systems linking them together feel like they're there in support of human workers rather than positioning to replace them. Plus, while all OEMs demand ever-increasing efficiency, premium carmakers still value the 'feel' of a hand-stitched cabin.
Now IAC has practiced its Industry 4.0 roll out of Halewood, it's ready to replicate the system across its remaining manufacturing locations. These include Prestice in the Czech Republic and Opole in southern Poland, both equipped to pump out parts for European premium manufacturers. With clients including Volvo, JLR, Daimler and Mini all committing to build cars in Europe, you can't blame IAC for being quietly confident about its future.
To sum up…
IAC has upgraded its Halewood interior production line to bring it up to date with Industry 4.0. This has seen the introduction of automated guided vehicles, cobots and a computer system that allows all these machines to be remotely monitored for snags and improvements. Ultimately, IAC hopes the changes will afford it greater flexibility and efficiency over the expensive permanent installations they've replaced.